According to an analyst, the Cupertino-based tech giant Apple is planning to launch its new MacBook and iPad Pro models with OLED displays by 2024. The company has already launched its Apple Watch and some iPhone models with OLED displays. The report from the analyst suggests that the new display will be made available for upcoming Apple MacBook and iPad Pro models. These models will likely come with some improvements. These OLED displays could bring some enhancement over the regular OLED display.
MacBook and iPad with OLED display
With these improvements, the new OLED displays will provide better brightness and an improvement in battery life. The MacBook model, which could first launch with an OLED display, is likely to be the new MacBook Air. Continue Reading – Upcoming iPad Mini model launch details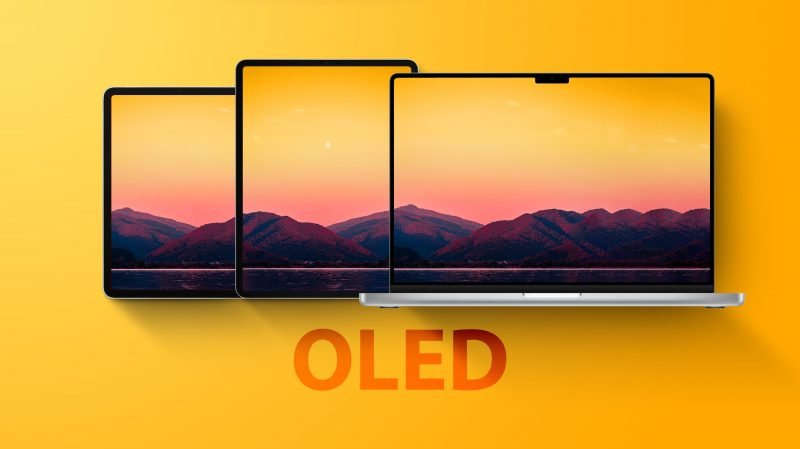 Ross Young, CEO of Display Supply Chain Consultants, took it to Twitter and tweeted, "looking increasingly likely" that Apple would launch a new 13.3-inch MacBook with OLED display in 2024, alongside the highly rumored 11- and 12.9-inch iPad Pro models with OLED display. Furthermore, Young also confirms that the MacBook model with an OLED display was likely to be the new MacBook Air.



The analyst believes the new MacBook Air model could simply launch with the MacBook Pro model with an OLED display. Moreover, it could also launch in a new category in the MacBook family. All three Apple devices with OLED-equipped displays are likely to launch in 2024. Continue Reading – OLED Display panel manufacturers manufacturing displays for upcoming iPhone, iPad, MacBook models
OLED displays with the variable refresh rate
These devices are likely to use a Tandem Stack technology. Meanwhile, this technology will help to boost brightness and lifespan while delivering 30 percent less power consumption. Furthermore, these new OLED displays will likely come with a variable refresh rate. This refresh rate can vary from 1-120Hz using the low-temperature polycrystalline oxide (LTPO) technology. Also Read – New iPad Pro 2022 model price, features and other details, iPad air 2022 vs iPad Pro 2021



Remember, the Cupertino-based tech giant also introduced Apple Watch Series 4 in 2019 with the same technology. Analyst Young also believes that the performance of the OLED displays will significantly improve in the coming years. Moreover, these OLED display units will become cheaper to produce in the next few years. Also Read – Apple 2022 News, iPad with OLED display screen under plans
Apple BOE together for OLED display production
In April, we reported that China's BOE technology has collaborated with Apple for the OLED display's mass production. According to reports, China's BOE Technology intends to build a new line with a monthly production capacity of up to 15,000 glass substrates to produce OLED displays for the MacBook and iPad in 2024. The company is likely to be testing a two-stack tandem OLED technology at its facilities. Furthermore, it will deliver some enhancements to future products.



LG Samsung to produce OLED displays
In addition to BOE, Apple uses LG Display and Samsung to produce OLED panels for its products. Both South Korean companies could first employ Gen 6 manufacturing lines to manufacture OLED displays for the iPad before switching to Gen 8.5 production lines around 2024. The latter effectively allows producers to make more OLED display units within the same period as the former.
Meanwhile, the previous rumors stated that Apple would add mini-LED panels to the MacBook Air lineup. However, the projected upgrades may have incentivized the business to consider OLED panels as the next significant jump for its MacBook customers. Also Read – 2024 Apple iPad models are likely to debut with Samsung OLED display