Fast Charge technology is becoming necessity for each smartphone. These days almost all the smartphone brands are working on improving their charging solution by providing faster charging speed. Recently, Xiaomi is also trying to further up the fast charging game. The Chinese brand has introduced the 200W wired and 120W wireless Hypercharge solution. Also, This will drastically increase the charging speed. According to reports, This technology can fully charge the smartphone in just eight minutes.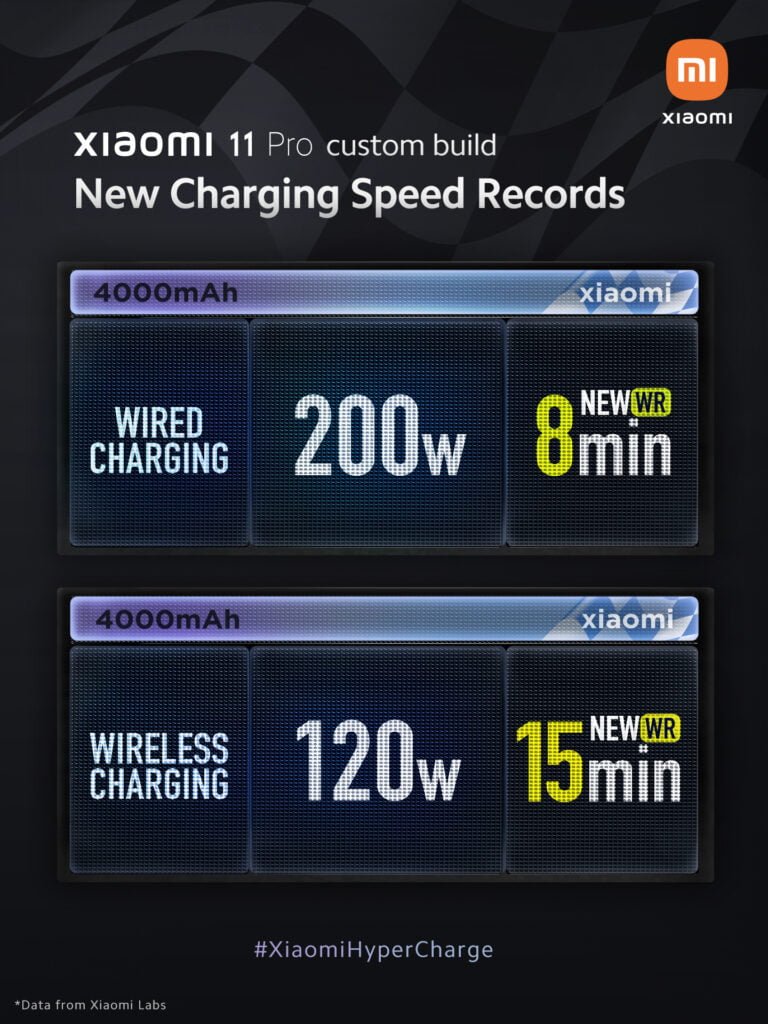 With this charging time, Xiaomi sets a new record. This makes it the first smartphone brand to offer 200W fast charging support. Keep in mind, many other smartphone brands are trying to bring new innovation in this sector.
Xiaomi launches new fast charge technology:
Xiaomi took to Twitter and made the official announcement about this new faster charging HyperCharge Technology. This faster charging technology was performed on a custom-made Xiaomi Mi 11 Pro. Additionally, the company has released a video for the same to showcase the complete process.
Charge up to 100% in just 8 minutes using wired charging and 15 minutes wirelessly! #XiaomiHyperCharge

Too good to be true? Check out the timer yourself! #InnovationForEveryone pic.twitter.com/muBTPkRchl

— Xiaomi (@Xiaomi) May 31, 2021
The official report reveals that 200W wired fast charging solution can charge 50 per cent battery in just 3 minutes. This complete process is demonstrated on a 4000mAh battery. In another five minutes, the charging technology will fully charge smartphone. This means that a 4000mAh battery smartphone can fully charge from 0 to 100 per cent in just eight minutes. Also Read: Parallel charging technology under works, could help Xiaomi achieve double charging speeds
120W Wireless Charging Tech:
Additionally, the same custom Mi 11 Pro was used to demonstrate the 120W wireless charging solution by the smartphone brand. However, this technology took some extra time. In this technology, it took a minute to reach 10 per cent of charge. Within seven minutes, half battery was charge. Whereas, in next eight minutes the smartphone charged to 100 per cent. This means that 120W wireless charging technology can fully charge a smartphone in just 15 minutes.
This is almost double time to charge taken by the 200W charging solution. But, still the Wireless charging technology is equally impressive. Currently, other brands like Oppo and Realme are also offering the wired fast charging solution. This brands offer up to 125W fast charging solution. This technology can fully charge a 4000mAh battery in just 20 minutes. To recall, earlier, Xiaomi launched its 120W wired fast charging technology in last year. This 120W charging solution is capable of charging a 4500mAh battery in just 23 minutes. Keep in mind, the same charger comes in box with Mi 10 Ultra global variant. Other then the showcase, Xiaomi did not reveal any other details about this upcoming technology.