Fujifilm recently launched an instant camera in India – the Instax Square SQ40. In this article, we will check out the details of this latest innovative from the photography company. We will provide you with all of the required information about the latest mini polaroid camera. We will discuss about features, details, and pricing right here. Join us as we explore the exciting world of instant photography! Also Read – Insta360 ONE RS modular action camera | Insta360 One R 1-inch sensor | Action Camera price in India
Fujifilm Instax Square SQ40 in India
Fujifilm Instax Square SQ40 is the ultimate instant camera designed to capture your moments in style. With its sleek black finish and elegant metallic accents, this camera exudes a timeless retro charm that is sure to turn heads. The newly launched SQ40 utilizes square-format film to bring your photos to life with stunning clarity and artistic appeal.
Fujifilm Insta Camera: What's New?
The Fujifilm Instax Square SQ40 is a cutting-edge instant camera that combines modern technology with the charm of traditional instant photography. This camera provides users with a one-of-a-kind and delightful photographic experience because to its sleek design and excellent abilities. Let's look at what distinguishes the SQ40 from other instant cameras on the market. Before going into other details, lets check the Fujifilm Instax Square specs first. Also read – Insta360 One RS with 4K boost lens newly launched modular action camera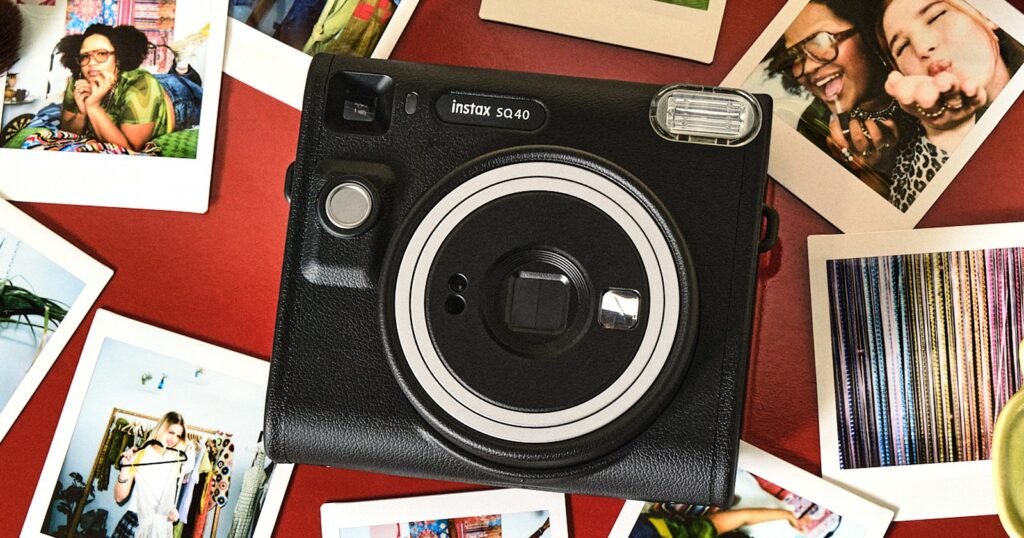 Fujifilm Instax Square SQ40 specifications
Fujifilm Instax Square SQ40 boasts a stylish and compact design, making it easy to carry and use in various settings. Its robust build ensures durability, allowing you to capture memories without worrying about damaging the device. The ergonomic layout and intuitive controls of this Instant camera make it user-friendly, even for beginners.
Fujifilm Instax Camera: Picture Size
Interested users can unlock a world of creativity with the Instax Fuji film Square SQ40. This instant camera comes with its impressive 62mm × 62mm picture size. The newly launched polaroid camera can click a compact masterpiece. The picture size measures about 2.4 inches × 2.4 inches, perfectly fits in the palm of your hand.
Whether you choose to display it proudly or tuck it away for safekeeping, this portable marvel guarantees your memories are always within reach. Get ready to capture moments that are truly larger than life with the Fujifilm Instax Square SQ40. Also Read – GoPro Hero 10 Black latest model with USB C charging port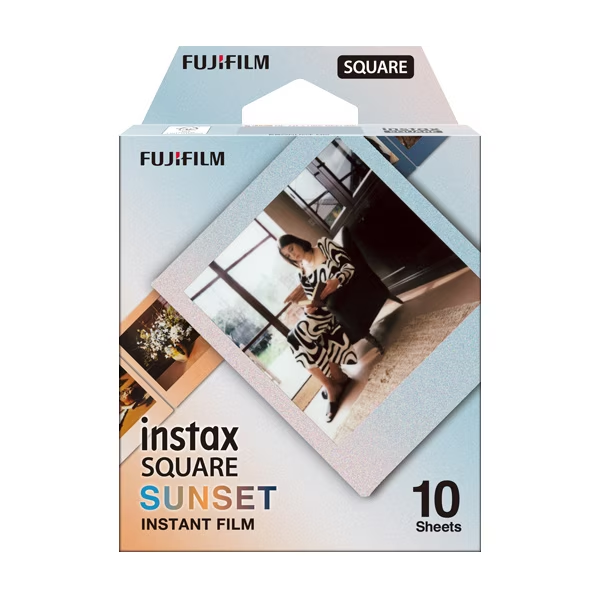 Fujifilm Insta Camera: Lens Specs
Fujifilm Instax Square SQ40 comes with a remarkable lens design. Boasting two components and two elements, this instant camera is equipped with precision-crafted glass. Furthermore, this lens expertly harnesses light to deliver stunningly focused shots.



With a focal length of 65.75 mm, Fujifilm mini Polaroid camera ensures every detail is captured with utmost clarity and precision. The aperture of f/12.6 lets you effortlessly control the amount of light entering the lens. Thus, allowing you to create the perfect balance for each shot. Elevate your photography game to new heights with the Fujifilm Instax Square SQ40. Also Read – GoPro Hero 10 price in India
Reverse Galilean finder on Instant Camera
Fujifilm Instax Square SQ40 instant camera offers the innovative viewing experience with its reverse Galilean finder. This unique optical system employs a concave lens to create an intriguing visual effect. Thus, the focal length of concave lens makes the image appear smaller and more distant. Meanwhile, the Fujifilm Square SQ40 not only delivers exceptional image quality but also elevates the way you perceive and frame your subjects.
Instant Camera: Shooting Range
Using this newly launched Fujifilm Instant camera, one can capture the world with its versatile shooting range. From a distance of at least 0.3 m (about 1 foot) and beyond, this instant camera ensures you can effortlessly snap stunning photos. Also Read – How to watch Black Panther 2: Wakanda Forever? Full Review
The SQ40 offers a range of shooting modes to cater to different photography styles and preferences. Whether you're capturing a scenic landscape, a group photo, or a close-up portrait, this camera has you covered. Experiment with different modes such as landscape, portrait, macro, and double exposure to unleash your creativity and achieve stunning results.
Selfie Mode on Fujifilm Instant Camera
Fujifilm Instax Square SQ40 is capable of capturing memorable selfies and captivating close-ups. The SQ40 introduces the selfie mode, a feature that adjusts the focus and brightness specifically for shots taken between 0.3 m to 0.5 m (about 1 to 2 feet) away.
With a dedicated selfie mode, taking self-portraits has never been easier. The Fujifilm instant camera also optimizes settings for capturing stunning self-portraits with optimal lighting and focus. Also Read – New iOS version brings Apple Facetime update
Shutter Speed on Instax Fujifilm Camera
Fujifilm Instax Square SQ40 comes with an intelligent shutter system. This Shutter system is designed to adapt to various lighting conditions. Furthermore, the camera gets an electronically programmed shutter that seamlessly adjusts its speed to ensure optimal exposure.



With a remarkable range from 1/2 second to 1/400 second, it captures the essence of every moment with precision, whether in dimly lit environments or under the brightest of lights. Fujifilm Instax instant camera also handle the complexities of different lighting situations. Thus, allowing you to focus on capturing memories that will stand the test of time. Also Read – Apple iOS brings massive improvements including New Apple Maps
Instant Printing on Fujifilm Camera
One of the standout features of the Instax Square SQ40 is its ability to capture and print square format photos instantly. The camera is equipped with an integrated printer, eliminating the need for separate printing equipment. Simply snap a photo, and within seconds, you'll have a physical print in your hands, ready to be shared or displayed.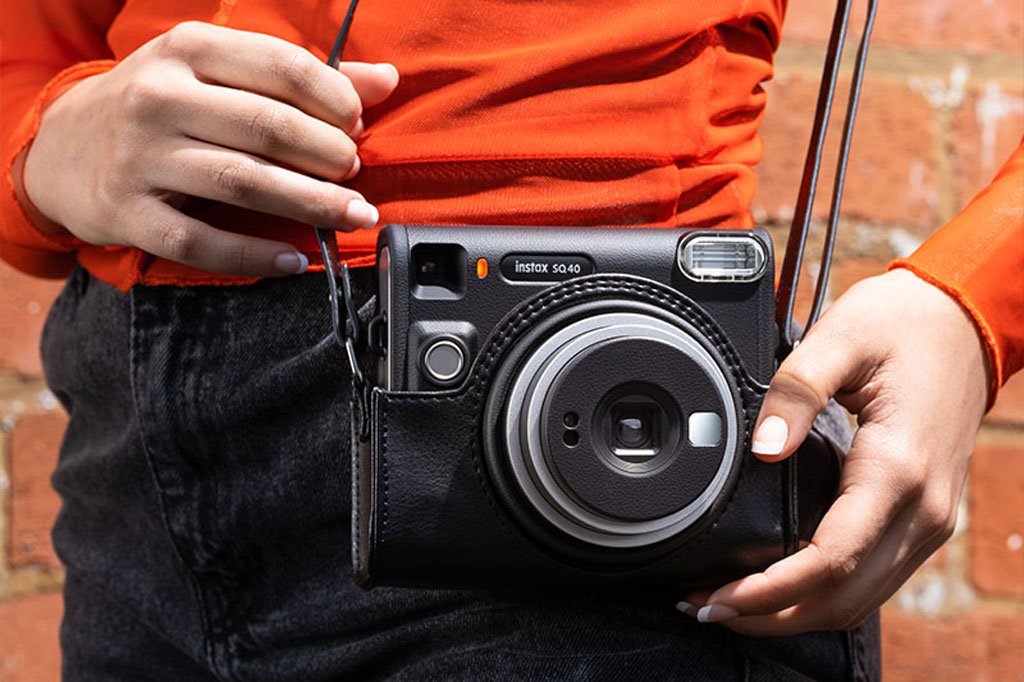 Fujifilm Instax Square SQ40 offers seamless convenience with an automatic film ejection system With just a press of a button, your precious memories come to life in an instant. The film developing time of approximately 90 seconds adds an element of anticipation. Thus, allowing you to savor the excitement of watching your photos materialize before your eyes.
Fujifilm Instax Camera: Other Features
Keep in mind that the actual developing time may vary based on the ambient temperature, ensuring that each snapshot is crafted with care and precision. Moreover, the instant camera offers speedy flash recharge capability. In a mere 7.5 seconds or less, the flash is ready to illuminate your next masterpiece, ensuring you capture the perfect moment with every click.



With a reach of up to 2.2 m (about 7.2 feet) from your subject, the SQ40's flash effortlessly illuminates even the most distant scenes, adding a touch of brilliance to your compositions. Also Read – Low light photography on iPhone 13
Fujifilm Instant Camera: Battery
Equipped with two included lithium batteries (CR2), this camera ensures that you have all the power you need to capture your memories in abundance. With each battery providing an impressive lifespan of approximately 30 INSTAX SQUARE film packs, you can embark on countless creative endeavors without worrying about running out of power.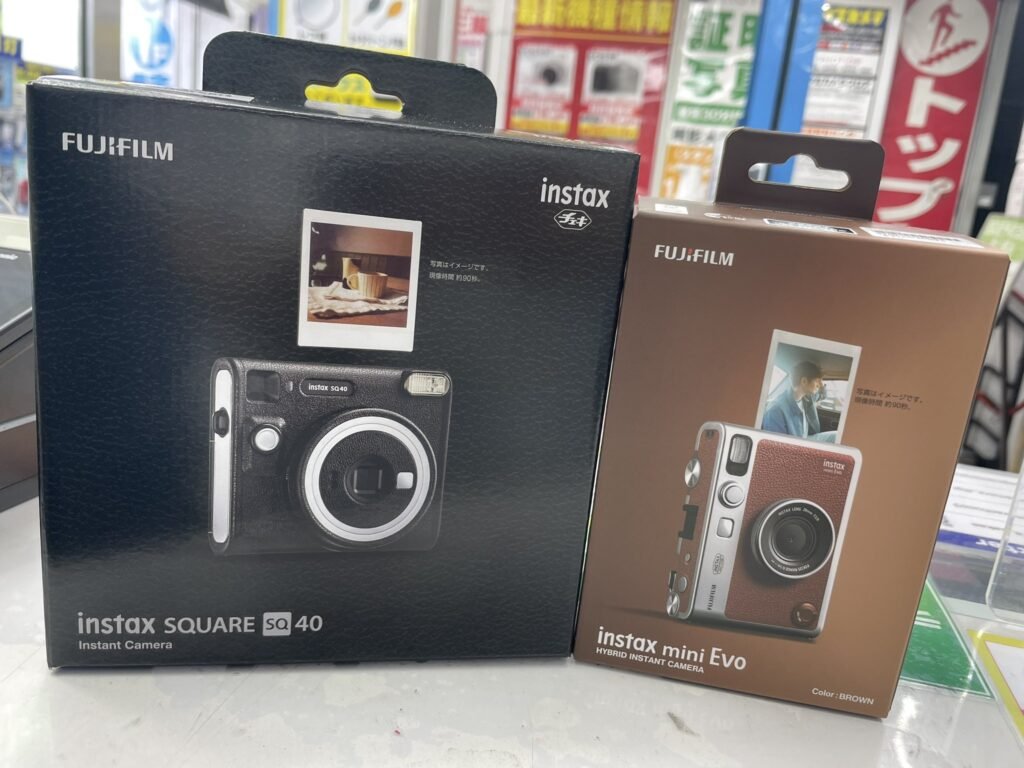 The Fujifilm Instant camera measures 134.2mm in width, 120.2mm in height and 60.5mm in thickness. Meanwhile, this Insta Camera weighs 453 g without batteries, straps, and film. Also Read – How to lock Google Photos? Check out Google Photos locked folder
Fujifilm Instax Square SQ40 price in India
The Fujifilm Instax Square SQ40 is available in India at an affordable price of Rs 16,999. Remember this price also includes the price of two AAA Batteries and a Fujifilm Instax camera film counter. This polaroid camera is available for purchase through authorized retailers, as well as online platforms. To ensure you don't miss out on this fantastic instant camera, visit the official Fujifilm India website.
Conclusion
In conclusion, the Fujifilm Instax Square SQ40 instant camera is a game-changer in the world of instant photography. Its sleek design, and advanced features make it a must-have for both photography enthusiasts and casual users alike. With the ability to instantly capture and print square format photos, the SQ40 also brings back the joy of physical prints in our digital age. Don't miss the opportunity to own this remarkable device and embark on your own instant photography journey.
Remember, the Fujifilm Instax Square SQ40 is available now, so head over to your nearest retailer or visit the official website to make your purchase. Happy snapping!
FAQs
What is the price of Instax SQ20 in India?
Fujifilm Instax Square SQ40 is available in India at an affordable price of Rs 16,999.
What is the difference between Instax Mini and SQ?
The distinction here is in the size of the instant printouts you'll obtain after taking a picture. Images printed on Instax Square film are 62 x 62mm in size, with the film itself measuring 86 × 72mm when the borders are included. Meanwhile, photos printed on Mini film are 62 x 46mm in size, and the film is 86 x 54mm in size.
Is Instax Square better?
Although the options are more limited, the new Instax Square SQ40's enhanced auto-exposure mechanism produces better-looking instant photographs than the previous generation.