In a market flooded with smartphones, Samsung launched a new Galaxy M-series smartphone, dubbed as the Samsung Galaxy M34 5G in India. The all new Samsung M34 5G debuts as a true game-changer. The newest Galaxy phone has cutting-edge features, improved performance, and an unrivaled user experience.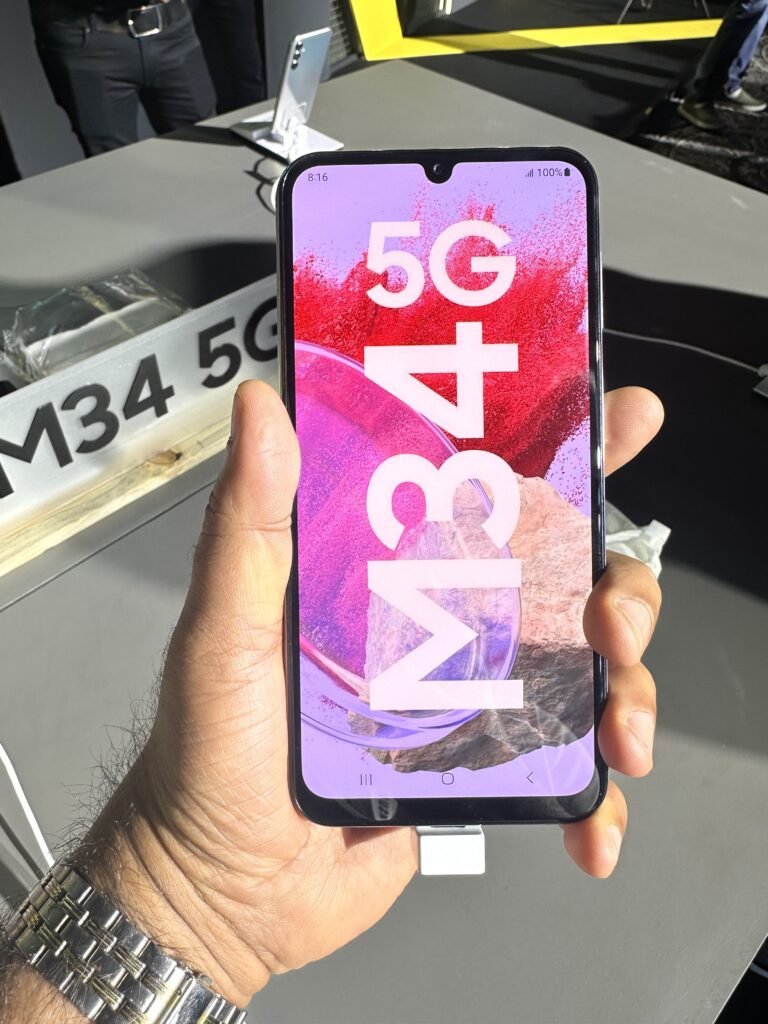 The South Korean smartphone makers are expected to revolutionize the smartphone scene in India with the launch of the Samsung M34 5G. This page will provide an overview of its essential specs, cost, and availability. Furthermore, during the first six months, Samsung will provide free display replacement for the Samsung phone.
Samsung Galaxy M34 5G in India
Samsung Galaxy M35 is the brand new smartphone offering from the company in under Rs 20000 price segment. The South Korean tech giant, Samsung introduced this phone as the best 5G smartphone in India as part of the company's Galaxy M Series. Samsung Galaxy M Series already include smartphones like the Galaxy M14 and Samsung M04 in India. Samsung new mobile phone launched as the Galaxy M34 5G features the latest specifications among other Galaxy M Series smartphones. Going in higher price segment, Samsung also offers Samsung A Series smartphones in India.
Samsung New Mobile phone: Key Specifications
Key specifications of the Samsung Galaxy M34 5G includes a primary camera with optical stabilization. The primary camera excels in capturing low-light conditions. Furthermore, the Samsung new 5G phone offers a vibrant display, and a substantial battery capacity. The all-new Samsung Galaxy smartphone, Galaxy M34 5G includes a super AMOLED display with a screen refresh rate of 120Hz. It also features a triple rear camera setup with a 50MP primary sensor and a big 6,000mAh battery.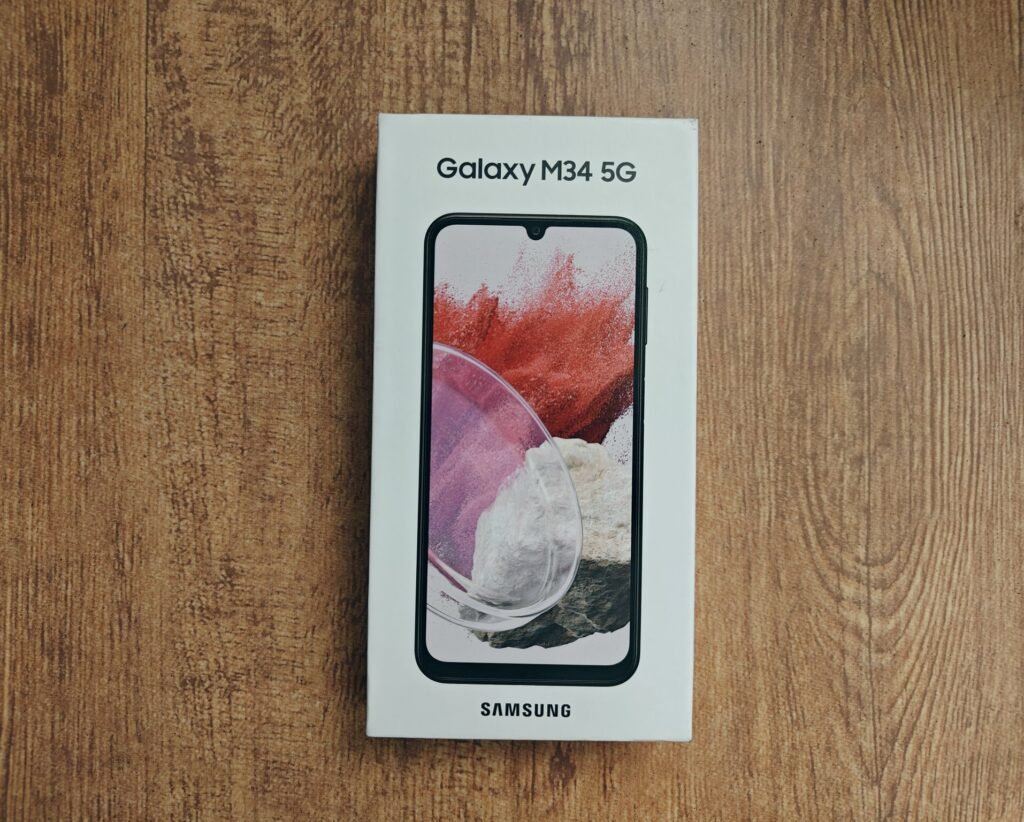 However, looking at its physical appearance, the Galaxy M34 is not the Samsung slim phone as we have seen in premium segment. With the launch of Samsung Galaxy M34 5G, the South Korean tech giant will take on other market players like the Realme 10 Pro 5G, Realme Narzo 60 5G, Redmi Note 12 5G and the iQOO Z7s. Also Read – Samsung Exynos 1280 processor latest 5G chipset 
Samsung Galaxy M34 5G Price in India
The South Korean tech giant, Samsung launched the Galaxy M34 in two storage variants. The base variant comes with a 6GB RAM and 128GB storage configuration. Samsung Galaxy M34 5G starts at a discounted price of Rs 16999 in India. Another variant of Galaxy M34 5G with 8GB RAM and 128GB storage space retails for Rs 18999.



The prices mentioned are introductory and include special bank offers, as stated by Samsung. As part of the launch offers, customers who purchase the Samsung Galaxy M34 5G can avail a no-cost EMI option for a duration of nine months. Also Read – New low-cost mobile phone, Poco C50 in India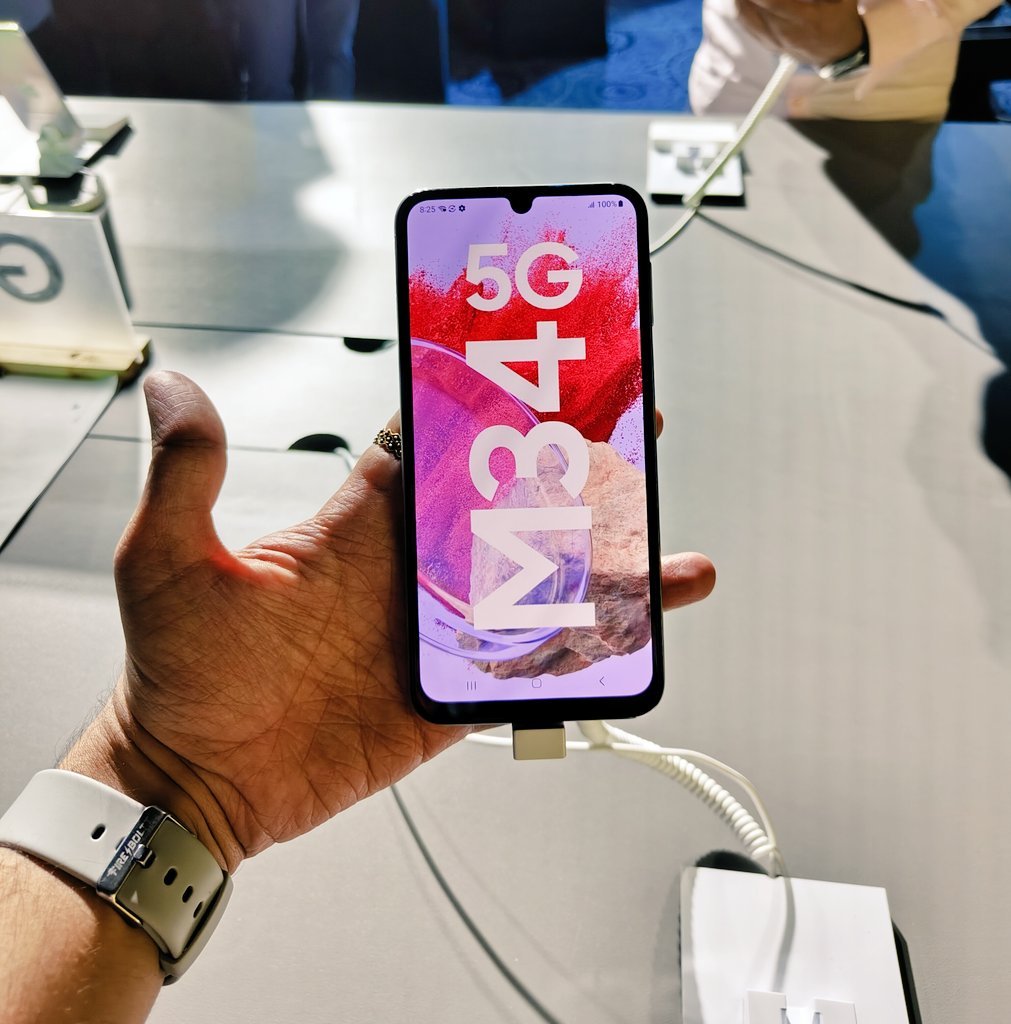 Galaxy M34 5G Color Options
Samsung Galaxy M34 5G has been competitively priced. Thus, making it an attractive option for consumers. The recently released M-series smartphone will be available in India in three different color options: Midnight Blue, Prism Silver, and Waterfall Blue. The device is scheduled to be launched in the country on July 15.
As for availability, Samsung has ensured a wide distribution network across India, with the Samsung M34 5G being available through authorized retail stores, e-commerce platforms, and Samsung's official website. Consumers looking for top-of-the-line feature without breaking the bank can opt for Galaxy M34 5G. Starting at an affordable price point, the Galaxy device also offers excellent value for money.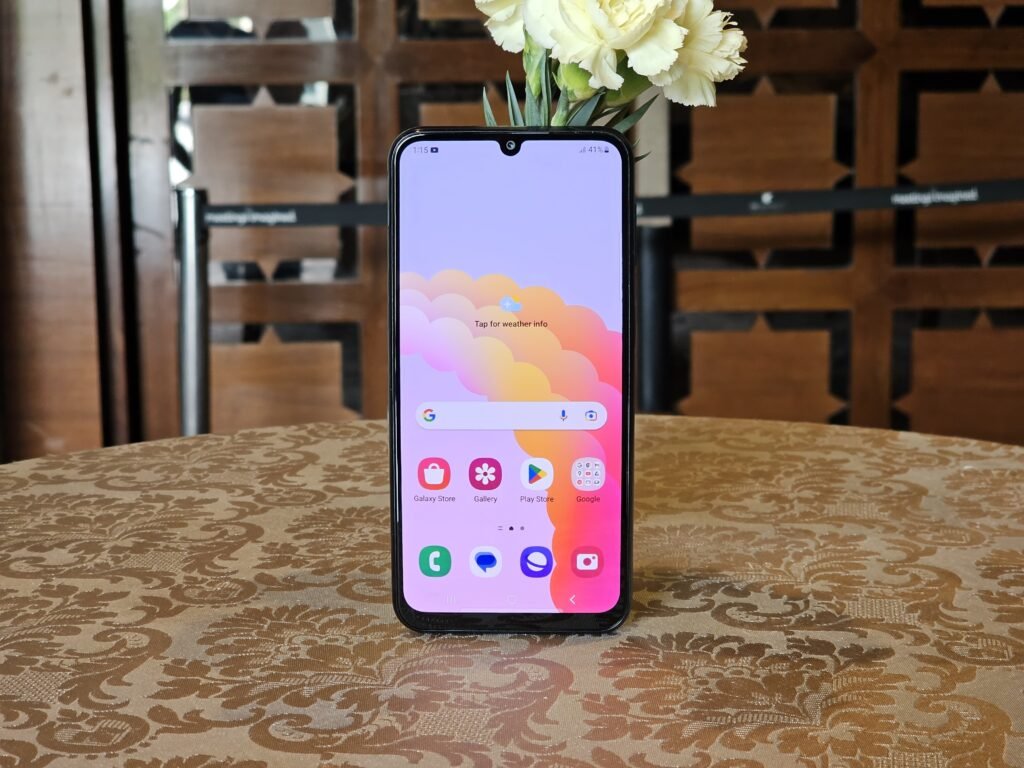 Samsung Galaxy M34 5G First Impressions
Let's take a closer look at what you can expect from this affordable Galaxy M Series phone. Also Read – Samsung Galaxy Tab S8 Specs, Tab S7 vs S8, the latest Android tablet
1. Display and Design
Samsung Galaxy M34 5G features a stunning 6.5-inch Full-HD+ Super AMOLED display, ensuring an immersive visual experience with vibrant colors and sharp contrasts. The Samsung Super AMOLED display mobile phone offers a screen refresh rate of 120Hz, 1,000 nits of peak brightness and Vision Booster technology. Corning Gorilla Glass 5 provides overall protection for this AMOLED display.



In terms of design, Samsung Galaxy M34 5G shares a similar bulky design with the Galaxy F54 5G. However, considering the price point, it seems that the built quality is decent and could even overtake some higher segment smartphones. Also Read – Oppo Find N2, Find N2 Flip foldable phone design and specifications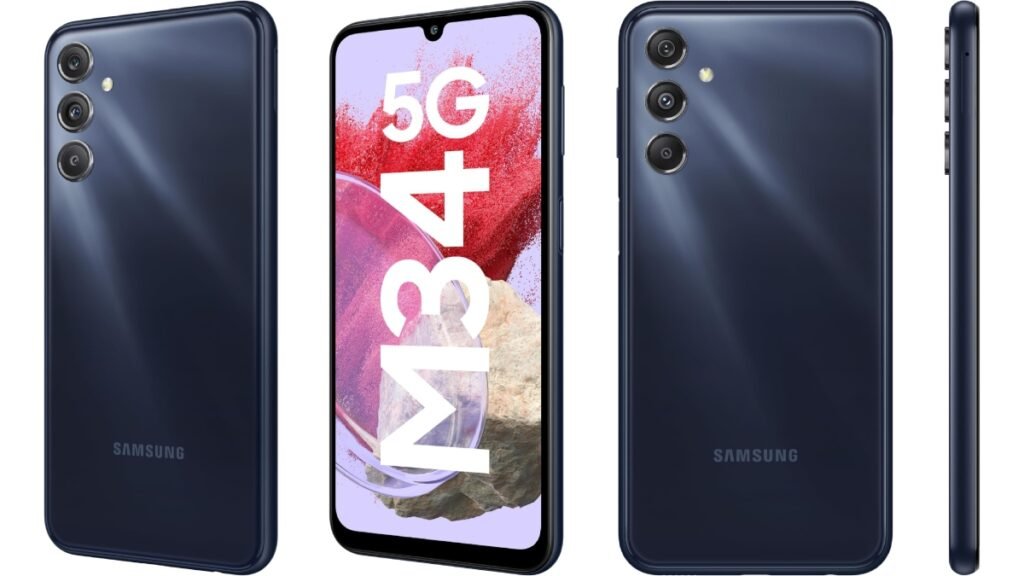 Regarding physical design, the camera module of the Samsung Galaxy M34 5G resembles the design found on both the Galaxy F54 and the flagship Galaxy S23. Despite being heavy due to its 6,000mAh battery, the Galaxy M34 5G offers a comfortable grip with its plastic body. The power button also doubles as an embedded fingerprint sensor. Users will also appreciate the presence of a headphone connection at the bottom of the device.
2. Processing Power with Exynos chipset
Moving on to the heart of the matter, the Samsung Galaxy M34 5G is equipped with Samsung's Exynos 1280 system-on-chip (SoC) to deliver powerful performance. The Samsung processor is paired with up to 8GB of RAM and 128GB of storage capacity. Meanwhile, Samsung boasts that new CPU will provide lightning-fast performance, allowing for seamless multitasking, fluid app navigation, and lag-free gaming.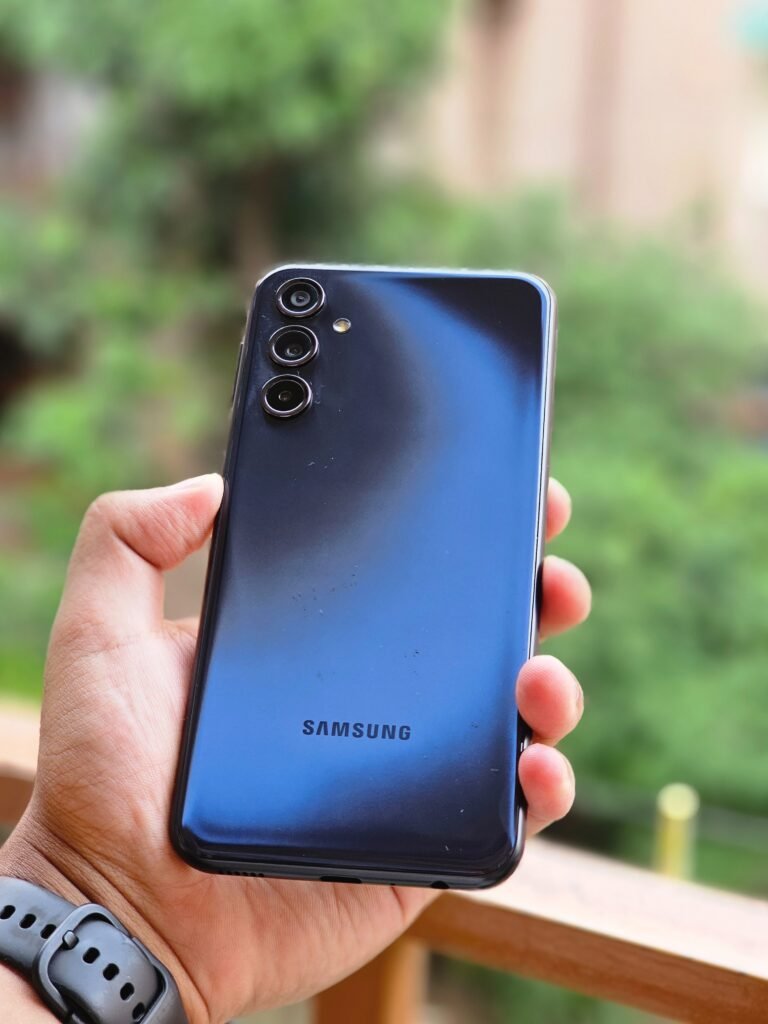 The chipset on the device will ensure that users can effortlessly handle even the most intensive tasks without any compromise on speed or efficiency. Also Read – OnePlus 11R software update with major security updates
3. Samsung M34 with One UI 5.1
The recently launched Galaxy M Series smartphone runs on the latest Google Android 13 based One UI 5.1. South Korean smartphone makers confirms that they will be providing four years of OS update. Besides, the smartphone will receive up to five years of security updates. This phone's lengthy commitment has the potential to significantly influence numerous prospective buyers.



Samsung claims that the Galaxy M34 5G is equipped with a range of interesting features, including Voice Focus. The company claims that this feature will minimize the background noise during the voice and video calls. Another new feature is Samsung Wallet, which comes with tap and pay options.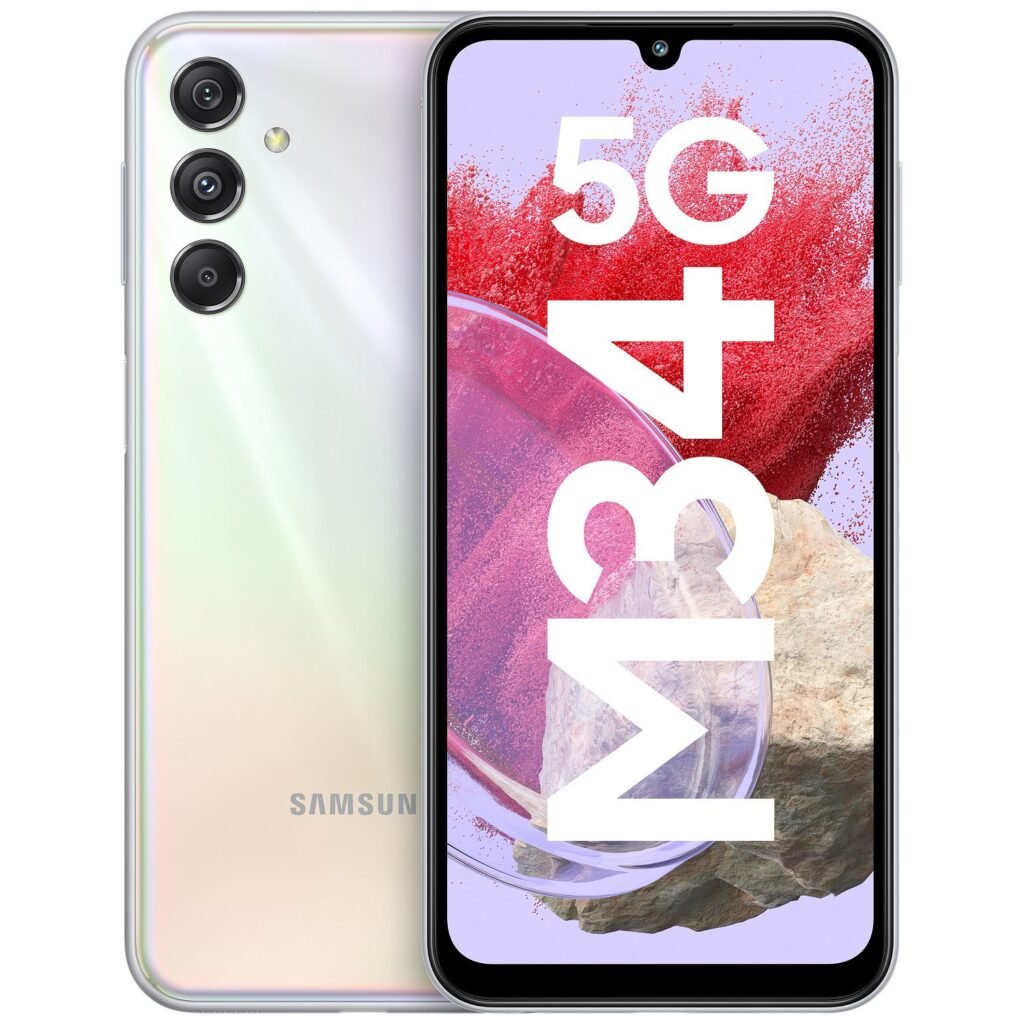 This Samsung Galaxy M series smartphone enable users to pay for their purchases more easily and quickly. Additionally, the Galaxy phone incorporates Samsung's Knox Security, providing users with enhanced privacy and security measures.
4. Audio and Connectivity on Samsung M34 5G
In terms of audio, Samsung Galaxy M34 5G also delivers an immersive audio experience thanks to the powerful Dolby Atmos technology. Considering the future of connectivity, the Samsung M34 comes equipped with integrated 5G technology. Also Read – Check out the predecessor Galaxy M32 live on the official Samsung India website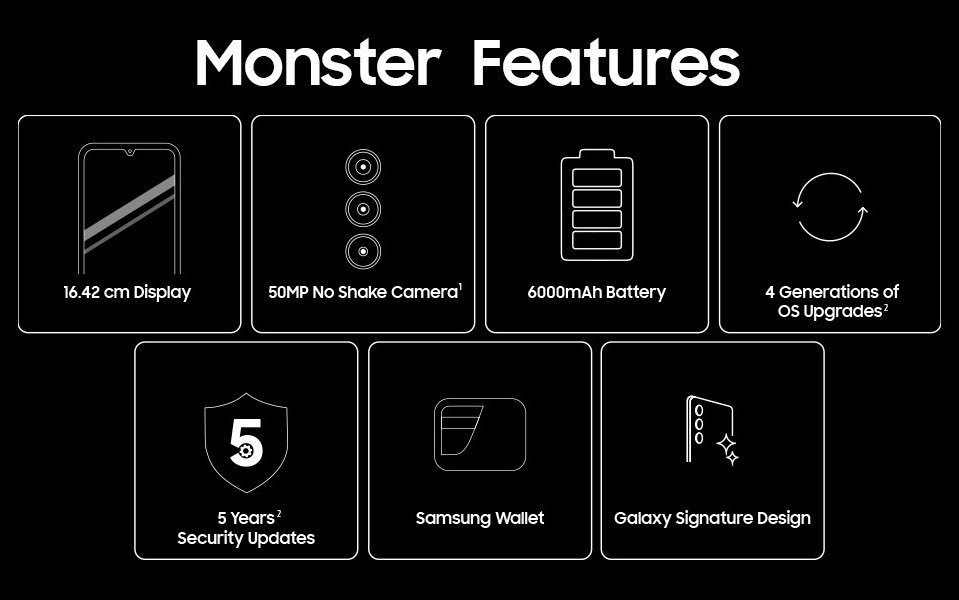 Meanwhile, this allows users to experience blazing-fast internet speeds, enabling quick downloads, lag-free streaming, and uninterrupted video calls. With 5G connectivity, users can also enjoy a whole new level of productivity and entertainment on the go.
5. Samsung Galaxy M34 5G Camera Capabilities
Samsung has always been at the forefront of smartphone photography. The all-new Samsung M34 5G is another such camera smartphone. It features a cutting-edge triple-camera setup. As for the specifications, the Galaxy M34 5G comes with a triple rear camera setup consisting of a 50MP no shake-camera, an 8MP 120-degree ultrawide lens and a 2MP macro lens. At this price point, it is also a rarity to come across such no-shake camera features.
On the front side, the phone is equipped with a 13MP camera specifically designed for capturing selfies. Furthermore, the Samsung Galaxy M34 5G boasts a Nightography feature and a Fun Mode, catering to the interests of photography enthusiasts. This versatile camera system enables users to capture stunning photos and videos in any lighting condition.
6. Battery Life and Charging
The Samsung M34 5G is also equipped with a robust battery that offers long-lasting usage. The Samsung Galaxy M34 5G packs in a massive 6,000mAh battery, claimed by the company to offer up to two days of backup. Meanwhile, we will discuss about the actual battery life in our full detailed review. Also Read – Samsung Galaxy Buds 2 TWS earphones with ANC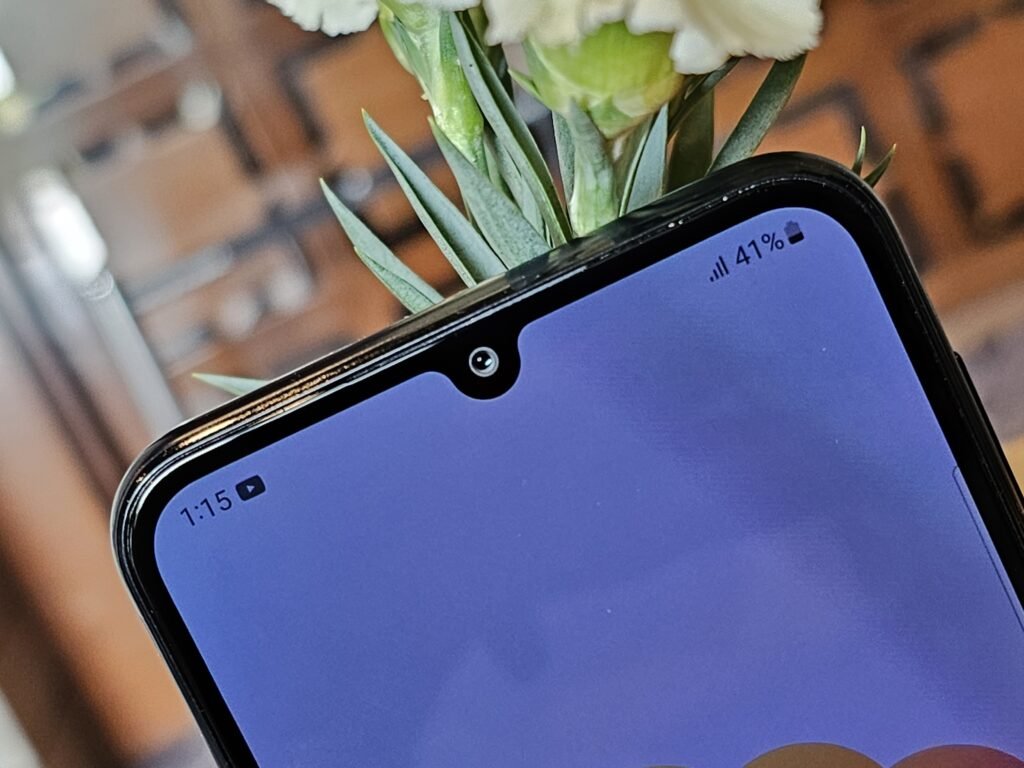 Conclusion
The Samsung Galaxy M34 5G may not be the most visually appealing smartphone in its category. In comparison, other smartphones like the new Realme Narzo 60 5G, the Realme 10 Pro 5G and others undoubtedly present a more appealing aesthetic. However, its specifications are quite competitive, and the long-term software commitment undoubtedly stands out as a unique selling point.
FAQs
Is Samsung Galaxy M34 5G?
Yes, Samsung Galaxy M34 is a 5G smartphone. Launched last week, the Galaxy M34 is powered by Exynos 1280 chipset.
What is the price of Samsung Galaxy M34 5G in India?
In India, the base variant of Galaxy M34 comes with a starting price of Rs 16,999, could be decent option to check out under Rs 20000.
Is Samsung M34 5G worth buying?
It's quick, has a long battery life, and the primary camera shoots nice, Instagram able shots that should fulfill your basic requirements. Priced under 20,000 (for the base edition), it provides excellent value for money.