These India is witnessing the power of MediaTek's latest chipset in form of Dimensity 1200. Currently, there are multiple smartphones powered by the MediaTek Dimensity 1200 SoC. These includes OnePlus Nord 2, Poco F3 GT and many more. Now, MediaTek is planning to launch the next version of this chipset. According to leaks, the upcoming processor will be called as the Dimensity 1300T. The leaks suggests that Dimensity 1300T will be offering a notable improvement in performance over the Dimensity 1200. According to reports, this MediaTek chipset will debut with upcoming Honor V7 Pro tablet.
Honor tablet with MediaTek Dimensity 1300T:
Meanwhile, this MediaTek Dimensity 1300T will be exclusive to the Honor devices. The leaks suggests that Honor will be first brand to bring Honor V7 Pro tablet with Dimensity 1300T. Meanwhile, the Chinese brand has reserved all rights to use this chipset exclusively for the first six months. This indicates that Honor is likely to use the chipset on other mobile devices also. These devices could include upcoming laptops and smartphones. However, MediaTek is yet to share any words on this topic.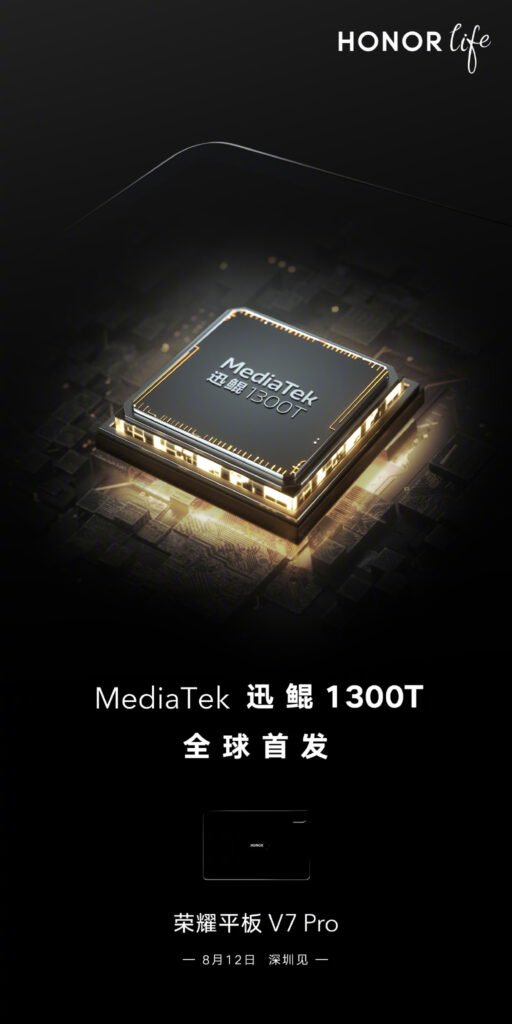 MediaTek Dimensity 1300T coming soon:
Initially, this chipset will launch exclusively with Honor tablet series. Once the exclusivity agreement gets over, the chipset could power other phones also. However, this can be delayed too. According to reports, MediaTek has confirm that this all-new chipset will offer a little performance boost. This means that there will be performance improvements over the current gen Dimensity 1200. The leaks suggests that MediaTek Dimensity 1300T will offer up to 30 per cent improvement in CPU performance. It will also offer 40 per cent improvements in GPU. The new chipset will bring 82 per cent improvements in AI performance over the Dimensity 1200.



Some reports also suggests that Dimensity 1300T could offer performance equivalent to the Qualcomm's flagship Snapdragon 888 chipset. As mentioned above, the chipset will be debuting on an Honor tablet. The chipset is likely to power the ARM-based Honor laptops, which will be launching in coming months. According to tipster Digital Chat Station, the Dimensity 1300T will be based on the 6nm process. It will feature Cortex A78 CPUs. Additionally, the chipset will also feature a 9-core GPU along with a 6-core APU. Meanwhile, we have to wait for any official updates from both the companies. MediaTek and Honor will be working together on these phones and tablet series.
MediaTek Dimensity 1200 dominates in market:
Currently, MediaTek Dimensity 1200 is the most powerful chipset from the company. MediaTek is selling this chipset to various OEMs including OnePlus, Poco and many others. The Poco F3 GT and the OnePlus Nord 2 are the latest entry with this chipset. Moreover, the OnePlus Nord 2 launched with the tweaked version of Dimensity 1200 chipset to offer faster AI performance. As per synthetic benchmark, the Dimensity 1200 performs almost as fast as the Snapdragon 870. Also Read: MediaTek Dimensity 1200 SoC comes as the flagship processor in India