These days Xiaomi is teasing its upcoming Redmi Note 10 series. The company's CEO claims that the Redmi Note 10 series will be the smoothest Redmi smartphones yet. However, his statement contradicts itself, as the MIUI itself is not smooth. Being a note series, we cannot expect a flagship processor. Recently, Redmi India made a poll based tweet, asking about the best display option.
This "smoothest Redmi smartphone yet" tagline suggest for a high refresh rate display for a smoother experience. Recently, Xiaomi hosted a twitter poll asking people to choose between an LCD display and an AMOLED display for the upcoming Redmi Note 10. However, within an hour, the Redmi India deleted the tweet after almost 90 percent voters chose the AMOLED display options. In twitter poll, company was asking users to choose between a "best LCD" with 120Hz, or an AMOLED display. While the specifics of the LCD display were mention, the company did not mention anything around the AMOLED display's specifics.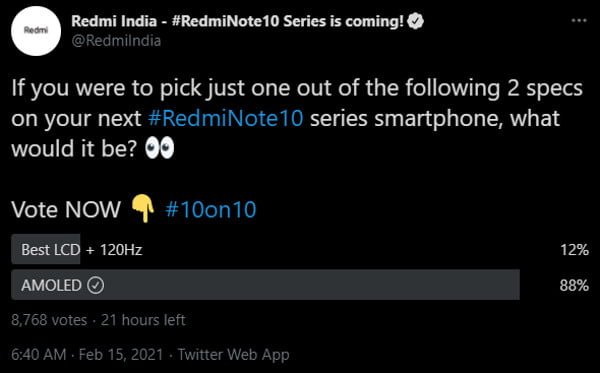 Looking at the result, it appears like no AMOLED display happening on the Redmi Note 10 series. To recall, AMOLED display consumes less power while viewing pitch-black content. Also, AMOLED displays can deliver high levels of brightness and does not bleed the light when compared to LCD displays. However, there is no official confirmation yet, as Redmi India deletes the tweet after an hour of posting.
Since the past few launches, Xiaomi has stuck to LCD displays even for its premium smartphone segment. Xiaomi has previously told that they prefer LCD displays over the OLED for color accuracy.  Personally, a good AMOLED display with a 60 Hz display is much better than an LCD with a 120 Hz refresh rate. Also Read: Xiaomi Mi 11 Ultra specs leaked, to feature 120X zoom and mini secondary screen
Redmi Note 10 series: Mega Upgrades
As per rumors, Xiaomi could reserve a 120Hz LCD display for overhyped Redmi Note 10 Pro. The phone could come with Snapdragon 732G chipset. The base model of Redmi Note 10 could come with a 60Hz LCD Display. Thus, Price wise it will be the cheapest of all. Rumors also added that Redmi 10X Pro could come as Redmi Note 10 Pro in India.
Redmi 10X Pro was launched in China in mid, 2020. The phone comes with MediaTek Dimensity 820 chipset which guarantees a better performance. The device also packs in a 1080p AMOLED display, a 4500mAh battery, a 48-MP main camera, and a premium glass-based design.
Redmi Note 10 series: Expectations
By deleting the tweet, the company tries to erase all proofs of people asking for an AMOLED display over an LCD display. As customers have asked for AMOLED display for Redmi Note 10 series devices. However, Xiaomi is still not in a mood to bring one. Hence, it is likely that Xiaomi will bring LCD display rather than AMOLED display. Also Read: Microsoft Surface Pro 8 still in works, could launch this fall
Keep in mind that these are just rumors. As multiple rumors are still floating around on the internet. Some leaks have also hinted at availability of four models under Redmi Note 10 series. These hints also share the launching of Redmi Note 10 series in the month of March. According to leaks, there will be four models including Redmi Note 10 4G, Redmi Note 10 5G, Redmi Note 10 Pro 4G, and Redmi Note 10 Pro 5G. However, all these are not the official leaks from the company. Hence, we have to wait for any official news coming from Redmi India.