Google has officially roll out a new update for its Search App in India. With this new update, the Google Search app will now be able to show all the important information related to COVID-19 vaccine and its registration. Beside this feature, the company is also testing a new feature on Google Maps app. This feature will help the needy users to locate critical resources such as hospital beds, oxygen concentrators and much more. This information will be provided using crowdsourced information. Also Read: Twitter CEO Jack Dorsey donates Rs 110 crores to help India fight COVID-19 second wave
Google Search app to provide COVID-19 info:
In the mean time, the Google Search app will show all the necessary information in different information panels. These information panels will contain all the updates on vaccine safety, side-effects of vaccine and information about how to register for vaccine. All this information can be access on searching information on COVID-19. Additionally, the company has also added a link to India's Government based CoWIN portal. This link is available in vaccine information tab.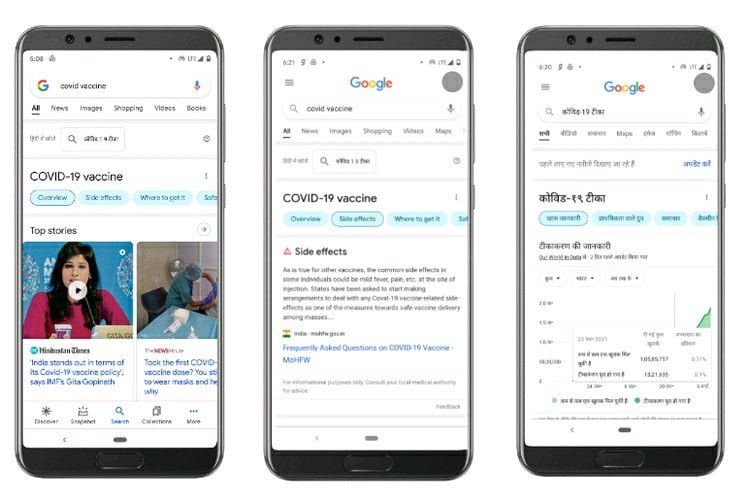 Beside, the information on vaccine, the Google Search app also shows additional information. This is about prevention, self-care and treatment under the Prevention and Treatment Tab. It can be accessed while searching for COVID-19. The company provides all the necessary information which is source from various authorize medical sources and Ministry of Health and family Welfare (MoHFW). To recall, last year also, the company provided similar experience to users. Google provides all the important details about the nearby testing centers, last year.
Google Maps to provide care center locations:
Beside all this, the company has enable its Google Search and Google Maps app to provide important information. This information is related to locations of over 23000 vaccination centers nation wide. The information about these centers has been source from the Ministry of Health and Family Welfare. The company has also started testing some new features using Q&A function in Google Maps app. This new feature will allow users to ask about and share local information. This information can be related to availability of beds and medical oxygen in select locations. Keep in mind, the information obtained will be user generated. It will not be verified by either government or the company.



Additionally, the company has recently started showing some important safety related messages to the users. This comes as a part of its Get the Facts around COVID-19 vaccine campaign. These messages can appear anywhere on the Google Search homepage or app. It can appear in form of Doodle or as reminders from the company's app and services. Since India is fighting a battle against this devastating wave. The company will keep doing its work in helping the country as the selfless individuals and committed organization. The company will work on the front lines in terms of response.