AMD has officially unveiled the all-new Radeon RX 6600 XT GPU. The new GPU comes under the mid-range price segment. It is aimed at the gamers to offer high performance and high refresh rates at 1080p. According to AMD official notes, the all-new Radeon RX Series GPU can offer 15 per cent better performance than the competing GPU from NVIDIA. To recall, the AMD Radeon RX 6600 XT GPU will compete against the likes of NVIDIA GeForce RTX 3060. The company also assures that it can offer up to 2.5x better performance that NVIDIA's aging GeForce GTX 1060 GPU.



According to latest hardware survey, The NVIDIA GeForce GTX 1060 is the most widely used GPU. There are many other brands that manufactures the graphics card. These includes ASUS, MSI, Gigabyte India, Sapphite, XFX, ASRock, Biostar, PowerColor and many others. The tech company also confirmed that the pre-built gaming desktops with this latest GPU will be up for sale soon. The sale for these desktops is likely to begin in the second week of this August.
AMD Radeon RX 660 GT: Price in India
As far as price details are concerned, Individual manufacturers will later announce the pricing for India. The all-new Radeon RX 6600 XT comes with price tag of USD 379 which is approximately Rs 28775 on conversion. Due to global shortage of GPUs, the AMD is pricing this graphics card a bit on the higher side. However, the Indian pricing still remains unknown. According to official reports, AMD has officially confirmed that the all-new Radeon RX6600 GT is not suitable for cryptocurrency mining. The company also adds that no further hardware tweak will be discouraged.
AMD Radeon RX 6600 XT: Specifications
AMD Radeon RX 6600 XT will join the Radeon RX 6900 XT, RX 6800 XT, RX 6800 and RX 6700 XT in current series. All of these GPUs comes with the same RDNA 2 graphics architecture. According to company's officials, in 2020, two-third of the gaming displays has been shipped with a screen resolution of 1920p x 1080p. However, there is a strong demand of higher refresh rate monitors. Therefore, company has to take some action on this requirement.



In terms of specifications, The AMD Graphics Card comes with 2048 "stream processors" which are grouped into 32 compute units along with 32 ray accelerators. The Stock frequencies range from 2359MHz to 2589MHz (maximum with boost). These GPU will draw a typical power of 160W. The company recommends a 500W minimum power supply. Meanwhile, the company confirms that the Graphics card manufacturers will be free to customize the cooling solution for this latest product. They can also ship an overclocked card.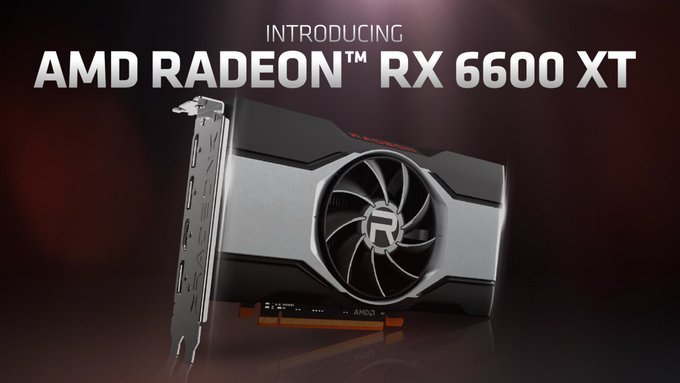 AMD GPU: Games Support
Radeon RX 6600 XT models will also feature an 8GB of GDDR6 memory on 128-bit bus. It can work for up to 256GBps memory bandwidth. With the claim of 15 percent better performance, the Radeon RX 6600 XT can offer better gaming experience with many games. These games include Battlefield V, Cyberpunk 2077, Death Stranding, Hitman 3, and Resident Evil: Village. AMD claims that this GPU can easily run these games at 1080p using the highest possible settings and most favourable API. In games like Doom Eternal, Assassin's Creed: Valhalla, Borderlands 3 and Forza Horizon 4 AMD promises performance boosts. The performance can improve from 1.4X to 1.7X.
The latest AMD Radeon RX 6600 XT GPU will succeed the previous generation Radeon RX 5600 XT GPU. Additionally, the Radeon RX 6600 XT GPU will also support ray tracing. AMD's Smart Access Memory, as well as FidelityFX Super Resolution upscaling, Radeon Boost, and Radeon Anti-Lag, are among the software features on this latest GPU. Also Read: NVIDIA RTX 3080 Ti, 3070 Ti Graphics cards launched, AMD RX 600M series also unveiled