Samsung wants to excel in Global tech market with its upcoming tech products. Currently, Samsung is taking feedback from the community members about its gaming performance. Based on this feedback, the South Korean tech giant is now working in collaboration with AMD. Both the tech companies are working together to develop a custom GPU for the next gen flagship Exynos chipset. Both the companies made their partnership official at COMPUTEX 2021. At the grand stage, it becomes official that AMD is going to provide the high-end GPU experience for the upcoming Exynos powered devices.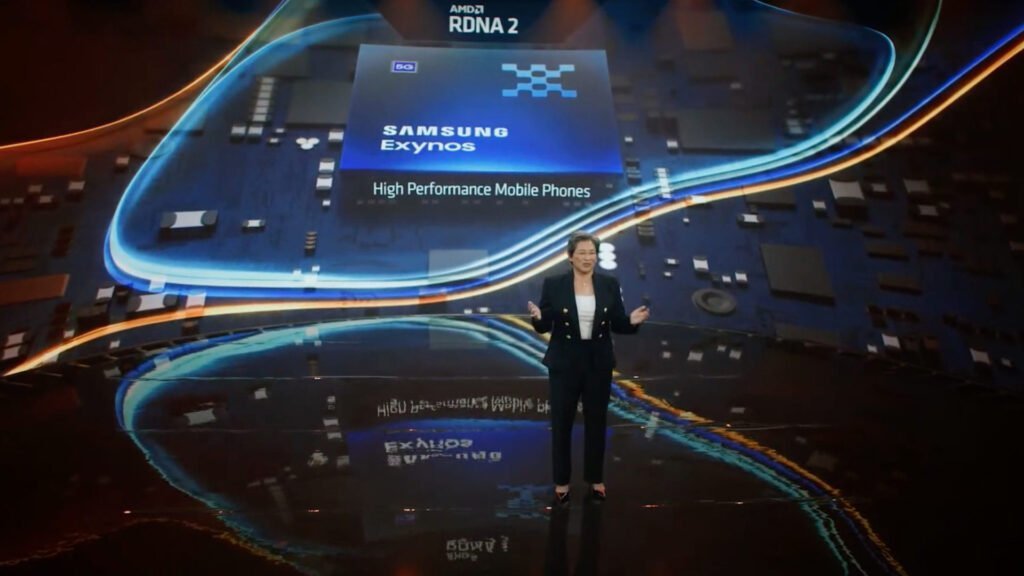 However, the exact details of this upcoming chipset is unknown. It is likely that Samsung could announce the exact details of this Exynos chipset later this year. But it does confirm that the next gen Exynos chip will rely on AMD based GPU. The AMD's GPU will be based on the AMD RDNA 2 architecture. It claims to provide console like gaming on mobile devices. This upcoming Exynos chipset will be powering the next year's Samsung Galaxy S22 Series.
Samsung Collaborates with AMD for GPUs:
According to Lisa Su, CEO, AMD, the next GPU with RDNA 2 architecture will be found on the high-performance mobile phone market. At COMPUTEX 2021 she confirms that AMD has partnered with one of the top tech giant Samsung. This partnership will allow to accelerate graphics innovation in the mobile market. She also added that the company is all excited to announce that they will be bringing the custom graphics IP for Samsung's next flagship mobile SoC. It will come along with ray tracing feature along with variable rate shading capabilities. Further details about this subject will be provided be Samsung later this year.



It is expected that along with custom graphics IP, Exynos powered handsets could offer superior gaming performance. Till date, the availability of ray tracing and variable rate shading feature has been missing on the mobile SoC market. According to reports, the upcoming Samsung chipset could be challenging the supremacy of Qualcomm Snapdragon and Adreno chips. Some rumors also suggests that the next in line Exynos 2200 SoC is likely to launch next year. This chipset could be the one which will be powering a few laptops along with smartphones.
Exynos chips to improve its bad reputation:
From last few years, Samsung has been focusing on mobile gaming. The company is claiming to provide superior experience on Exynos based devices. However, Qualcomm Snapdragon powered devices provide better and superior performance on comparison. Thus, putting Exynos is a bad position in mobile gaming industry. Currently, there are not many mobile games that uses advanced features like ray tracing and variable rate shading.
According to reports, Samsung could partner with gaming studios to bring special games. These games will exploit the advantages on Exynos powered devices. Earlier also, Samsung reserved Fortnite's release on Android for its Galaxy devices for many months before releasing on other devices. Along with this announcement, AMD also showcase a couple of new graphic cards for the mobile platform. This GPUs comes under RX 6000M Series. Also Read: Samsung working on Exynos 2200 SoC, to launch in pair with AMD GPU