Citroen is a French automobile company launching the new Citroen C3 with Citroen Advanced Comfort in India. Citroen C3 officially launched in India as the latest Compact Crossover. The most unique Compact Car Citroen C3 comes in two trim levels: Live and Feel. These are further divided into seven distinct variants. The all-new Citroën C3 car will compete with other sub-compact SUVs like Tata Punch, Nissan Magnite, Renault Kiger, Maruti Suzuki Swift, and Hyundai Grand i10 Nios in India.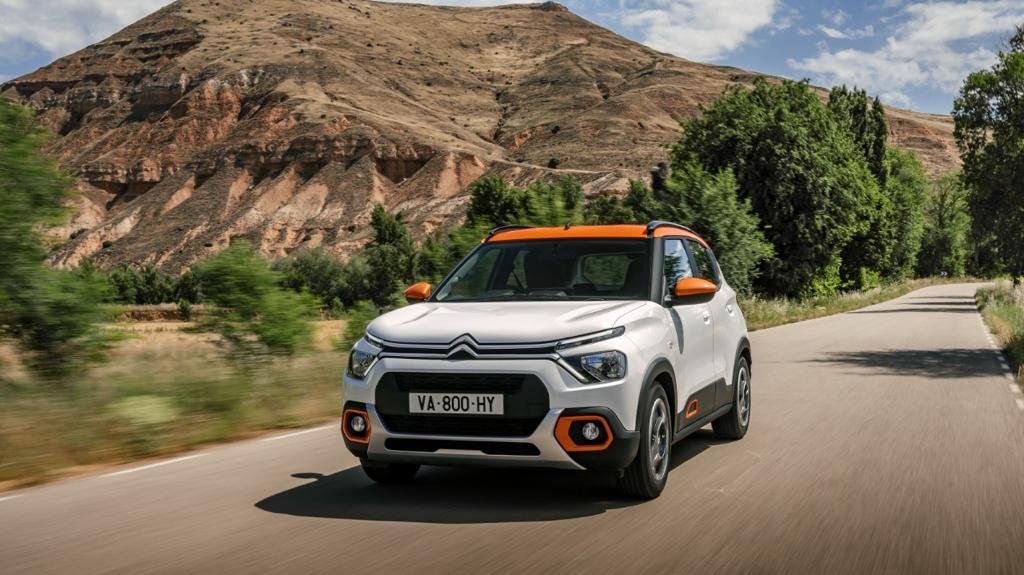 Citroen C3 in India
According to official reports, Citroën C3 is an entry-level Made in India compact car from the automakers. This is the company's second product, which sits right below its debut product, Citroen C5 Aircross. To recall, the Citroen C5 Aircross was launched in 2021. The newly launched sub-compact segment SUV embodies many design elements from its elder sibling launched previously.
Bringing alive a unique style, designed for urban expression, #ExpressYourStyle with the SUV-like stance of the New Citroën C3.
The introductory price of the New Citroën C3 starts at 5.71 Lakh. Book a test drive today!#ExpressYourStyle #NewCitroenC3 #NewC3 pic.twitter.com/dtiibScIoJ

— Citroën India (@CitroenIndia) August 5, 2022
Under the hood, the all-new Citroen C3 has a 1.0-liter NA petrol motor paired with a five-speed manual unit. Another 1.0-liter petrol motor pairs with a six-speed manual unit. This means no Automatic variant is available for the newly launched Citroën C3. The latter engine produces 109bhp and 190Nm of torque while the former produces 81bhp and 115Nm of torque.



Regarding other key highlighting features, the 2022 Citroen C3 includes a split headlamp design, fog light, 15-inch steel wheels with wheel covers, and much more. Similarly, for interiors, the Citroën C3 compact car comes with a 10-inch touchscreen infotainment system, Android Auto and Apple Car Play connectivity, a height-adjustable driver seat, remote keyless entry, and much more.
Citroen C3 price
The newly launched Citroen C3 price in India starts at Rs 5.71 lakh (ex-showroom). Currently, the 2022 C3 Citroen comes in 6 distinct models. The top-end variant comes for Rs 8.06 lakh (ex-showroom). The Citroën C3 has a seating capacity of five occupants. Check out the table given below for different model price details.
| Citroen C3 Variants | Engine Details | Ex-Showroom Price |
| --- | --- | --- |
| C3 Live 1.2 Petrol | 1198 cc, Petrol, Manual, 19.8 kmpl, 80 bhp | ₹ 5.71 Lakh |
| C3 Feel 1.2 Petrol | 1198 cc, Petrol, Manual, 19.8 kmpl, 80 bhp | ₹ 6.63 Lakh |
| C3 Feel 1.2 Petrol Vibe Pack | 1198 cc, Petrol, Manual, 19.8 kmpl, 80 bhp | ₹ 6.78 Lakh |
| C3 Feel 1.2 Petrol Dual Tone | 1198 cc, Petrol, Manual, 19.8 kmpl, 80 bhp | ₹ 6.78 Lakh |
The all-new Citroen C3 is available in four mono-tone colors. These include Polar White, Zesty Orange, Platinum Grey, and Steel Grey. Additionally, the compact car also comes in six-dual-tone colour options. These are Polar White with Zesty Orange roof, Platinum Grey with Zesty Orange roof, Polar White with Platinum Grey roof, Steel Grey with Zesty Orange roof, Zesty Orange with Platinum Grey roof, and Steel Grey with Platinum Grey roof.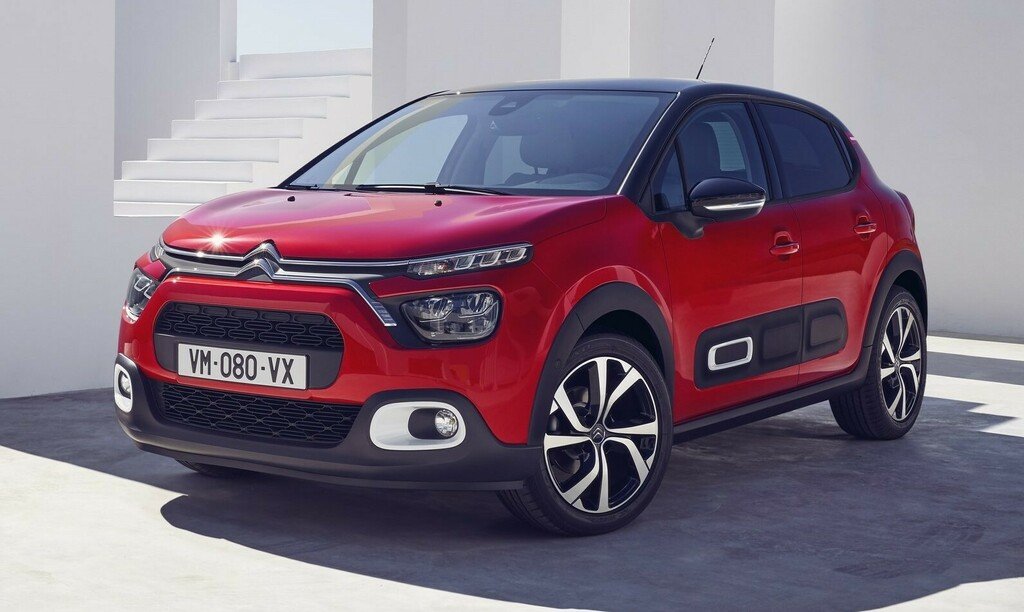 How to Book Citroen C3 in India?
Interested customers can book the all-new Citroen C3 from the company's official website, La Maison Citroen Phygital showrooms. Remember, these La Maison Citroen Phygital Showrooms are spread across 19 Indian cities. Furthermore, the French automaker provides consumers with a one-of-a-kind doorstep delivery option. Currently, this option is available in around 90 Indian cities.
In terms of after-sales service, the company will provide remote diagnostics and 100% parts availability via the aftersales network named the L'Atelier Citroën. Moreover, Citroen Service on Wheels will provide customers with reach and availability by covering typical repairs at the customer's door.
Citroen C3 Warranty Programme
Citroen offers services such as a standard vehicle warranty for two years or 40,000 km (whichever comes first). Furthermore, there is a warranty on spare parts and accessories for 12 months or 10,000 km (whichever comes first). The Automakers also provide 24/7 Roadside Assistance for maximum comfort and mobility as part of the New Citroën C3 Warranty Programme. Moreover, there are also extended warranty and maintenance options available.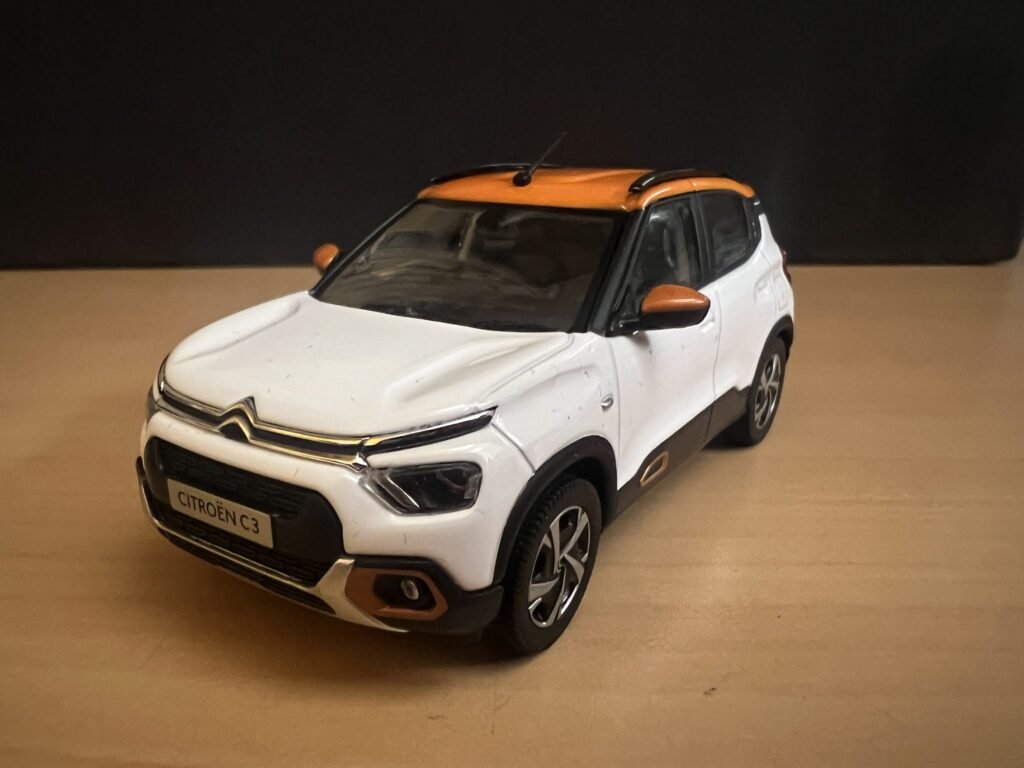 Citroen Future Sure will also be available to New C3 owners. Customers could also buy a Citroen C3 with monthly payments starting at Rs 11,999. Furthermore, this package also includes Routine Maintenance, Extended Warranty, Roadside Assistance, and on-road financing for up to five years.
Citroen C3: First Impressions
The all-new Citroen C3 is a B-Segment hatchback that will compete against the sub-compact SUVs in India. The newly launched compact hatchback gets unique elements like the boxy design and high ground clearance. Citroën C3 is the first mass-market car from the French automakers in India. Also Read – New Scorpio N 2022 all models available on Mahindra Scorpio official website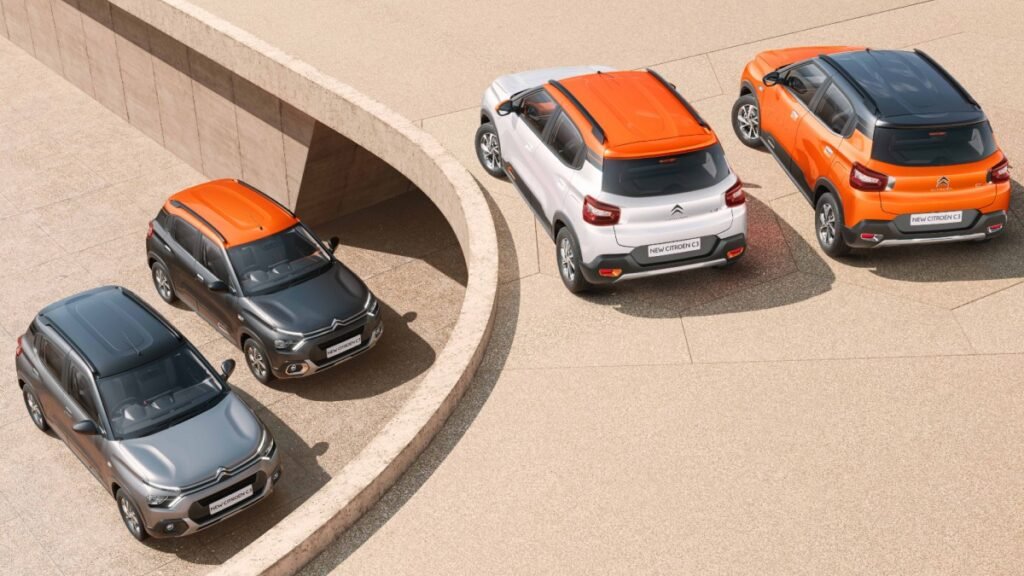 2022 Citroen C3: Exterior Design
The newly launched Citroen C3 sits several segments below the company's debut product, the C5 Aircross. To recall, the C5 Aircross was launched in 2021. The 2022 C3 embodies many design elements from the Citroen C5 Aircross. Furthermore, the C5 Aircross won the Best Design and Styling Award for 2022. A similar eccentric design flair flows through the French Compact car, Citroen C3 2022.
The Chrome Grille incorporates into the Citroen Chevron logo before splitting off into LED daytime running lamps (DRLs). The automakers have taken a step further by using the LED DRLs alongside the relatively simple halogen headlamps. The overall front grille design looks stunning. There is a big hexagonal air dam at the lower end. Underneath sits an X-shaped faux scuff plate which is painted silver.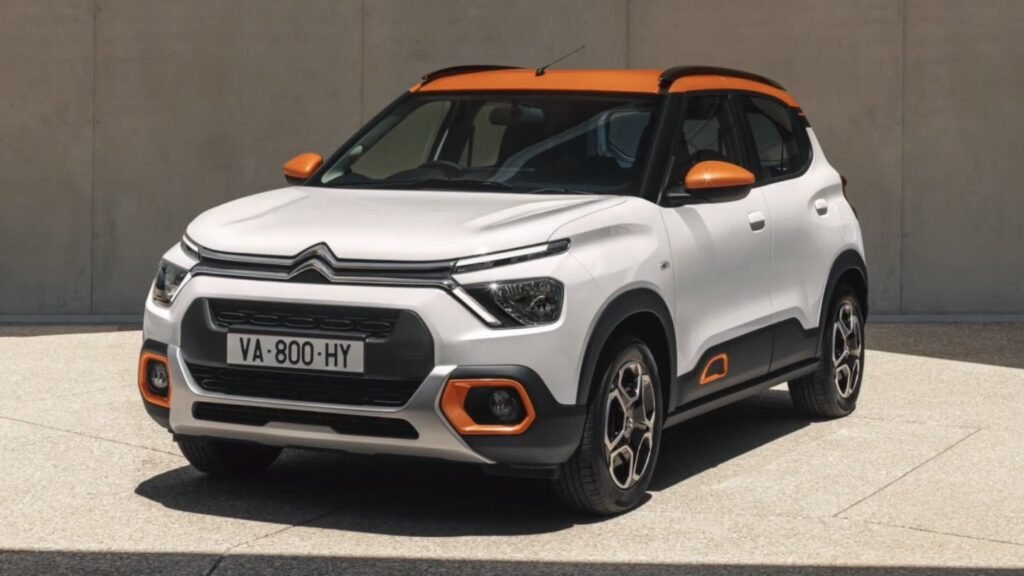 The grille gets a standard grid of rounded squares. Looking closely inside the headlamps, we can spot the word Citroen finished in Chrome. The secondary color in the dual-tone colour model adds a highlighting touch to the compact car. Here, the secondary color accents all the round, including the fog lamp housings. The secondary colour accent further extends to the wing-shaped mirror covers.
It also adds to the styling at the base of the doors and rear bumpers. You can choose orange, Chrome, and Platinum Grey colours for the secondary color options. Furthermore, this colour option blends well with four base colors – White, Light Grey, Dark Grey, and Orange. As a result of these, there are a total of 10 colour combos for Citroen C3 2022. Also Read – New Mahindra Scorpio N test drive review; boot space, seating arrangement, on road price in India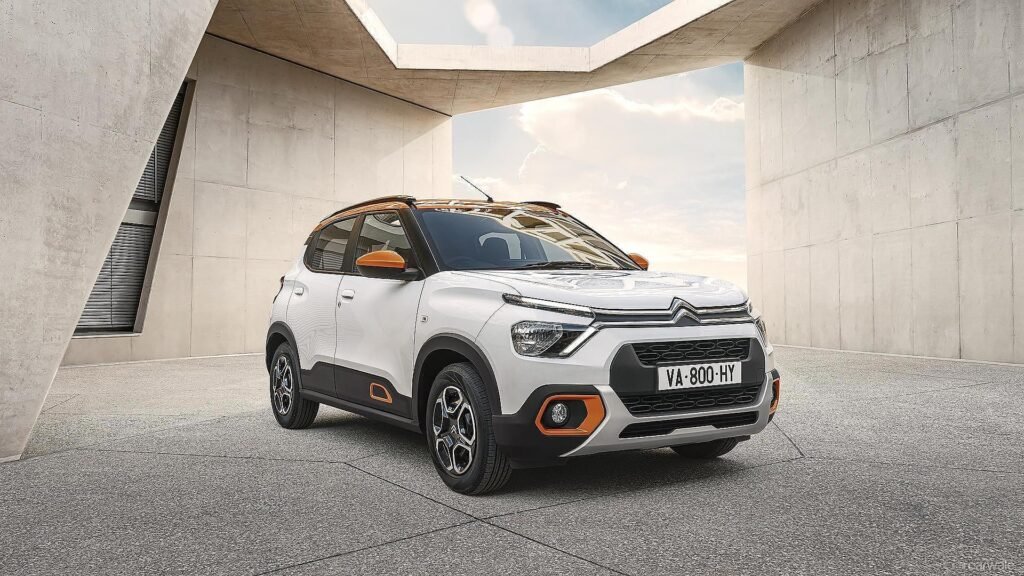 These multiple small details add to the design of the Citroen C3. The front and rear flanks, as well as the bonnet, are heavily sculpted. Even the tailgate isn't simply a flat piece of metal; it has cut-outs for the tail lamps. All these are simple yet effective design elements. The latest compact Citroën C3 car gets lift-type door handles, and an old-school exposed steel lock on the driver's door.
Citroen C3: What's New?
Furthermore, the wheel covers come with a plastic build. The French automakers are also offering alloy wheels as an option. In my experience, it won't be wrong if I call Citroën C3 a "hatchback with a twist." The four-wheel vehicle will attract an average buyer looking for a sub-compact SUV. Regarding ground clearance, the Citroen C3 gets an SUV-like 180mm clearance from ground level.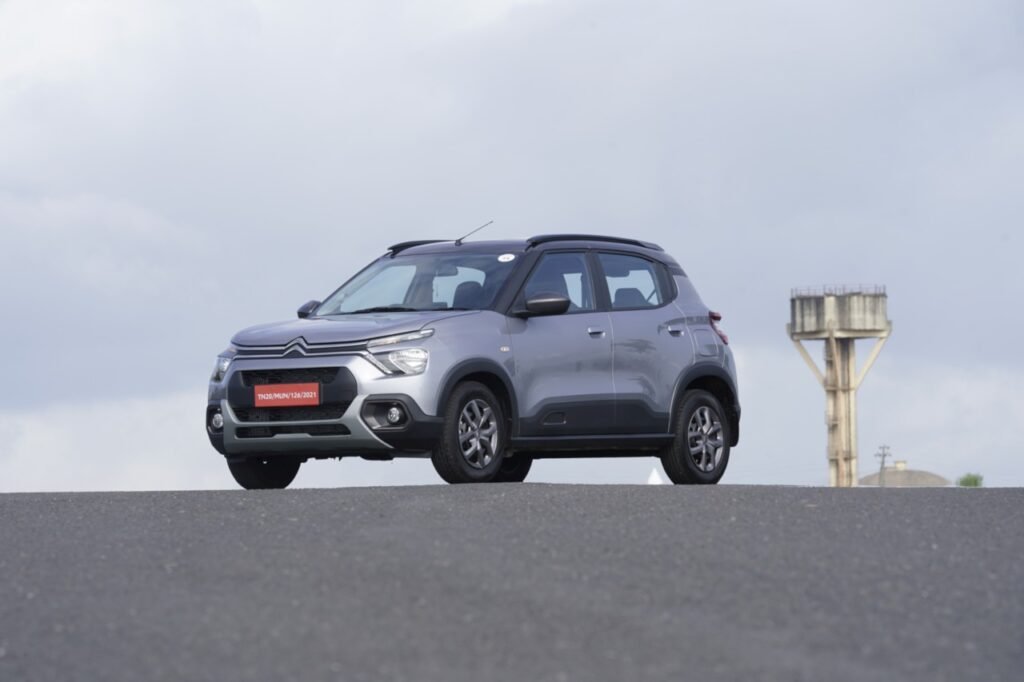 Moreover, there is black cladding all around. The passenger compartment also gets an upright shape. According to reports, the French Automakers Citroen could launch its first proper SUV in India next year. Let's look at the interiors of the all-new sub-compact SUV, Citroen.
2022 Citroen C3: Interior Design
Like the exterior design, the interior of Citroen C3 is far from a standard design. The newly launched sub-compact SUV comes filled with bizarre details. For dashboard design, we don't get single orange colour options. Instead, there is another option of anodized grey. This could be linked with the exterior design you choose. Also Read – New Mahindra Scorpio N 2022 with new design, base model price in India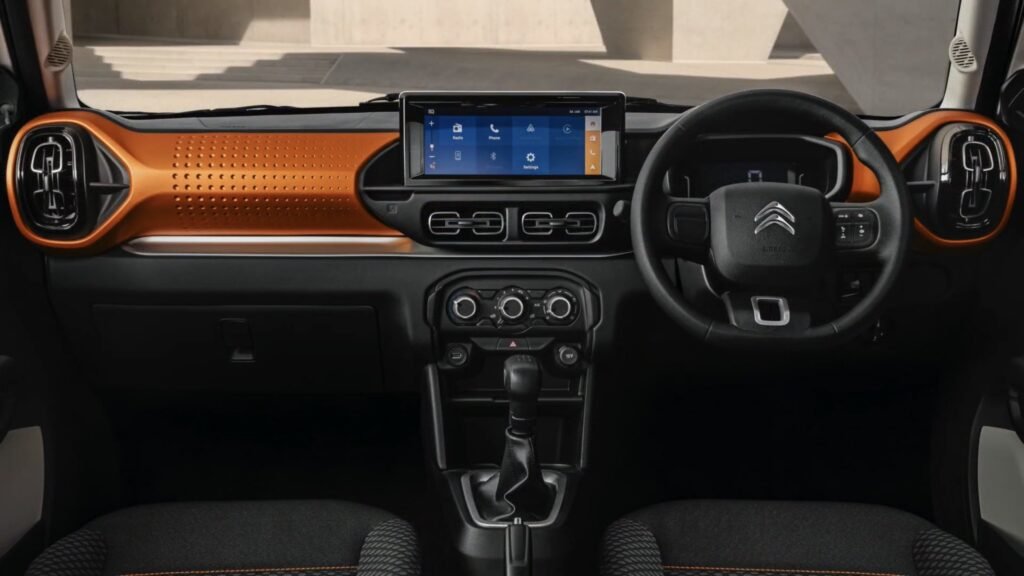 The dashboard gets a dimpled textured surface on the passenger side. Overall, it looks and feels excellent. The big rotating AC knobs lock into place with a gratifying click. Even the AC vents have a unique geometric shape, with traces of the C5 Aircross. Furthermore, there's ample storage space beneath these AC knobs.
Cost-cutting in Interiors
The quality of plastic used for the dashboard and other interior elements is better than expected. The gear lever and the cup holder are also decently placed. Meanwhile, some signs hint that the Citroen C3 car belongs to the budget market. Some of these initiatives include the missing soft material on the door pads to rest your elbows. We have to adjust the wing mirrors manually.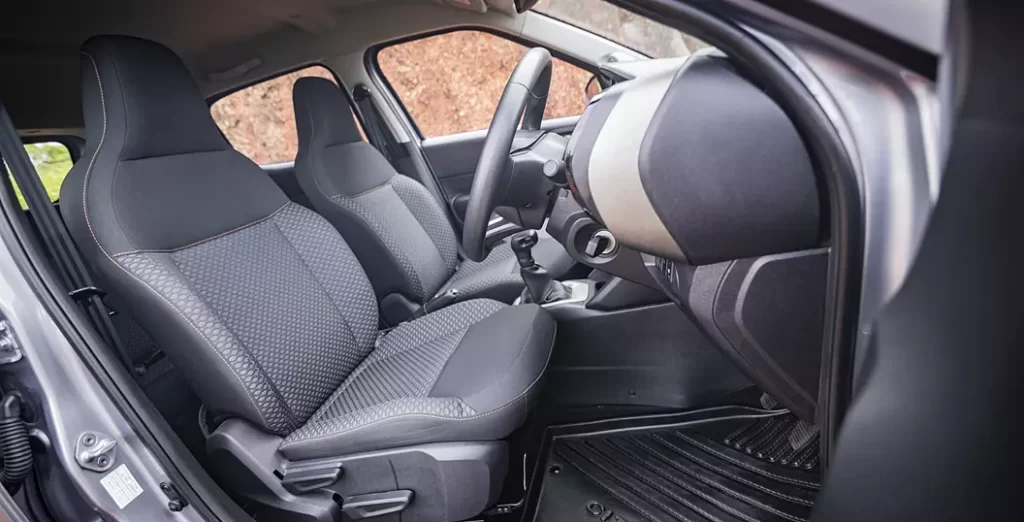 Furthermore, there are no automatic window switches for the rear passengers. There is one standard pair of buttons for front and rear passengers to cut costs. This switch is located between the front seats. Regarding the front seats, folks with more oversized frames may find them a little tight. Although, during the launch event, Citroen claims that the front seats are made to offer a greater sense of space in the cabin.



However, when it comes to the seating experience, the front seats are undoubtedly generously cushioned. The seats offer a comfortable experience over long-distance traveling. The front seats offer a good range of adjustments too. Overall, the front seat provides an SUV-like seating experience. Also Read – New Mahindra Scorpio N 2022 price, launch date in India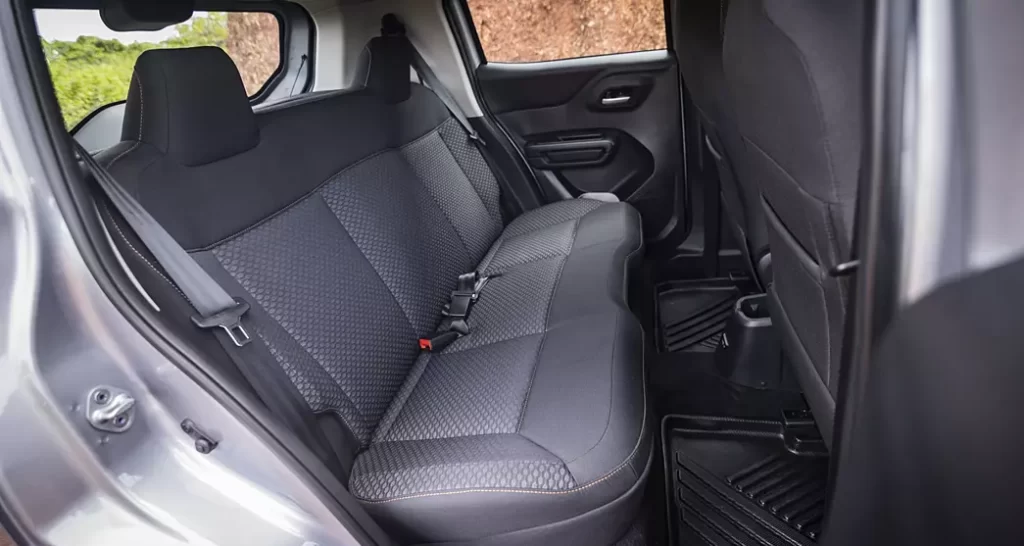 Like the front seats, the back seats on the Citroen C3 are incredibly spacious and comfortable. The rear seats are equally cushioned. The rear seats are not as comprehensive as we get on the full-on compact SUV. Still, three adult passengers can sit comfortably. However, passengers with broader frames might find sitting on the rear seats challenging. The Citroën C3 will not disappoint you for the legs and the headspace.



We also noticed cost cuttings on the rear side, like the front seats. The rear center armrest is missing, also there are no adjustable rear headrests. Fortunately, as technology advances, the Citroen C3 facilitates the rear seats with two USB ports for charging. Also Read – Mercedes Benz concept car with 1000km driving range; concept car interior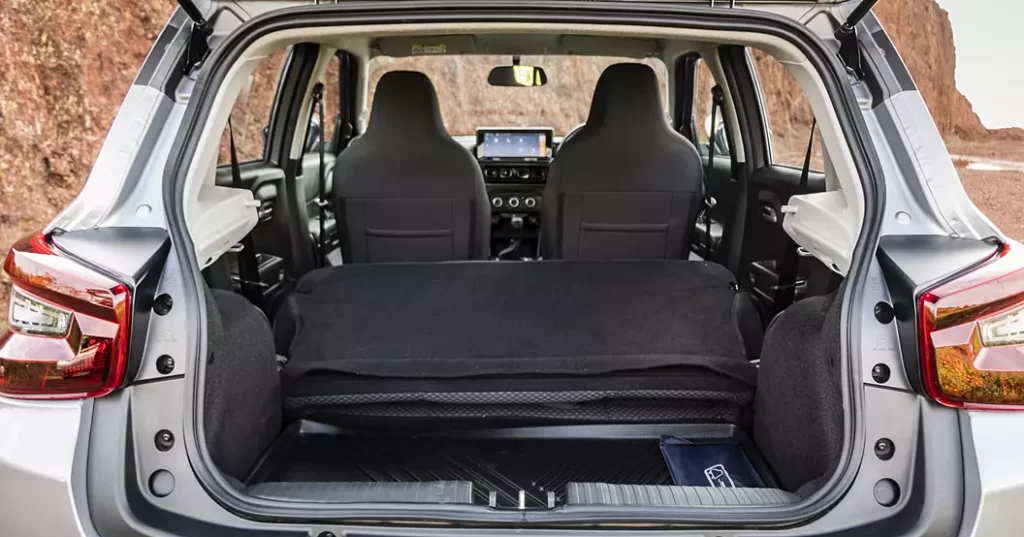 The newly launched Citroen C3 compact car does get 315-liter boot space. This much space is taking the compact car into hatchback territory. The rear backrest folds but does not split, and doing so is a time-consuming operation that requires tugging on two basic straps – not levers – on either side of the cabin. However, the backrest may be removed to provide a level bottom for only cargo-hauling purposes.
Citroën C3: Infotainment and Navigation System
The all-new Citroen C3 gets a massive 10-inch touchscreen. This infotainment system is one of the highlighting features of the newly launched sub-compact segment car. It comes with neat and clean graphics and provides a good touch response. Additionally, the touchscreen offers easy-to-use operations too.
The infotainment system on the Citroen C3 also comes with Apple Wireless CarPlay and Android Auto support. Remember, these features will work properly only after a hard reset. Citroen claims that work is being done to eliminate all software flaws before delivering the automobile to the consumers. Also Read – Android 12 Design leaks show major redesign; comes with a revamp design



With this extensive infotainment system, we rather expect a rear-view camera. But due to cost cutting, Citroen skips the one. A sunroof isn't likely in this car class, but the lack of a back windshield wiper and defogger is noticeable. There is no manual day/night feature on the inside rear-view mirror, no lock/unlock button in the interior, and no height adjustment for the front seatbelts.
Digital Instruments Panel
Besides the infotainment system, the newly launched C3 2022 also gets a digital instrument panel which is no longer small and black and white. Instead, it gets a bigger screen that displays a speedometer. Although, there is no place for a tachometer. Substantial blank space is left on either side of the instrument panel. This tells that the Citroen C3 instrumental panel can be even more significant and could offer more information on the screen.
Missing Features on Citroen C3 variants
Besides these features, another prominent highlighting feature is the presence of a four-speaker audio system. This audio system adds more punch to the newly launched sub-compact segment car. Overall, the lower-spec C3 'Live' variant is far more stripped-down than the top-spec 'Feel' variant. While driving the lower variant, I noticed no touchscreen support and a trimmed audio system. Furthermore, there is no support for LED DRLs, rear power windows, remote locking, or steering adjustment. The USB chargers and roof rails are also missing. Even there is no exterior black cladding or front passenger sun visor.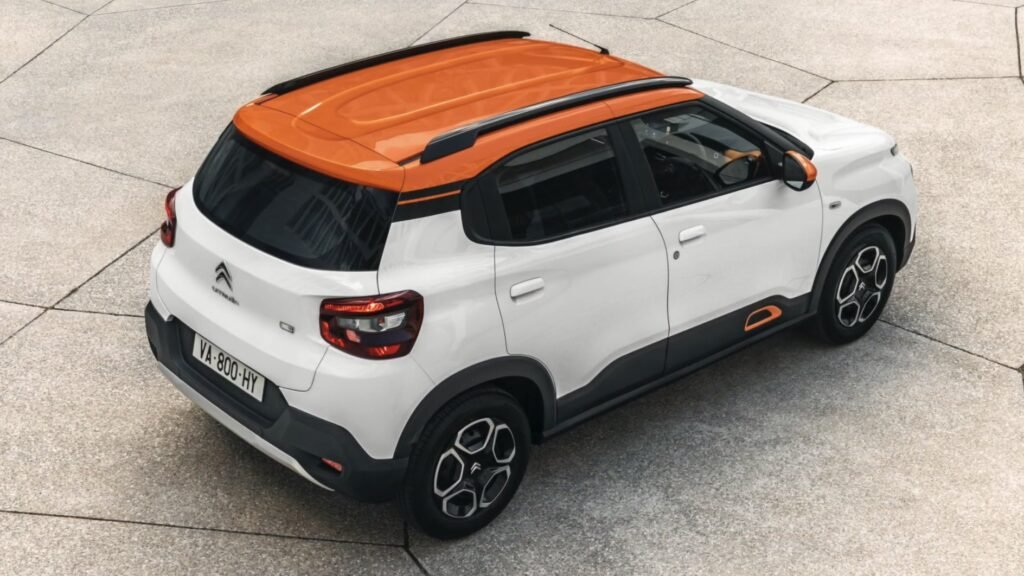 2022 Citroen C3 Engine and performance
The all-new Citroën C3 comes in two powertrains.
– a 1.2-liter naturally aspirated petrol engine with a five-speed manual gearbox
– a 1.2-liter turbo-petrol engine with a six-speed manual.
Turbo Petrol Engine variant
According to recent reports, an automatic variant of the Citroen C3 car will also likely launch by January 2023 in India. The turbo variant offers a solid 110hp and 190Nm torque. These torque figures are more than we expect from any small-capacity turbo-petrol engine. In this price segment, the Citroen C3 offers the best horsepower. With 1035kg weight, the Citroen C3 car is a bantamweight crossover in India.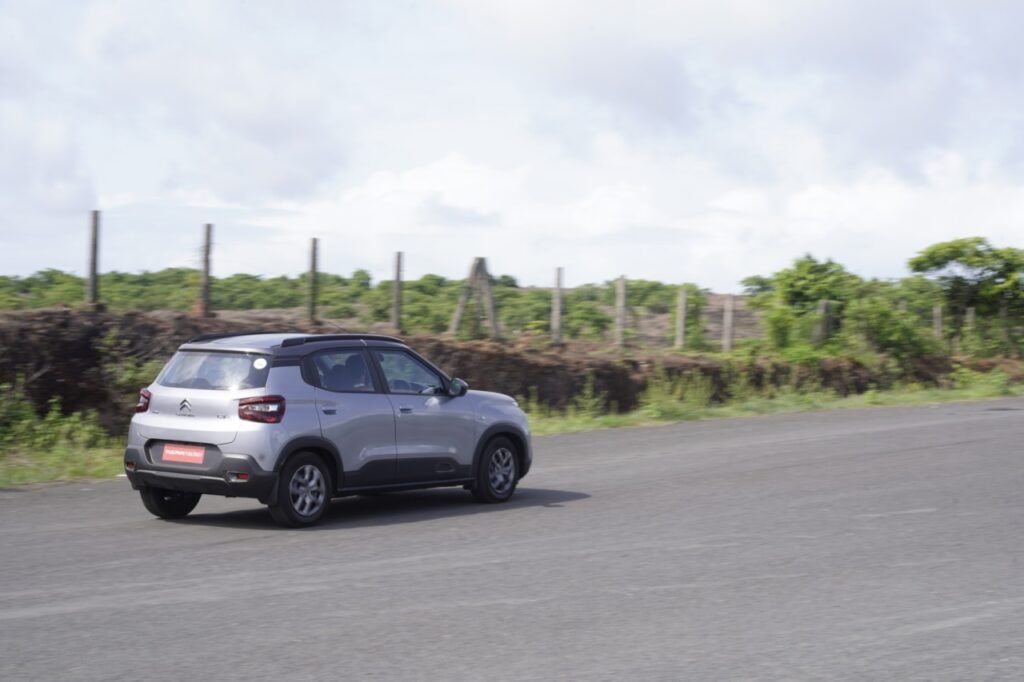 In terms of performance, the C3 2022 compact car offers a robust performance varying from low to mid-range. It mainly depends on the quick reactions act the traffic speeds and overtaking. The compact vehicle does lose power at the high end; I can't tell you the exact RPM because there's no tachometer. Additionally, the three-cylinder engine is noisy too.



You may experience turbo lag if you keep it in high gear and let the revs decrease. The six-speed manual shifts smoothly, making charging up and down the powerband effortless and enjoyable, albeit the clutch release may be a bit sharp. On the braking front, the C3 gets the same disc-drum setup for both the variants and works well, but we could do it with a better initial bite.
Naturally Aspirated Petrol Engine Variant
The 1.2-liter naturally aspirated engine offers 82hp and 115NM torque. It's better than other small-capacity, three-cylinder naturally aspirated petrol engines. Except for a tiny hesitation getting off the line, performance is adequate, if not outstanding. The refinement is also quite excellent when you power it up so that the three-cylinder noise and vibrations irritate. This variant weighs 968kgs.



The clutch isn't as quick as it is in the turbo variant. Furthermore, the five-speed manual isn't as smooth as the six-speed and feels a little notchy. The AC, which Citroen claims have been 'tropicalized' or particularly suited for India, deserves special notice. It worked perfectly, quickly chilling the cabin and keeping it chilly even on a sweltering afternoon.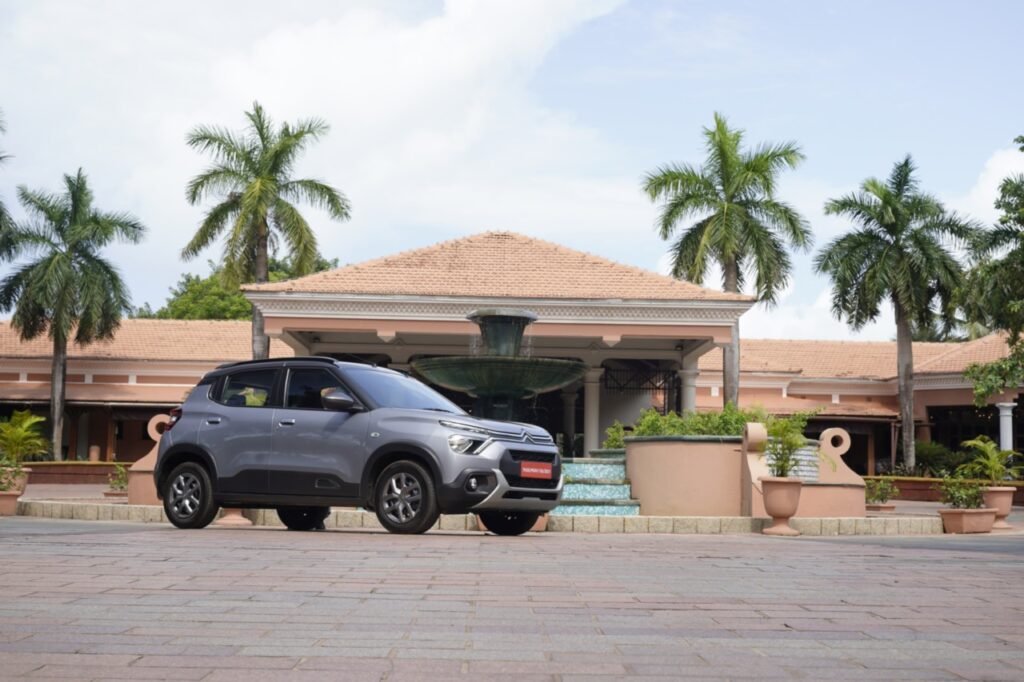 Citroen C3 2022 Riding Experience
French automakers are always known for the comfort they offer in their cars. Citroen has even made it a significant brand tenet. Of course, the more basic C3 delivers the same concept as the C5 Aircross. Moreover, it is evident in its ride quality, which is far ahead of anything in its class. Also Read – The compact smartphone, Asus ZenFone 8 Mini Specifications



The Citroen C3 has broad front and rear tracks on the road. The sub-compact SUV gets a lengthy 2,540mm wheelbase, which is longer than other small SUVs in this price segment. The compact car gets the hefty 195/65 R15 tyre. These are not as narrow as the "environmental" tyre found on small compact vehicles. On paper, the suspension setup on the Citroen C3 2022 is quite typical. While driving briskly on an uneven road, the suspension has to do heavy lifting work. With this hard work beneath the wheel arches, we can enjoy a smooth and bump-free ride inside the cabin.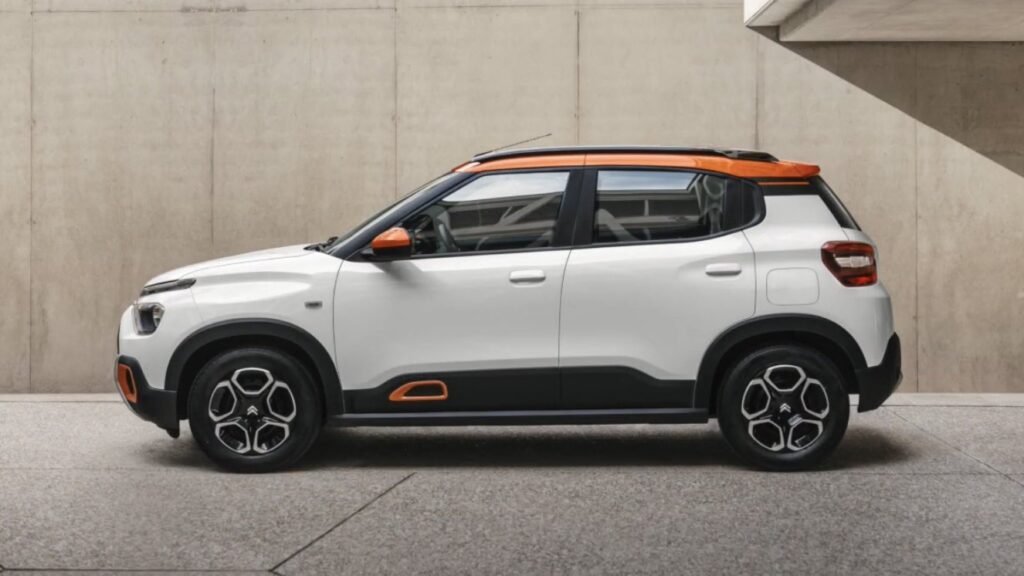 With high ground clearance, I quickly dropped two wheels off on the tiny roadways to allow another vehicle to pass. High-speed stability is also excellent, and steering plays a role in this. The steering is relatively rapid and straight on the Citroen C3 car. The handling of the car is rightly built. I haven't seen such handling in any other vehicle in this price range.
The smooth handling and punchy turbo engine are ideally matched to give driving enjoyment. Although, the handling is not as pin-sharp as in any Ford cards. But it is highly communicative and predictable. Although the supple suspension and high ride height cause considerable body roll, the broad footprint enables the vehicle to track true in a bend. Thus, allowing us to move around in the Citroen C3 freely.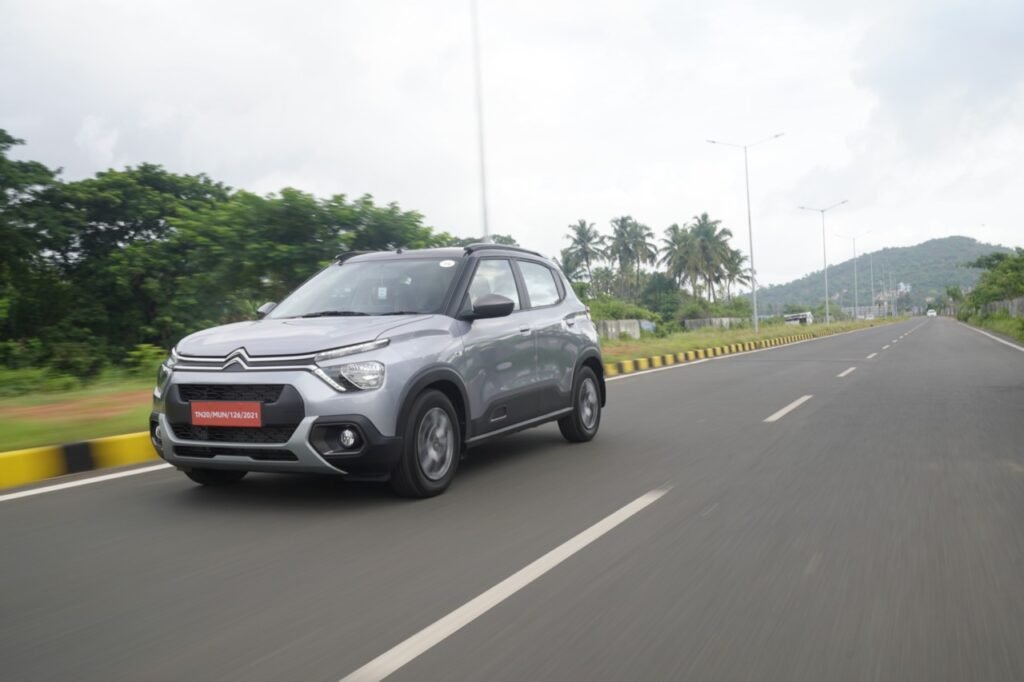 Final Verdict
The all-new Citroen C3 is a B-segment hatchback that comes with SUV-like design elements. The sub-compact segment car gets a boxy design and a high-ground clearance. One of the most significant issues with the Citroen C3 that might not attract many customers will be the lack of features. Also Read – Asus ZenFone 8 Mini with Snapdragon 888 and sub-6-inch display



The car comes with too basic features. Furthermore, the lack of an Automatic gearbox could be a negative point in its marketing strategy. Still, Citroen C3 car comes with many excellent other customization options in India. The car gets two competent engines that do their job flawlessly. Also Read – Asus Zenfone Mini, the compact smartphone from the company
Furthermore, the ride quality is also very relaxing even on the road filled with potholes. Citroen has also guaranteed inexpensive after-sales servicing with more than 90 percent localization. The newly launched Citroen car will compete against Maruti Suzuki Swift, Ignis, Hyundai Grand i10 Nios, and Nissan Magnite.