During the virtual CES 2022 keynote, Mercedes Benz showcased its latest electric concept car with the name of Vision EQXX. The automobile company claims that this new electric model can deliver 1000km of range on a single charge. Interestingly, the automotive giant has managed to achieve this by using the small battery. To recall, the same small battery is also used on Mercedes Benz EQS, which also comes in smaller sedan segment. Moreover, the all-new Mercedes Benz concept car beats the EQS in terms of battery utilization. Thus, becoming the most aerodynamic car in the world with a drag coefficient of 0.17. Although, looks wise the Mercedes Benz Vision EQXX does not look much aerodynamic.
Mercedes Benz Vision EQXX – The Concept Car
Meanwhile, the latest electric car is just a concept model. Mercedes Benz claims that they are very close to begin the production of this top-class electric car. At the CES 2022 Keynote, officials from Mercedes Benz stated that the latest electric car will get a legal road-version that can run for 1000km on single charge as claimed. However, in the age of electric cars, Mercedes Benz is losing the iconic Mercedes grille on this electric car. Thus, bringing the new design language for the Mercedes Benz EV.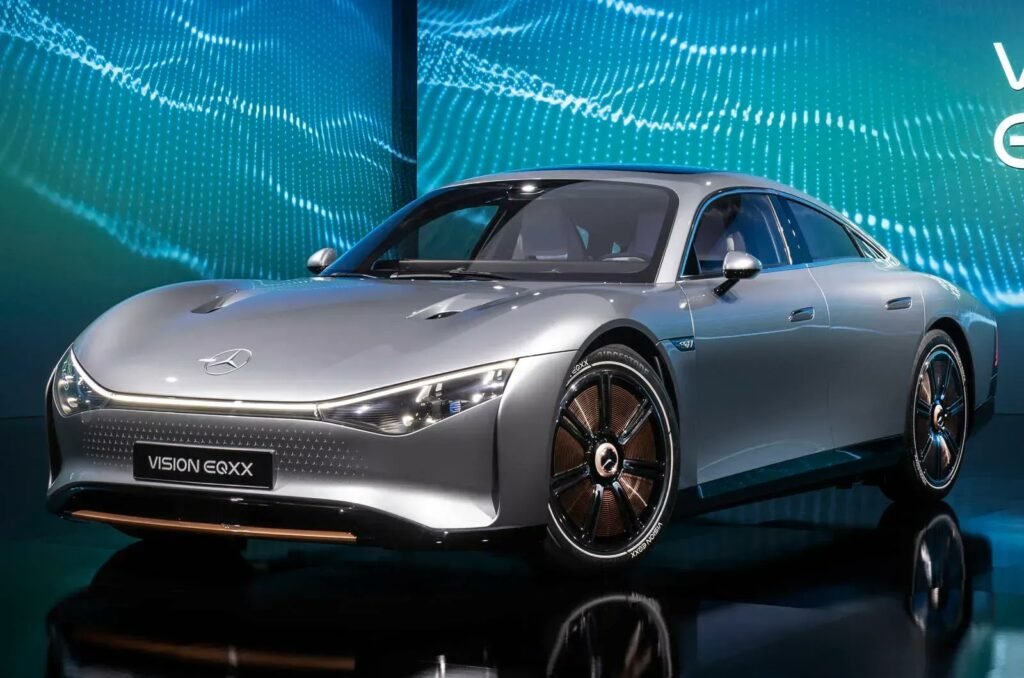 Mercedes Concept car with a range of 1000km:
During the Keynote, Mercedes Benz reveals that the Vision EQXX, concept car utilizes only 10KWh of battery per 100km. To put this into context, its petrol counterpart would provide 100 kilometers of driving range per litre. Beside this electric car, the company also showcased some of the new-age technologies and materials. These will be useful in future to displace the carbon footprints.
Light weight Mercedes Electric Concept Car:
Here, Mercedes Benz leverages a new modular EV architecture which can even be useful in Mercedes A-Class models. One of the highlighting factors that makes it so efficient is its weight, which is 1750kg only. To understand, this weight is very light for an electric vehicle. All the thanks to its new battery which is now 50 percent less in volume. This new battery has 30 percent less mass than the old EQS battery model. However, this battery offers better performance in comparison.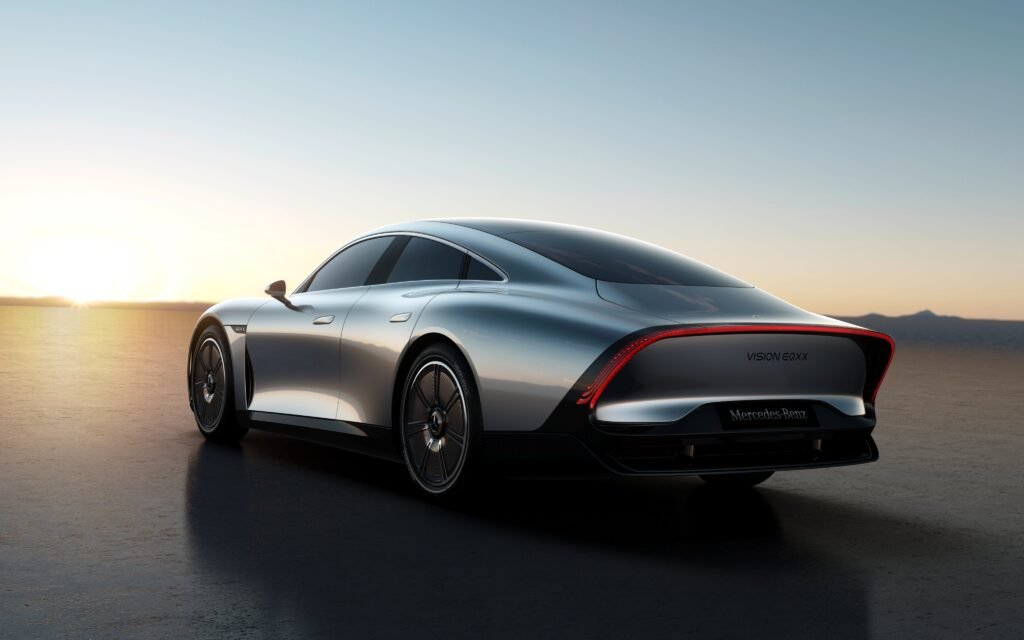 Concept Car with Solar Panel:
Moreover, the new Vision EQXX concept car will also get solar panels on its roof. Thus, allowing to further add another 25km to its range. As far as performance goes, Mercedes Benz Vision EQXX concept car can only get 201bhp. This makes it even slower than the aging EQS model.
Vision EQXX Concept Car: Interior Design
Coming to the internals, the Vision EQXX concept car gets a new hyper screen. This display is a single horizontal piece with 8K display. The similar OLED panel is already available on the high-end smart TV from different brands like Sony, LG, Samsung and many more. This hyper screen also gets feature like local area dimming. In local area dimming, the screen turns off when blacks have to visualised.
The user interface on Mercedes Benz concept car also gets new UI elements such as 3D mapping system. This 3D mapping system has been developed in partnership with NAVIS Automotive system. Also Read – BMW iX M60, the most powerful EV with 566km of range showcased at CES 2022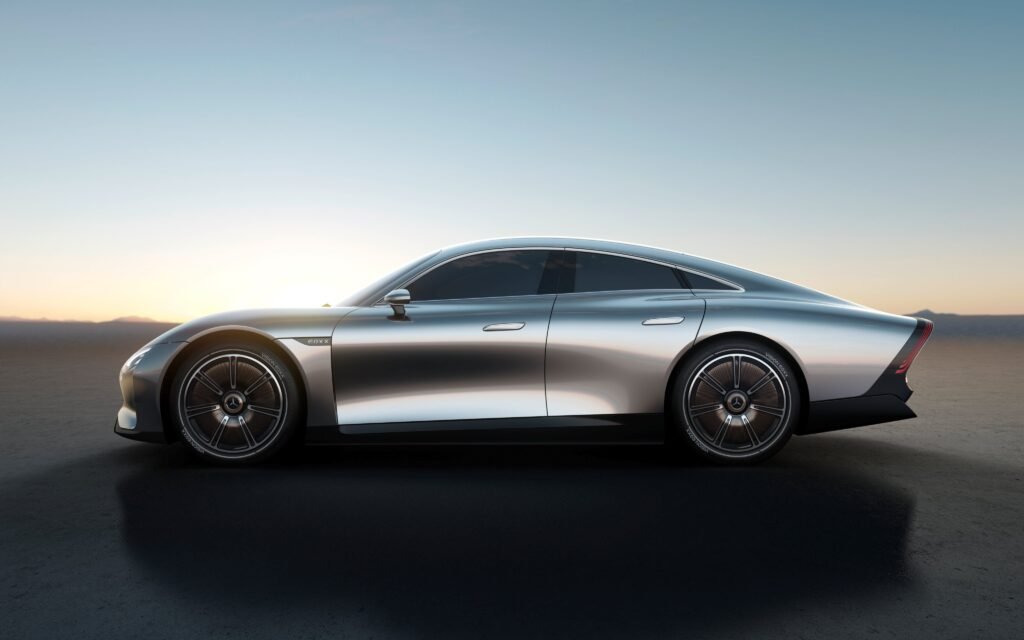 Sustainable Interior Material:
Just like the Vision AVATR concept car, the Vision EQXX gets sustainable materials like cactus-based leather, bamboo carpets, and synthetic silk. With the integration of such sustainable material the electric car gets the real-world feel. Moreover, it acts as an alternative to the real leather and other materials which involves harming of the environment or killing of animals. To recall, Vision AVATR was showcased at CES 2020 by Mercedes Benz.



The most remarkable and poignant aspect of the Vision EQXX is that, although being a concept, it is a fully functional road automobile. This is actually closer to a production car that will appear in some shape or another sooner rather than later. But the technology shown is certainly a good move in right direction.