Instagram has roll out a new update. This update helps users to recover content that is delete from the Instagram app. Instagram has develop a new feature on its iOS and Android app. This feature will allow users to recover images, videos, IGTV videos, reels etc. that are recently remove.
What is "Recently Deleted" Feature?
The company has announce a new 'Recently Deleted' feature on Instagram. From now on, This feature will keep the posts for 30 days within the platform. The recently deleted feature allows users to recover media files they may have mistakenly deleted. It will help users manage their content. With this, Instagram begins to delete posts after 30 days.  The complete info regarding this feature is available on this blog.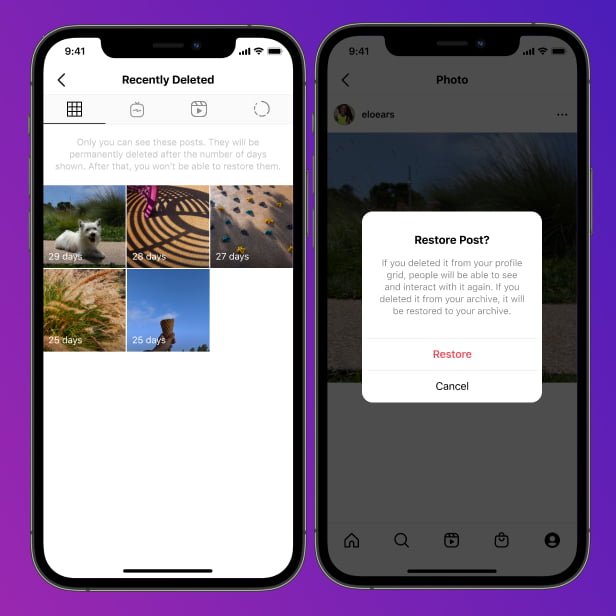 Instagram also adds protections to stop hackers from accessing users' profiles and deleting comments shared by them.
According to Instagram Blog Post, "We know hackers sometimes gain access to an account and tries to delete content, and until now their was no way of restoring those photos and videos back..
The post also confirms," From today onwards, The users will be asked to first verify their identity, if they are the soulful account holders while permanently deleting or restoring content using this feature." Also Read: Oppo to demonstrate a phone with an upward-facing camera
How "Recently Deleted" Feature works?
Keep in mind that you can store all types of media like pictures, videos, reels, IGTV videos and stories. The new feature will automatically removes all media which a user has opted to delete from their account. However, that media will not be remove permanently but it will move them to the Recently Deleted Folder.
However, all other media files will be removed immediately after 30 days. The Stories will not form part of the user's archive. These will remain in the directory for up to 24 hours.
How to Access "Recently Deleted" Feature?
The latest Recently Deleted Feature can be accessed from the App's Settings menu. This feature will be available for deleting and restoring of all the content including videos, photos, IGTV videos, and reels. The platform can ask users to check, when permanently removing or restoring content from Recently Deleted.
To access the folder,
Go to "Settings" inside the app
Tap on "Account"
Click on "Recently Deleted" Option
Thus, To access "Recently Deleted" feature, the users will have to update their Instagram App  from the Google Play Store. With latest version, Users can either recover or permanently remove the content from the deleted content.
On restoring a post, it will reappear in the Instagram profile. However, If the post is remove, the restore content will go to archive again. However, the latest version will be available to all the users in a phase manner. Therefore, right now only select users are able to access this latest update.
In the meantime, Instagram also experiments a functionality that prohibits people from posting their feeds in stories. Also, A notification with the title, "Testing a change to sharing to Stories" has been sent to users in selected countries. The complete details on this feature is share in the tweet below.
instagram users: I wish people stopped sharing so many feed posts to their Stories

instagram: pic.twitter.com/KQkBbVY45v

— Matt Navarra (@MattNavarra) January 29, 2021
Sharing feed posts to stories is common on the platform. At this stage this feature is more like a beta feature for select users. There is no news that it will be roll out officially for everyone. Also Read: Official Launch date of Redmi TV India leaked