Xiaomi finally launches its new fitness band, Mi Band 6 at Xiaomi's Mega Launch 2021 Event. The smart band appears to follow similar design pattern as it's predecessor. However, the Chinese brand does confirms about some upgradation in this new Mi Band 6. These upgrades will include slightly bigger AMOLED display, 15 additional workout modes, new cartoon themes for watch faces and much more. Beside this fitness tracker, Xiaomi also launched multiple products including smartphones, router, folding phones and others. Xiaomi brings its new Mi AX9000 gaming Wi-Fi router.
Xiaomi Mi Band 6: Price and Availability
Xiaomi's all new Mi Band 6 launches at a starting price of YUAN 229 which is approximately Rs 2599. Xiaomi also introduced a special variant which comes with NFC chip on board. This NFC Chip variant of Mi Band 6 is priced at YUAN 279 which is approximately Rs 3100. Regarding it's availability, Xiaomi has not shared any timeline for sales yet. Also Read: Xiaomi launches Mi 11 Ultra, Mi 11 Pro and Mi 11 Lite
Xiaomi Mi Band 6: Features and Specs
The all new Xiaomi Mi Band 6 comes with a slightly bigger AMOLED display. The fitness tracker features a 1.56-inch AMOLED display. To recall, this display panel was also available on previous generation Mi Band 5. This display on Mi Band 6 comes with a pixel density of 326ppi. Additionally, the smart band offers over 30 workout modes along with 6 auto-detection fitness tracking modes. These auto-detection fitness tracking modes includes indoor running, walking, treadmill running etc.
This smart band comes with 50m water resistance. It will also include 24*7 real-time heart rate monitor and SpO2 sensor for blood oxygen level detection. Also, the latest Mi Band 6 comes with over 130+ watch faces. Some of the watch faces including SpongeBob theme watch face will come debut on this fitness tracker itself. Regarding it's battery life, the new Mi Band 6 will deliver upto 14 days of battery life on single charge. This fitness band comes with magnetic pin charging solution. Meanwhile, The Chinese brand has confirm that the all new Mi Band 6 will come in eight different color options including White, Brown, Black, Blue, Orange, Yellow, Silver and Green colors.
Xiaomi Mi AX9000: Gaming Wi-Fi Router
As mentioned above, alongside the fitness tracker, Xiaomi launches its all new Mi AX9000 gaming Wi-Fi router. This gaming router comes with Wi-Fi 6 standards. The router is powered by Hexa-core Qualcomm chipset. This router comes with tri band support including 2.4G, 5G band and additional support for dedicated gaming frequencies. It also supports 12 signal amplifiers. The gaming router offers a bandwidth of 160Hz and also supports MU-MIMO and OFDMA. This means it can support connectivity for upto 16 devices.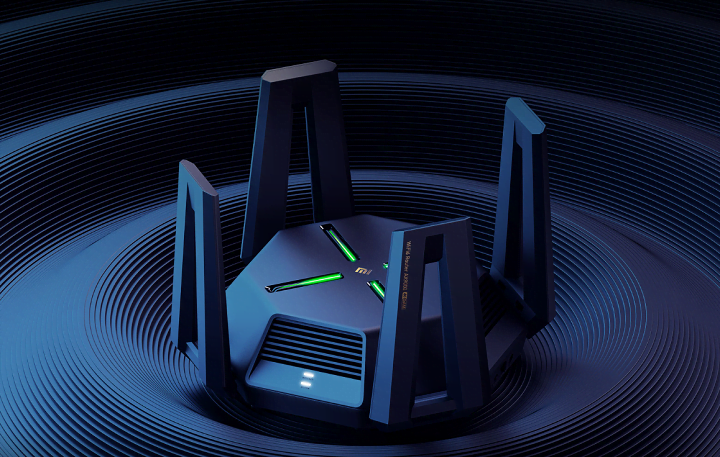 With the onboard Qualcomm processor, this router can offer a speed of upto 4084Mbps. Keep in mind, this speed factor highly depends upon frequency. This router is designed in an octagonal shape. Xiaomi has also embedded an X-Shaped pattern LED light on it's top surface. The all new Mi AX9000 router has a range of upto 12 meters. Additionally, The pricing for this Mi AX9000 router starts at YUAN 999 which is approximately Rs 11100. Regarding its availability, there is no official announcement from the company about the official availability of both Mi Band 6 and Mi AX9000.