MediaTek Dimensity 920 and the Dimensity 810 5G chips comes as the latest chipset models. These new chipsets launched under the Dimensity 900 and Dimensity 800 series. Both the latest chipset models feature an octa-core, 64-bit chips. These chipsets come with support for high refresh rate displays. They come with heterogeneous multi-processing support. Additionally, these MediaTek chips can support multi-camera setups.



The all-new MediaTek Dimensity 920 chip comes with support for Wi-Fi 6. Whereas, the Dimensity 810 still sticks with Wi-Fi 5 support. The Dimensity 810 SoC is designed mainly for the mainstream and mid-tier smartphones. Additionally, both the new Dimensity chipset comes with support for 5G network on both the SIM slots. However, it remains unclear as to which will be the first smartphone to feature these SoCs. But according to reports, Realme could be the first OEM to make use of these latest chipsets.
MediaTek Dimensity 920: Specifications
The MediaTek Dimensity 920 is a 6nm chipset. It packs is two set of ARM Cortex CPU cores. Here, one set of ARM Cortex-A78 comes with a clock speed of 2.5GHz. Another set of ARM Cortex-A55 CPU cores is clocked at a speed of 2.0GHz. These CPUs come in pair with an ARM Mali-G68 MC4 GPU. MediaTek claims that this chipset can offer up to 9 percent faster gaming performance compared to its predecessor.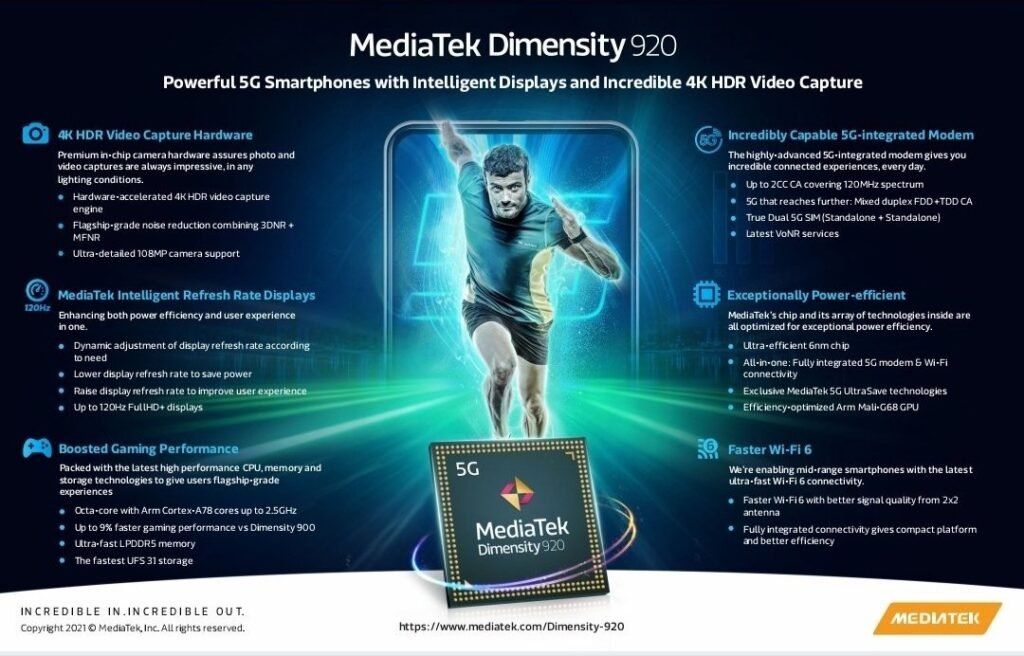 To recall, the MediaTek Dimensity 920 SoC will succeed the Dimensity 900 SoC. This chipset supports LPDDR4X and LPDDR5 RAM along with UFS 2.1 and UFS 3.1 storage. Regarding connectivity options, the SoC comes with Wi-Fi 6 support, 5G connectivity, Bluetooth v5.2, GPS, NavIC and much more.
Similarly for the display support, the MediaTek Dimensity 920 chipset can support 2560×1080 pixels display. Additionally, it can support a screen refresh rate of up to 120Hz. For video encoding also, this chipset can encode in H.264, H.265/ HEVC. The all-new MediaTek chipset is capable of processing a single 108-megapixel image or 2x 20-megapixel sensor image sensor. Additionally, it can also do 4K Video recording.
Improvements in MediaTek Dimensity 920 chipsets:
This all-new Dimensity chipset will bring some improvements over its predecessors. These includes,
This feature will adjust the screen refresh rate depending on the situation. It will be work depending upon the gaming or UI action environment. This chipset will adjust the refresh rate accordingly to improve the power efficiency.
4K Video Capture Hardware Engine:
This chipset ingrates a flagship class, HDR Native ISP. Additionally, it will also incorporate a unique hardware accelerated 4K HDR video recording engine. It will support up to four concurrent cameras and up to 108-megapixel camera sensors.
The Dimensity 920 enhances performance with ARM Cortex-A78 processors in an octa-core CPU that can achieve 2.5GHz clock rates.
MediaTek Dimensity 920 supports MediaTek HyperEngine 3.0. It comes with 5G call and data concurrency, as well as high-speed rail. It will also offer 'Super-Hotspot' technology connection improvements.
MediaTek Dimensity 810 SoC: Specifications
The other processor to launch alongside Dimensity 920 is the MediaTek Dimensity 810. The all-new Dimensity 810 SoC comes with two set of ARM Cortex CPU cores. Here, one of the cores comes with ARM Cortex-A55 which is clocked at 2.4GHz. The other core comes with ARM Cortex-A76 CPU which is also clocked at 2.4GHz. This is a 6nm chipset which comes with eight cores. These cores come in pair with an ARM Mali-G57 MC2 GPU.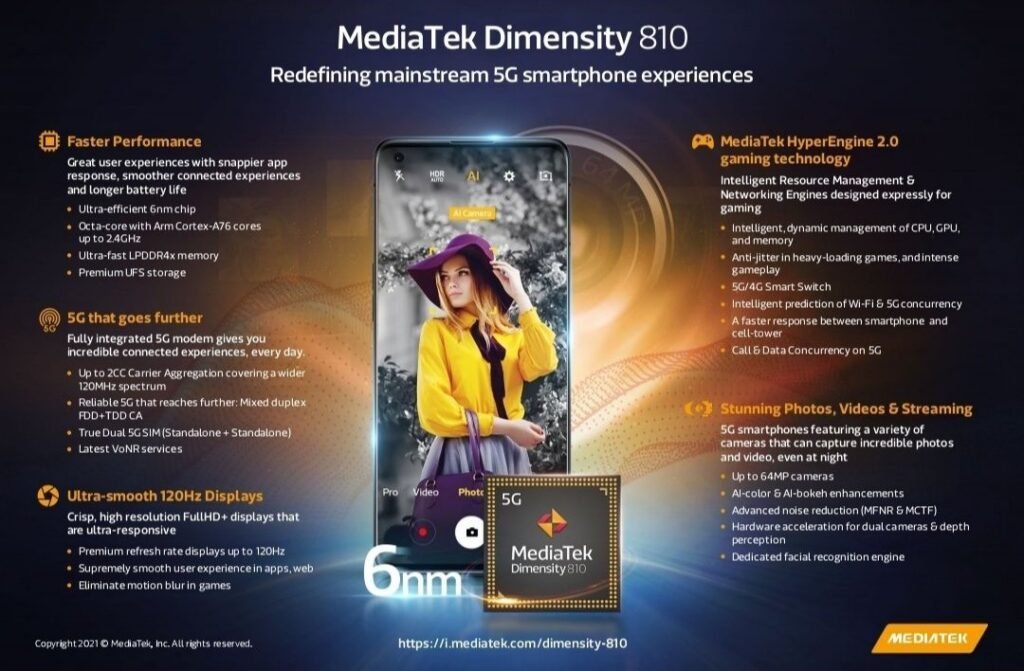 This chipset comes with a limited LPDDR4X RAM support along with limited UFS 2.2 storage support. Regarding connectivity, this chipset supports 5G, Wi-Fi 5, Bluetooth v5.1, NavIC, GPS and much more. The MediaTek Dimensity 810 chipset can offer a single image sensor of 64-megapixel or 2X 16-megapixel sensors. Additionally, it supports a display resolution of up to 2560x 1080 pixels. It can offer a screen refresh rate of up to 120Hz.
Improvements in MediaTek Dimensity 810 chipsets:
The MediaTek Dimensity chipset offers some improvements over its predecessors. These includes,
With the inclusion of ARM Cortex-A76 CPU at a clock speed of 2.4GHz in its octa-core CPU. This chipset will offer much improved performance.
With this chipset, the mainstream 5G handsets can now get a screen refresh rate of up to 120Hz. This will also provide smoother user experience.
The support for Advanced Noise Reduction Techniques like MFNR and MCTF will allow improvements in low-light captures. Additionally, this chipset will also support up to 64-megapixel cameras.
High-end AI Camera Features:
This chipset will enable improved AI camera features like AI Bokeh and artistic AI Color. Moreover, this will take place in collaboration with ArcSoft.
This chipset will also support MediaTek's Hyper Engine 2.0 gaming technologies. It comes with an intelligent resource management engine and advance networking engine.
Meanwhile, MediaTek is yet to announce the name of the OEMs using these chipsets. However, the company does clarify that the device with these chipsets will be launching in Q3, 2021. Also Read: MediaTek Dimensity 700 5G chipset to debut in India with Realme 5G smartphone