Facebook launches a next generation experimental app for rappers called BARS. The social media giant brings a right tool for aspiring rapping artists. This app allows rappers to create and share rap music. To create their raps, rappers can utilize professionally created beats. This app will take directly on apps like TikTok, Instagram Reels etc. Currently, BARS is available on iOS devices under a closed beta programme.
This app actually focuses on rap music. This app allows rappers to come up with their unique raps created using professionally tuned beats. To recall, earlier users access TikTok to create and access such content. Also Read: Instagram Lite app gets Reels feature update in India
BARS and its features:
BARS is a short video creation platform. This app allows users to create a 60 second rap videos. Additionally, BARS comes with multiple tools which can be useful based on your rapping skills. In this app, users can select any beat of their choice from hundreds of professionally created beats. Using these beats, rapper can write their own lyrics and can record a video.
Similar to TikTok, BARS will automatically give suggestions for rhyming words. These rhyming words can be useful while writing lyrics. The app also provides additional features such as audio and visual filters, autotune features.
BARS is officially live in the App Store! Reserve your username and get early access now at https://t.co/IEs0y83Aed pic.twitter.com/MAeV9jeZ1S

— getbarsapp (@getbarsapp) February 26, 2021
The interface of BARS app is similar to TikTok, as it comes with a dual-Tab layout. Also, The dual-Tab layout consists of "Featured" Tab and "Latest" Tab. The "Featured" Tab appears to be the default tab. Whereas, The "Latest" tab features all the latest rap creations from the community. The creator's name appears at the corner of each video.
Also, users are allowed to share their appreciation for any particular video they may like. A user can appreciate any particular video by simply tapping on the rap video. Once the user Tap on the video, the app will let you give "Fire" to that particular rap video. This "Fire" is similar to the "Heart" you give in Instagram Reels and Videos.
BARS and its Modes:
Similar to other apps, This app also allow users to "Follow" any particular rap artist of their likings. Users can get all the latest updates on their feeds from that artist once they follow. This app also provide rap-based Freestyle challenging feature, called "Challenge mode" . Using this mode, users can freestyle with auto-suggested words.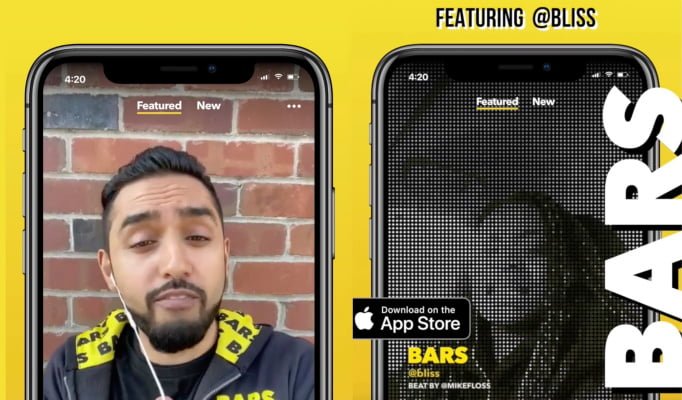 In this mode, The app itself throws words to the user, using these words user have to create a freestyle rap. This mode is designed to provide fun with rap features to the users. To recall, this feature is similar to Smule's AutoRap, which allow users to create their own recording using the suggested beats.
Additionally, users can also save their Rap video content on their device within Camera Roll. The users can also share their video on other social media platforms. To recall, Previously, BARS was designed and built by a group of aspiring rappers. However, Yesterday Facebook launches BARS app on iOS platform under closed beta programme.
BARS is currently restricted to iOS devices in US only under closed beta programme. As of now, BARS features some pre-created content from professional rappers, Facebook's NPE team, former music producers, and publishers. Facebook can bring BARS on Android platform and other regions, If this app can attract users on iOS platform.
Meanwhile, if you have interest in this rapping video app, then you can keep tracking their Instagram Page and Twitter Handle for more updates in near future. Also Read: Google Photos app is getting smarter with new video editor within the app