As hinted last week and shared by us. OnePlus now finally confirm the news. The Chinese brand is finally switching to Oppo's ColorOS ROM. OnePlus officially confirms that it is ditching it's old Hydrogen OS for it's upcoming OnePlus devices in China. The upcoming smartphones under OnePlus 9 series will be the first series of smartphone to feature Oppo's ColorOS 11 out of the box. However, for all the Global variants of OnePlus devices, the company will continue to offer Oxygen OS for all the existing and upcoming devices.
The Chinese smartphone makers made official announcement via Chinese Microblogging website, Weibo. OnePlus announces that ColorOS 11 will debut on it's upcoming flagship series in China. The company also confirms that it will make some iteration in Oppo's version with mix of some "OnePlus Elements" and apps. According to teaser image, The homepage of OnePlus device shows classic OnePlus widget along with different system icons and wallpapers.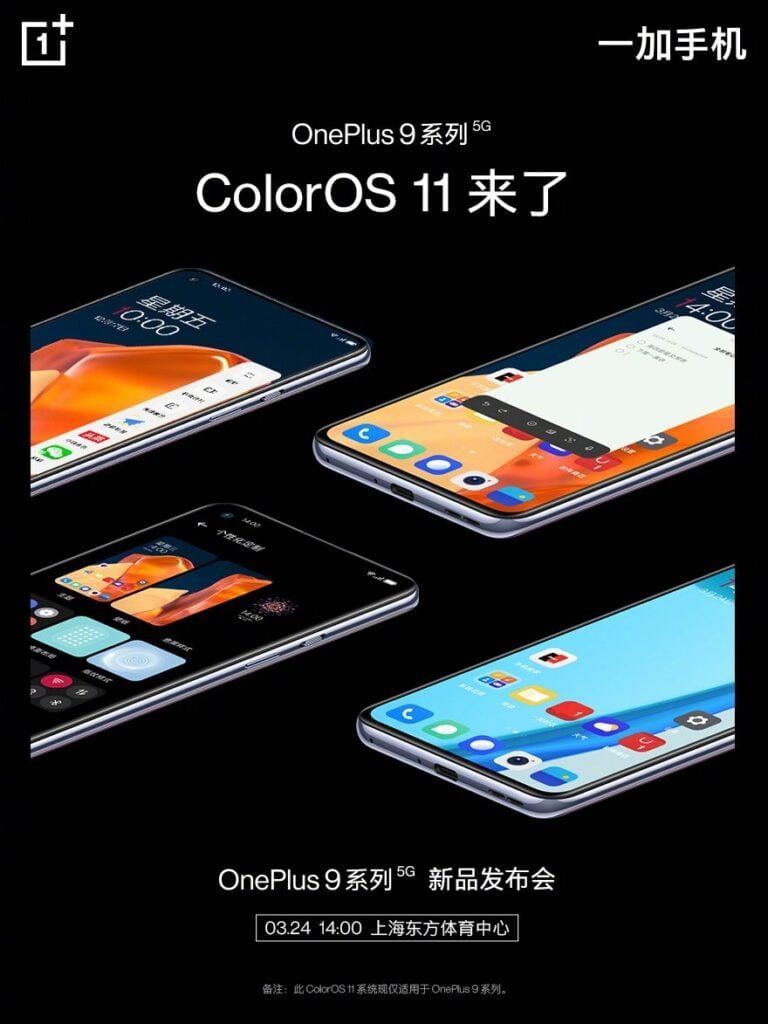 ColorOS 11 on OnePlus devices in China:
As per previous posts, OnePlus and Oppo have been officially sharing their R&D teams from a long time. Therefore, adoption of ColorOS for OnePlus device is not a big deal. All the previous and upcoming OnePlus devices are based on Oppo's products. Also, the recently launched OnePlus Band is simply a rebranded version of Oppo Band. Whereas, The OnePlus Nord is also the rebranded version of Oppo Reno device.
Hydrogen OS was also derived as iterated Oxygen OS for Chinese devices. The Hydrogen OS is indirectly the Oxygen OS minus Google apps and services. However, OnePlus is yet to reveal the actual reason behind this move especially in Chinese market. According to source, it seems like Chinese market prefers more customized Android experience than near stock experience. Whereas, the Global market gives more preference to Near stock experience.
Beside OnePlus 9 series with ColorOS 11, company has also released a flashable build of Color OS 11 for older smartphones from last year especially OnePlus 8 Series. OnePlus also confirms that it will continue to work with Hydrogen OS on OnePlus devices from yesteryears. Also Read: OnePlus Watch launches along side OnePlus 9 series 
Oxygen OS on OnePlus Global devices:
However, OnePlus also confirms that the Global variant of OnePlus 9 series will continue to work on Oxygen OS experience. To recall, OnePlus release it's Oxygen OS 11 in September 2020 for OnePlus 8 series devices. Later, OnePlus 8T debuted with Oxygen OS 11 out of the box in October 2020. To recall, this Oxygen OS 11 is based on Android 11 OS. Also, it brings couple of new features which are also based on Android 11 OS.
The upcoming OnePlus 9 series compromises of OnePlus 9, OnePlus 9 Pro, OnePlus 9R or OnePlus 9E in China. These OnePlus smartphones are set to launch with ColorOS 11. Previously, the company has already joined hands with Hasselblad for it's camera setup this year. The OnePlus 9 and OnePlus 9 Pro is likely to be power by Qualcomm's Snapdragon 888 5G SoC. Additionally, both the smartphones will be supported by 65W fast wired charging system.