Tech enthusiasts and industry experts are eagerly anticipating the launch of Realme's first-ever laptop, the Realme Book Slim, set to make its debut this week in China. The highly anticipated device will join the Realme GT and Realme GT Master Edition smartphones in an exciting product unveiling. Recently, Realme CEO also hinted for the same.
Realme Book Slim Laptop launching soon
Realme CEO India and Europe, Madhav Sheth, has officially confirmed the launch of the Realme Book Slim. This Book Slim could launch with its elegant form and unique features. The Slim laptop has the potential to threaten the well established player like Apple's MacBook Pro.
With its flexible features and cheap cost, the Realme Book Slim is going to appeal to a wide spectrum of consumers. It includes consumers like students and professionals to creative enthusiasts. The launch of Realme Slim Book is likely to shake up the laptop industry. Thus, providing users with more options for high performance computing.
Realme Book Slim with Premium 2K Full Vision Display for an Immersive Viewing Experience
With its magnificent 2K Full Vision display, Realme's latest laptop, the Realme Book Slim, might transform the laptop experience. This high  resolution laptop display will provide clarity, bright colors, and amazing details. As a result, Realme Slim Book is an excellent choice for work and play.
With a resolution that surpasses the standard Full HD, the Realme Book Slim's 2K Full Vision display will provide users with an immersive viewing experience, whether they're streaming movies, editing photos, or working on creative projects. Because of the improved pixel density, every picture and text element will be presented with crispness and precision.
Realme's commitment to innovation and user experience is obvious in its pursuit of a display that outperforms the industry standard. The Realme Book Slim's 2K Full Vision display demonstrates the company's commitment to provide consumers with the greatest possible computing experience.
Realme Book Slim: A Lightweight Notebook with a Premium 2K Full Vision Display
Realme India and Europe CEO Madhav Sheth's recent tweet officially confirms that the upcoming Realme Book Slim laptop will boast a premium 2K Full Vision Display, ensuring an immersive viewing experience. This tweet follows his earlier revelation that the laptop will weigh only 1.38kg, making it much lighter than the 1.40kg Apple MacBook Pro 13-inch.
While the Realme Book Slim's weight surpasses that of the Apple MacBook Air, which weighs 1.29kg, it still offers a compelling lightweight option for users seeking a balance between portability and performance. The 2K Full Vision Display enhances the laptop's attractiveness. This Full Vision Display provides excellent clarity, brilliant colors, and astonishing details. Thus offering more immersive viewing experience.
Seamless Connectivity with PC Connect Software and Versatile Ports
Realme Book Slim, set to revolutionize smartphone-laptop connectivity through its innovative PC Connect software. This software is similar to Samsung's mobile phone connection. Furthermore, with this software users can access feature with Windows PCs. It will enable users to seamlessly connect their Realme smartphones to the laptop. Thus, expanding the possibilities of cross-device interaction.
The upcoming Realme Book Slim will boasts an impressive array of ports. The Slim notebook will features one Thunderbolt 4 USB Type-C port, offering ultra-fast data transfer speeds and versatile connectivity options. Additionally, it will also pack one USB Type-C 3.2 Gen 2 Port and one USB Type-A 3.1 Gen 1 port, ensuring compatibility with a variety of peripherals and accessories.



The Realme Book Slim includes a 3.5mm headphone port for music enthusiasts, enabling a dedicated connection for high-quality music listening. This dedication to user-centric features increases the device's attractiveness and adaptability.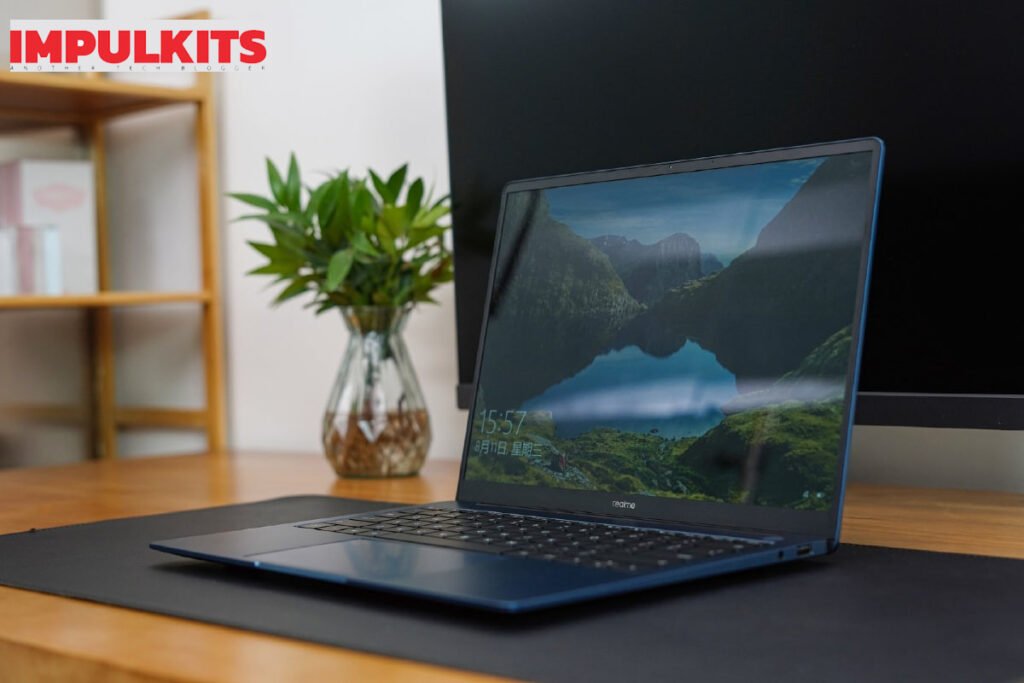 Realme Laptop with Power and Performance with Thunderbolt 4, 11th Gen Intel Core Processor, and Windows 10
Under the hood, the Realme Book Slim will be powered by the latest 11th Gen Intel Core processor, delivering exceptional performance for both everyday tasks and demanding workloads. Furthermore, users can choose between configurations with up to 16GB of RAM and up to 512GB of SSD storage. Users can select between performance and storage requirements using these choices.



Realme is also planning to release an 8GB RAM edition with 128GB or 256GB of SSD storage. Thus, giving more economical alternatives for consumers with less intense computing demands. The Realme Book Slim will run on Microsoft's Windows 10 operating system, offering a familiar and user-friendly interface.
Realme Book Slim will be an interesting option for students, professionals, and daily users. It is all thanks to its strong hardware, varied networking choices, and user-friendly operating system. Also Read: MacBook Pro 2021, MacBook Air 2021 models to launch with M2 chip, launch date revealed