Corning Gorilla Glass is one of the most popular screen protections used in your smartphone. The company Corning, releases new version of glasses after every few years. This upgrades mainly provides improved in shatter protection and improved scratch resistance. According to reports, Corning this time wants to bring something new. Gorilla Glass screen protector company is planning to bring protection for user's mobile phone's camera lens. To protect camera lens, Corning has just announced Gorilla Glass DX and Gorilla Glass DX+. The two new glass composite materials will protect scratched camera lens covers on mobile phones.
Samsung to use Gorilla Glass on mobile cameras:
According to company, the new composite glass material will allow 98 per cent light capture for superior imaging performance. It will also improve scratch resistance and will provide durability. For this series, Corning has taken all of its technological advances from the glass composite used in wearable devices. Meanwhile, Samsung will be the first brand to make use of this Gorilla Glass DX series composite material. Samsung protection will protect the camera module of the upcoming smartphone with this glass protection. Additionally, Samsung mobile with Gorilla Glass provides protection to the display.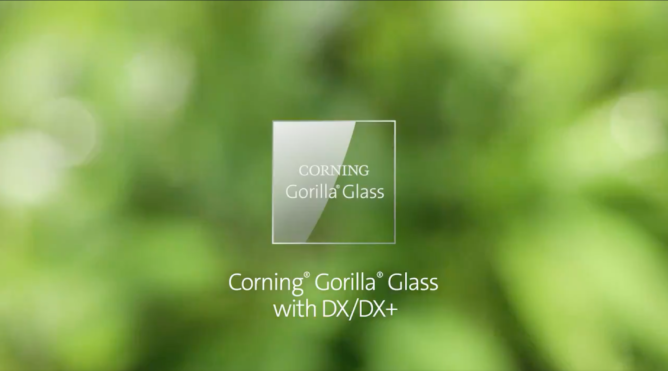 Corning Gorilla Glass DX, DX+ announced:
With the launch of Gorilla Glass DX, DX+ series glass. Corning will be providing protection to the camera lens cover on user's smartphone. In the press conference, Jaymin Amin, Vice President and Genral Manager provides information about new Corning Gorilla Glass. Corning states that Antireflective coatings have long been used on conventional cameras to help them catch more light. However, these coatings are prone to scratching, lowering image quality.
He further added that Corning's Gorilla Glass composites provide not only improve scratch resistance and durability. It will also protect the mobile device camera lens coverings. Additionally, it will also the improved optical performance necessary for these devices. The Corning Gorilla Glass DX and DX+ series is perfect solution for camera lens covers. These composites will capture 98 percent of light for the camera lens. Gorilla Glass Screen Guard on mobile camera will generate high-quality pictures and videos. This can be done by extending the capabilities of the camera design.
Samsung device details:
Meanwhile, Gorilla Glass DX products will deliver the industry's best combination of optical performance and protection. Also, it will provide ultimate user's experience. It is likely that Samsung smartphone with Gorilla Glass will be the first brand to use the Gorilla Glass DX series products. The South Korean tech giants will be using these composites on its upcoming Samsung Galaxy Z series devices, namely the Galaxy Z Flip 3 and Galaxy Z Fold 3. However, neither Samsung nor Corning has confirmed for the same. According to report, these Gorilla Glass Phones will be launching at the Samsung Galaxy Unpacked Event.
For Display protection, currently, Gorilla Glass Victus is one of the strongest glass materials for the smartphones. This Corning Gorilla Glass Screen Guard provides best shatter protection and improved scratch resistance. Also Read: Samsung Galaxy S22 Series to launch with plastic unibody design in 2022