When it comes to safeguarding smartphone screens, one company that frequently comes up in discussions is Corning Incorporated. The company has recently announced their newest glass innovation, the Gorilla Glass Victus 2 screen protection. This demonstrates that they are continuously striving to improve their durable glass formula to keep up with the evolving designs of smartphones. Also Read – Samsung Camera Phones with Gorilla Glass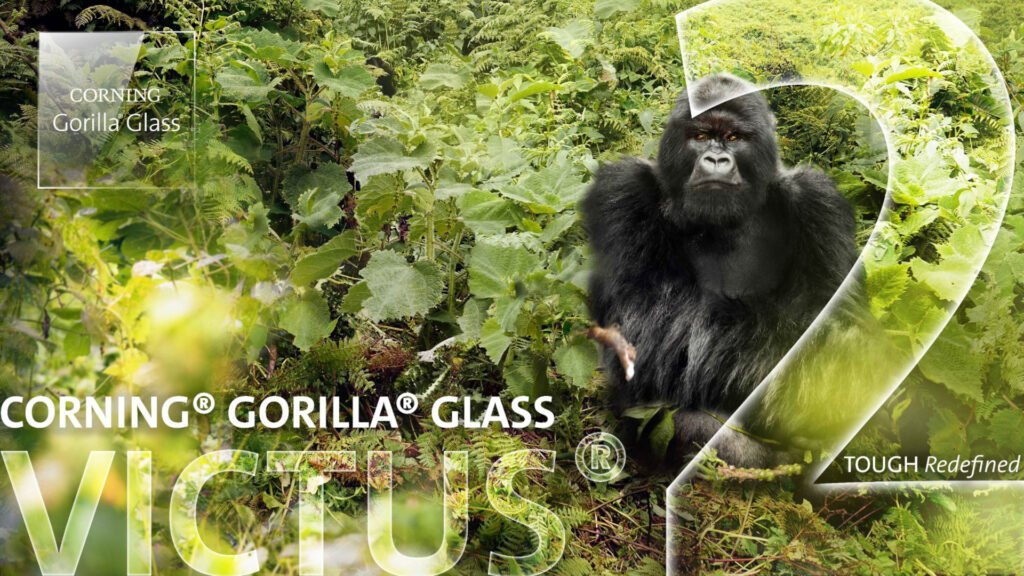 Corning Gorilla Glass Victus 2 launched
Corning has recently introduced their latest glass innovation, the Corning Gorilla Glass Victus 2. This new glass is even stronger and more durable than its predecessor, with enhanced drop performance on rough surfaces such as concrete. Additionally, the company claims that the Gorilla Glass Victus 2 provides improved scratch resistance, making it a significant upgrade over the original Gorilla Glass Victus. It's worth noting that Corning initially launched the Victus Glass a few years ago, and last year, they introduced the Gorilla Glass Victus+ to the market.
The newly launched Corning Gorilla Glass Victus 2 offers excellent protection for smartphone displays against scratches on rough surfaces like concrete. According to the company, this new glass provides the same level of scratch resistance as the Corning Glass Victus released two years ago. The Gorilla Glass Victus 2 is the successor to last year's Corning Gorilla Glass Victus+. Also Read – Camera Lens Protector and Gorilla Glass for iPhone 11
Corning Gorilla Glass Victus 2 details
During the launch event, Corning claims that smartphone displays continue to grow in size. The more prominent display brings new challenges for the glass manufacturers to use glass that can protect the overall display. It is simply because a larger diagonal surface area puts more stress on the glass. Corning promises that the new Victus 2 Glass will improve durability.



In an official announcement, Corning revealed that the new glass had withstood fall of up to one metre on a concrete-like surface and up to two metres on an asphalt-like surface. As we all know, the smooth carpeted floor in our home does not cause much risk to the modern smartphone display. The rough surfaces outsides are tough and rigid. Even Asphalt surfaces can leave scratches on the smartphone's display as the glass isn't tough enough. Also Read – LG no longer making Phones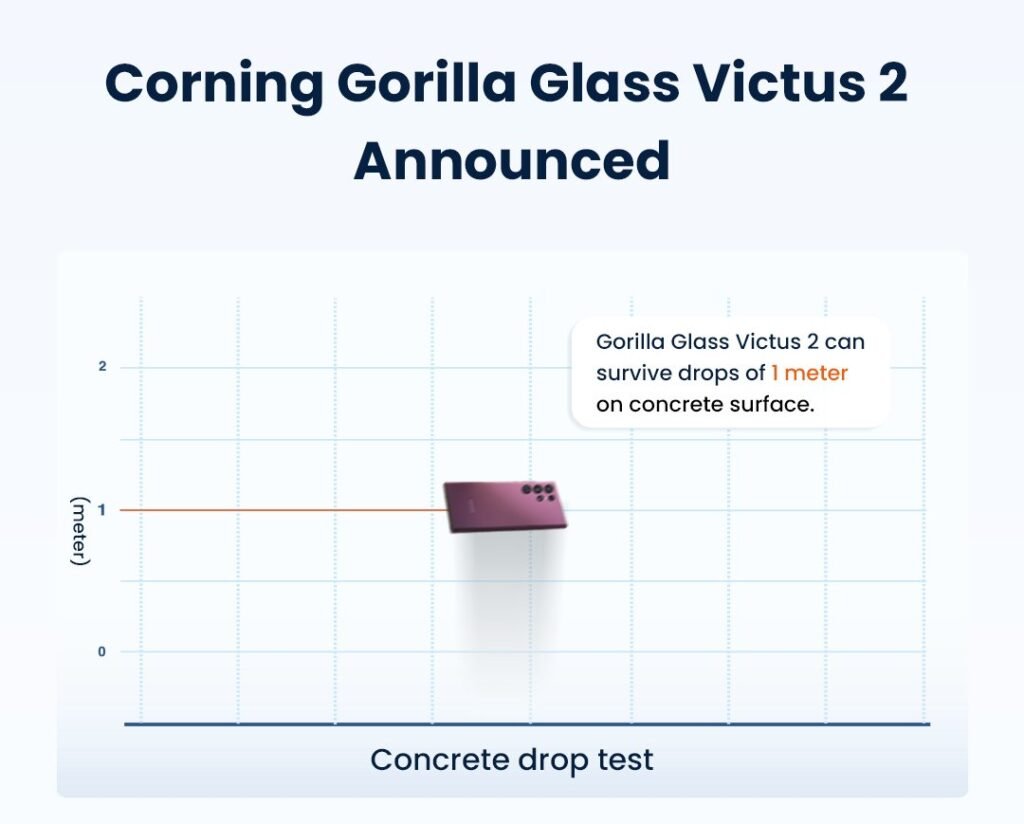 Gorilla Glass Victus 2 Strength
While lab testing, Corning performed the strength test on the concrete material build-up of sand, cement and rocks. If you inadvertently drop your phone on a concrete floor, you may use a screen protector to keep the screen from breaking into pieces. Corning used Concrete as it is a rough and tough material than asphalt. Even a single piece of gravel sticking out of the surface can create a huge impact and can cause serious harm to the mobile display.



While demonstrating the drop test, Corning claims that the newly launched Victus 2 Glass can even survive a one-meter drop onto the Concrete. It can even survive a two-meter drop on asphalt. Meanwhile, the glass manufacturers has conducted several lab tests to demonstrate that the latest Gorilla Glass Victus 2 is even more durable than the earlier generation. Thus, it will provide more safety to the upcoming phone screens. Also Read – Xiaomi Mi Watch Revolve Price drop, check out new pricing
Victus 2 Glass Resistance Power
Apart from screen shattering, scratches on display are also another primary concern. While using the smartphone daily, we keep our unit in the pocket of a cloth made of different materials. We perform other activities, like putting it on the desk and setting it into a hard case. All these activities can create a significant impact on the smartphone screen by creating scratches. Corning claims that Gorilla Glass has protected smartphones from both from and back, as most modern phones have glass protection on both the front and the back.
Press Release
David Velasquez, Vice President and General Manager of Corning, said, "Smartphones are the centre of our digital lives, and the requirement for exceptional scratch and drop resistance has only increased with our growing reliance on clear, damage-free displays,". Corning research shows that nearly 84 per cent of smartphone consumers are across three major markets, i.e. China, India and the United States. Considering the durability, consumers prefer buying smartphones coming with Corning Gorilla Glass screen protection.
Velasquez further added, "We challenged our scientists not only to create a glass composition that was durable enough better to survive drops from waist height onto rougher surfaces than asphalt, but to improve cover-glass performance for larger and heavier devices,". "With more sophisticated and varied designs, today's smartphones are nearly 15 per cent heavier, and screen sizes are up to 10 per cent larger than they were four years ago – increasing both the stress on the cover glass and the probability of damage. Gorilla Glass Victus 2 redefines tough for consumers and OEMs."
Corning Gorilla Glass Victus 2: What's New?
The newly launched Gorilla Glass Victus 2 maintains scratch resistance by up to four times as compared to other competitive glass protection. Corning claims that other competitors manufacture Alumino-Silicate Glasses which couldn't survive even a fall from half the meter height. The glass manufacturers states that the Victus 2 Glass has been tested by multiple customers.



Gorilla Glass is frequently entrusted with protecting both the smartphone's back and front display. With the launch of Victus 2 Glass, Corning believes it found a good balance between drop performance and scratch resistance. The newly launched Victus2 Glass maintains scratch resistance while retaining drop performance on hard surfaces. Also Read – Xiaomi Mi Watch Revolve Active with Midnight Black colour price in India
Corning Gorilla Glass Victus 2 and OEMs
We expect this Gorilla Glass Victus 2 screen protection to debut in the market in the coming months. Corning Research claims that More than 45 major companies and more than 8 billion devices have used Gorilla Glass. Meanwhile, the glass manufacturers has not mentioned any brand names using these Victus 2 screen protection. According to reports, a couple of smartphone manufacturers are likely to use the Corning Victus 2 Glass in the coming months.



The upcoming Samsung Galaxy S23 could launch with Gorilla Glass Victus2 protection in February 2023. Even in the current flagship lineup, Samsung has used the Victus Glass. It is highly likely for the South Korean tech brand to unveil its upcoming flagship with similar glass protection. Henceforth, the upcoming Samsung Galaxy S23 lineup could launch with Corning Glass Victus 2 protection.