Samsung India has introduced two new monitors in the country, namely the 27-inch Samsung Smart Monitor M5 and the 32-inch Samsung Smart Monitor M7. According to the South Korean company, these monitors possess versatile capabilities, aptly described as "Do-It-All." They are equipped with Samsung DeX functionality, enabling users to utilize various features. Moreover, these monitors offer the convenience of streaming apps such as Netflix, YouTube, and Apple TV without requiring a connection to a PC or laptop. Now, let's take a look at the Samsung M5 and Samsung M7 Price in India.
Samsung Smart Monitor Price in India
The South Korean tech giant has launched these two Samsung monitors at highly competitive prices. The newly introduced Samsung Smart Monitor M5 is priced at Rs 28,000. Currently, this smart monitor is available for purchase on Samsung India's official website, Amazon India, and other retail stores at a discounted price of Rs 21,999.
On the other hand, the larger variant, Samsung Smart Monitor M7, carries a price tag of Rs 57,000. This smart monitor is also available for sale through the same channels, with a discounted price of Rs 36,999.
Samsung Smart Monitor Specifications
The all-new Samsung Smart Monitor M5 features a 27-inch full HD display panel with a 16:9 aspect ratio. The display offers a maximum brightness of 250 nits and includes notable specifications such as an 8mm (GtG) response rate, HDR 10 support, a contrast ratio of 3000:1, and wide 178-degree viewing angles. The display operates at a refresh rate of 60Hz. Without the stand, the Smart Monitor M5 weighs approximately 3.6 kilograms. Also Read: Xiaomi's Mi Smart Band 6 fitness tracker leaks online, to come with similar design as it's predecessor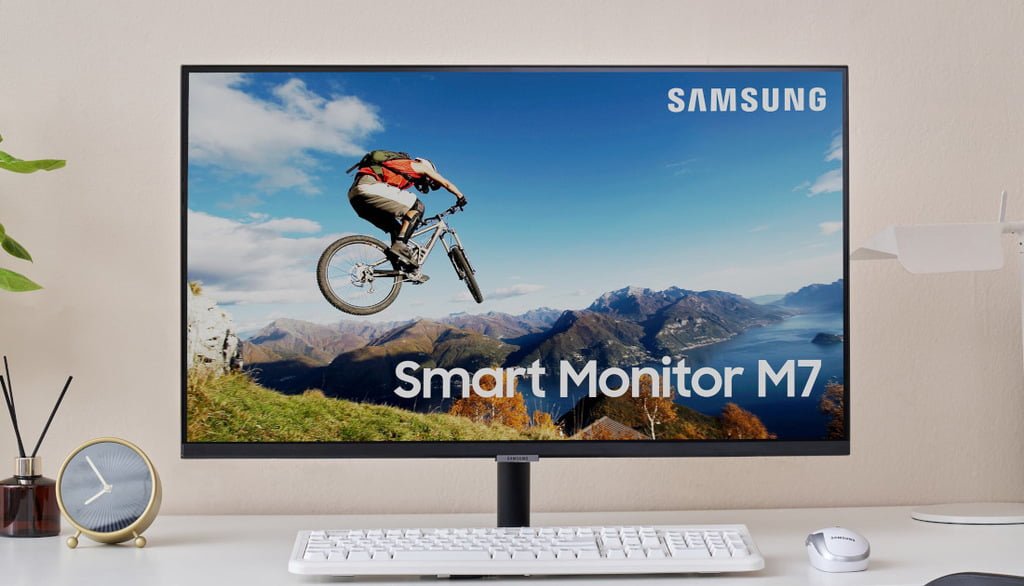 On the other hand, the Samsung Smart Monitor M7 features a 32-inch 4K panel with a 16:9 aspect ratio. Similar to the M5, this display also reaches a peak brightness of 250 nits. It utilizes a VA panel and operates at a 60Hz refresh rate. The M7 offers additional features such as an 8ms (GtG) response time, HDR10 support. Furthermore, it also gets a contrast ratio of 3,000:1, and wide 178-degree viewing angles. Without the attached stand, the Smart Monitor M7 weighs around 5.4 kilograms.



Both of these screens are equipped with Samsung's proprietary Flicker-Free Technology. Additionally, they both offer features such as Game Mode, Eye Saver Mode, HDMI-CEC support, adaptive picture, and Auto Source Switch+. In terms of operating system, both smart monitors run on Samsung's Tizen OS 5.5, with added support for the SmartThings app.
These Samsung smart monitors also include ConnectShare 2.0 and a sound mirroring feature in India. Built-in dual-channel audio speakers are available on both screens. As mentioned earlier, these monitors enable streaming through OTT platforms directly on the display. Moreover, users have the convenience of remotely connecting their PCs and laptops, making it useful for editing documents using Microsoft 365.