In the previous month, Realme India organized a special event in the country where they unveiled several new devices. Among the gadgets introduced by the Chinese tech giant were the Realme Watch 3, the Realme Buds Air 3 Neo, and the Realme Flat Monitor. Additionally, Realme also launched the Realme Pad X Tab in India, marking the company's third tablet release in the country. Notably, the Realme Pad X Tab stands out as the first Realme tablet to come with 5G connectivity.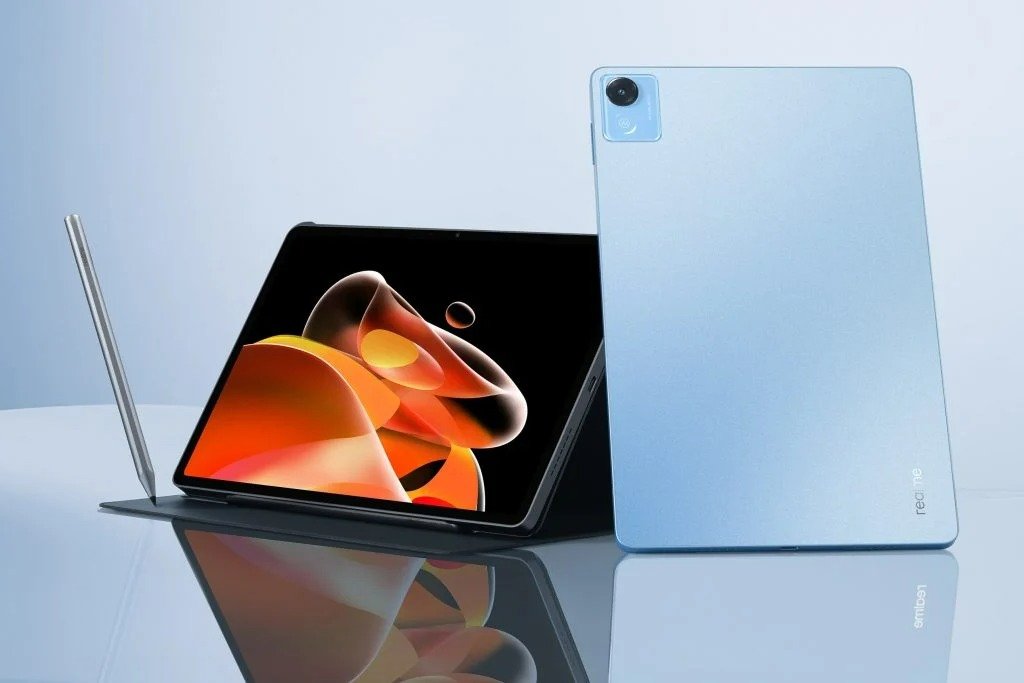 The Realme Pad X tablet is equipped with a WUXGA+ resolution display. In terms of essential features, this latest Realme tablet boasts a quad-speaker setup and includes both a rear and front camera. In addition to the tablet itself, Realme also introduced supporting accessories, namely the Realme Pencil and the Realme Smart Keyboard. It's worth noting that users will need to purchase these accessories, the Realme Pencil and Smart Keyboard, separately.
Realme Pad X price in India
The base variant of Realme Pad X, packing 4GB RAM and 64GB inbuilt storage, comes with a price tag of Rs 19999 in India. This variant offers Wi-Fi-only connectivity. The other 5G + Wi-Fi model comes for Rs 25999 in India. Meanwhile, the Realme Pad X Tab has 6GB RAM and 128GB onboard storage. This tablet is a 5G connectivity variant with a price tag of Rs 27999.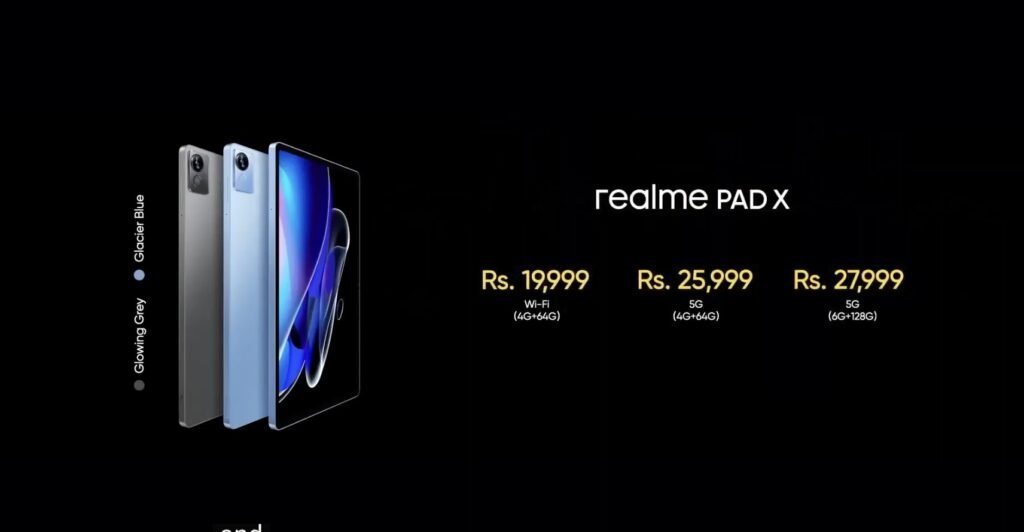 Realme India sells this Pad X tablet in India in two colour options – Glacier Blue and Glowing Grey. Interested customers can purchase their preferred variant from Flipkart, the Realme India website, and other offline retail channels. As for the introductory launch offer, the Realme Pad X Tab is available with a discount of Rs 2000 on all three variants. Customers with SBI and HDFC Bank cards can opt for this instant discount of Rs 2000.
Realme Accessories
Besides the Realme Pad X Tab, the company also brings the Realme Pencil with a price tag of Rs 5499 in India. There is a Realme Smart Keyboard which costs Rs 4999. Meanwhile, the company is yet to announce when both the accessories will be available for sale in India. Also Read – Xiaomi Mi Pad 5, Mi Pad 5 Plus tablet specs, price in India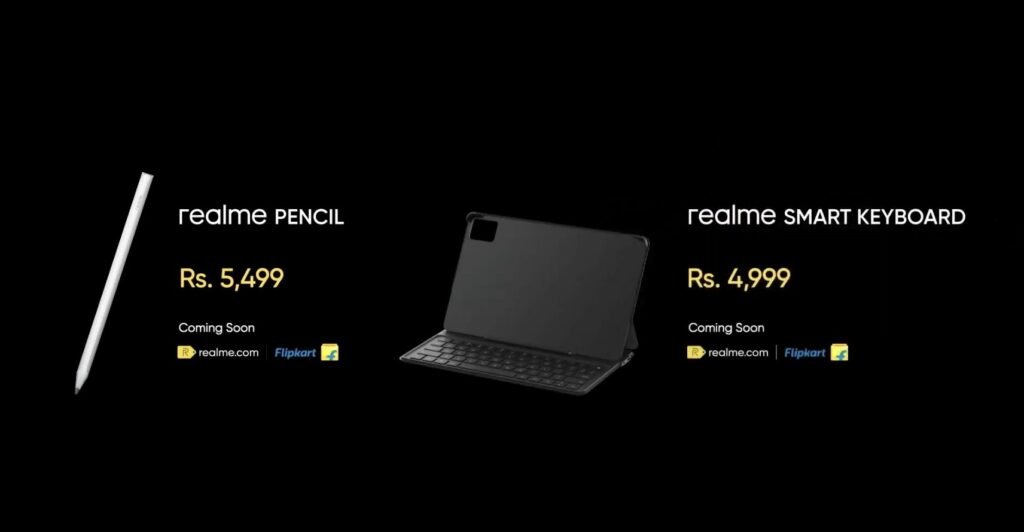 Realme Flat Monitor price in India
The all-new Realme Flat Monitor is priced at Rs 12999 in India. The display unit is available for purchase in a single Black colour option. Like the Realme Pad X, the Realme Flat Monitor is available on Flipkart and Realme India websites. During the first sale, the Realme Pad X Tab was available at a discounted price of Rs 10999.
Realme Pad X: Specifications
The newly launched Realme Pad X runs on the Realme UI 3.0 for Pad on top of Android 12 OS. It comes with an 11-inch WUXGA+ display. This display offers a screen resolution of 1200*2000 pixels. The display on the Realme tablet can reach a peak brightness of 450 nits and gets an 84.5 per cent of the screen to body ratio. This Realme Pad X Tab also gets TUV Rheinland certification.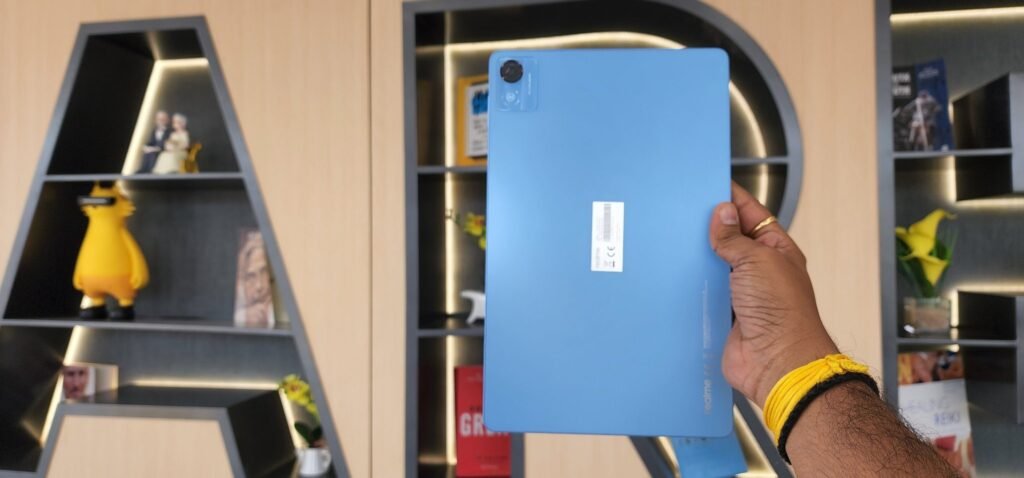 Under the hood, the Realme Pad X Tab is powered by an octa-core Qualcomm Snapdragon 695 SoC. This chipset pairs with up to 6GB of RAM. Regarding storage options, the Realme Pad X features up to 128GB of inbuilt storage. This processor gets Adreno 619 GPU. Realme confirms that the tablet can also use up to 5GB of internal storage as virtual RAM for improved performance. Thus, increasing the RAM to 11GB of Dynamic RAM. The internal storage is expandable by up to 512GB via a microSD card.
The Realme Pad X packs in a 13MP rear camera for photos and videos. While the latest tablet also comes with an 8MP wide-angle front-facing camera with a 105-degree field of view (FoV) for clicking selfies and video calling purposes. For an excellent audio experience, the Realme Pad X Tab is equipped with a quad-speaker setup.
The newly launched tablet offers support for Dolby Atmos Audio. The Realme Pad X tablet packs a massive 8340mAh battery with support for 33W fast charging. Realme claims that this battery can offer up to 1.5 months of standby time, 11 hours of video calling time, and 19 hours of video playback time. For audio playback, it can run for 13 hours. Dimension-wise, the Realme Tab is 7.1mm thick and weighs 499 grams.
Realme Accessories with Pad X Tab
Realme Pad X tablet gets two exclusive accessories, a Smart Keyboard and a Realme Pencil. This Realme Pencil is suitable for drawing and taking handwritten notes. It comes with no dedicated button like the keyboard. Furthermore, it also supports magnetic wireless charging. Realme claims this Pencil can offer a battery backup of up to 10.6 hours on a single charge. The latest Realme Pencil comes with 4096 level pressure sensitivity. The Chinese tech brand, Realme claims that charging this Pencil for one minute can provide a run time of around 25 minutes.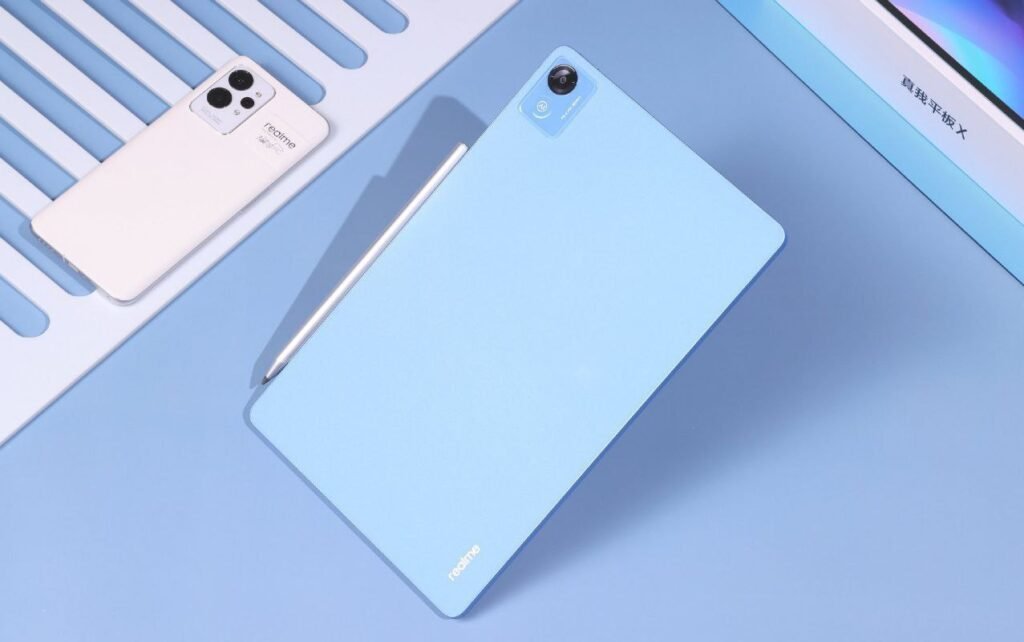 Besides this, another accessory that can work with the newest Realme Tab is the Realme Smart Keyboard. The keyboard has a USB Type-C port and a tiny on/off switch. Once paired, the tablet will intelligently detect the external keyboard, and it works seamlessly without any issue. The Smart Keyboard offers a 1.3mm key travel distance. Furthermore, it sports various keyboard shortcuts and combinations for multitasking. This Realme Keyboard packs in a 280mAh battery with a runtime of around 112 hours.
Realme Flat Monitor Specifications
The Chinese tech giant also unveiled the latest Realme Flat Monitor. It sports a 23.8-inch Full-HD LED Panel. Additionally, this monitor comes with a bezel-less display. It gets a screen resolution of 1920*1080 pixels. Furthermore, this Flat monitor offers a 75Hz of refresh rate. Realme claims that this display can reach a peak brightness of 250 nits. It provides a response time of 8ms.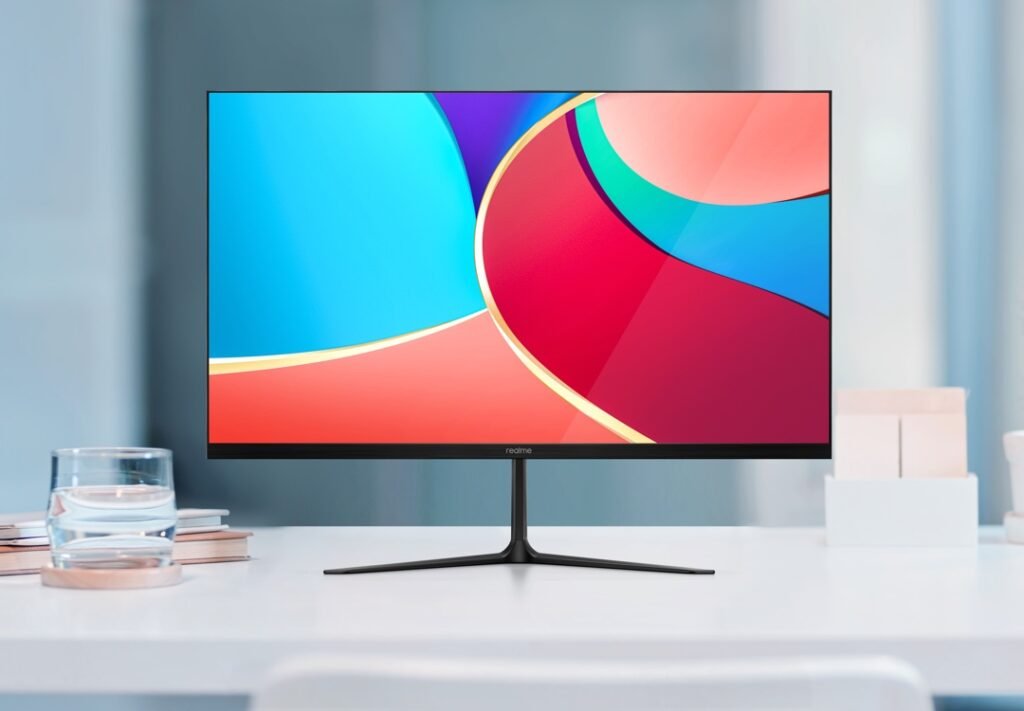 Regarding connectivity options, the Realme Flat Monitor gets an HDMI 1.4 port, a VGA port, and a USB Type-C port. Dimension-wise, the Realme Flat Monitor is 6.9mm thick. It is even thinner than most mobile phones available on the market. Let's talk about this newly launched Realme Pad X in detail.
The demand for Tablets in India
Since the beginning of the COVID-19 Pandemic, the Indian tablet market grew around 68 per cent. Going into detail, the 4G Tablet shares a sequential growth of around 74 per cent since Q1 2022. A recent report confirms that Tablets with 8-inch screens accounted for 26 per cent of total shipments in the Indian market. In contrast, Tablets with 10-inch or larger screens accounted for 61% of all shipments.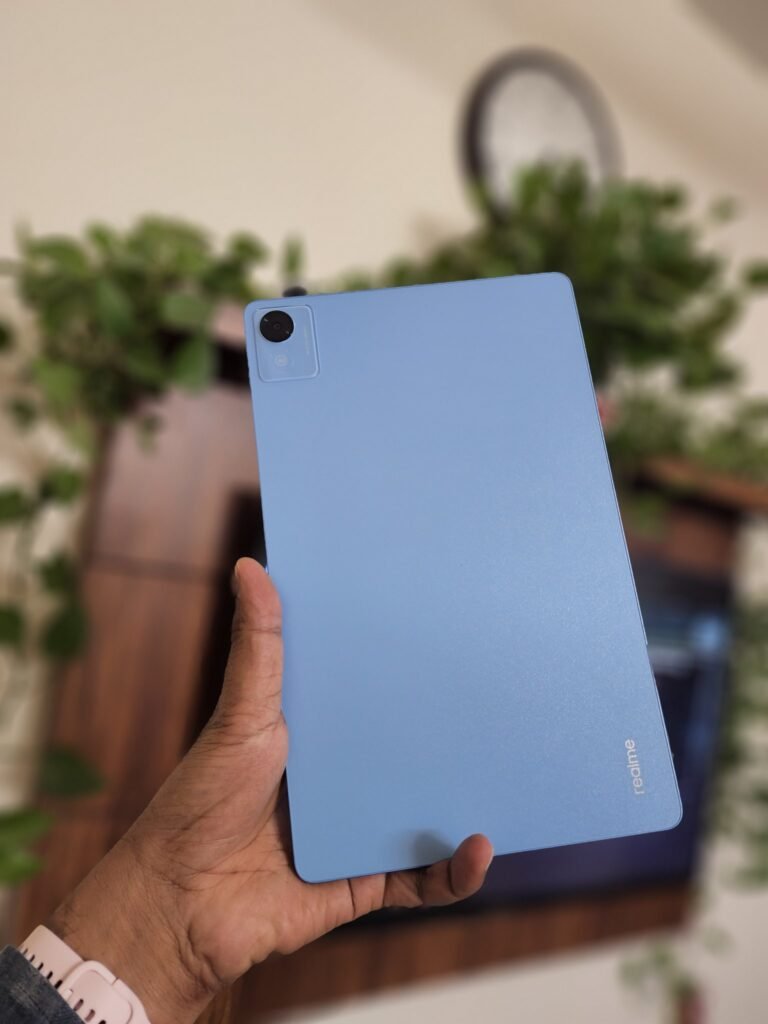 Talking about the brands, Lenovo, with a 36 per cent market share, captured the first spot. Apple stands second with a 22 per cent market share. At the same time, Samsung sits in third sport with a 22 per cent share. Remember, this standing is for Q1, 2022. Realme and Lava follow these top three sports in India in Q1, 2022.



Meanwhile, Realme is now prepared to gain a few more spots in the ranking. The company recently launched the Realme Pad X Tab in the country. This newly launched Realme Pad X is the first tablet device from Realme to launch with a 5G connectivity option.
Realme Pad X Tab: Full Review
Realme Pad X is the most powerful Tab in the company's portfolio. The newly launched Pad X is a full-fledged 5G tablet with a mid-range chipset. Furthermore, it comes with some exclusive accessories like Smart Keyboard, the case, and a Realme Pencil Stylus to enhance the user experience. Let's find out what's best with this in the full review.
Realme Pad X Tab: Design
The all-new Realme Pad X comes with the solid build quality. The back is a polycarbonate material which offers an excellent in-hand feel. It does not feel flimsy. Furthermore, there are no wobbly or mushy buttons. Considering the price point, the Realme Pad X offers a pretty premium in-hand experience. It is great to see that Realme has not compromised on the build quality. This is one of the areas to get axed by most tech companies.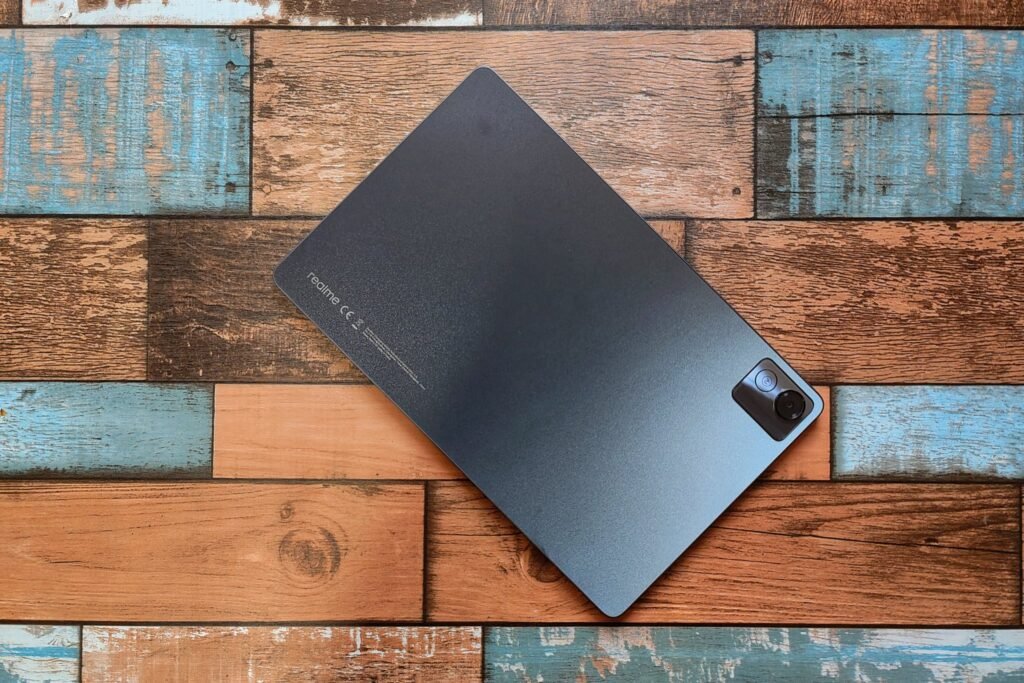 At first look, the colour and the design of Realme Pad X remind me of the younger sibling Realme Pad Mini. In terms of physical structure, the volume rockers are present on the top, along with a microphone. The newly launched Realme Tab comes with a Hybrid SIM expansion slot. I can use Hybrid SIM (Nano + Nano/ microSD) on this tablet. Meanwhile, this SIM tray is present on the bottom edge.
The right edge features a USB Type-C port in the middle and dual speakers on both edges. The left edge gets the power button, speakers and a microphone. Meanwhile, all four side gets the metal finish. However, unlike the aluminium back panel on the Realme Pad and the Pad Mini, the Realme Pad X has a plastic back.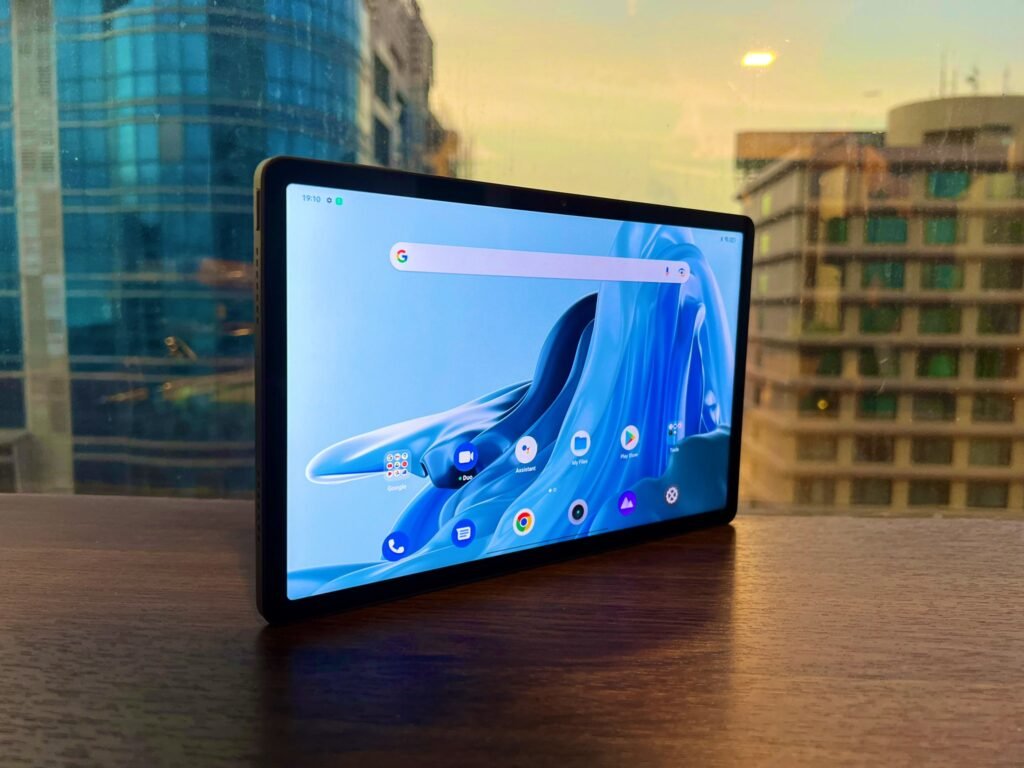 The back panel on Realme Pad X gets a sparkling sand texture, looks premium. Furthermore, the back panel does not attract fingerprints that easily. The 13MP rear camera sits on the corner with AI branding. Besides this, we can also see the small Realme branding.
Realme Pad X Tab: Display and Performance
The all-new Realme Pad X has an excellent display for the price point. The 10.95-inch display on the Realme Pad X Tab comes with a WUXGA+ (Widescreen eXtened Graphics Array Plus) screen resolution of 1200*2000 pixels. The display offers a 213 PPI Pixel density and 84.6 per cent screen-to-body ratio.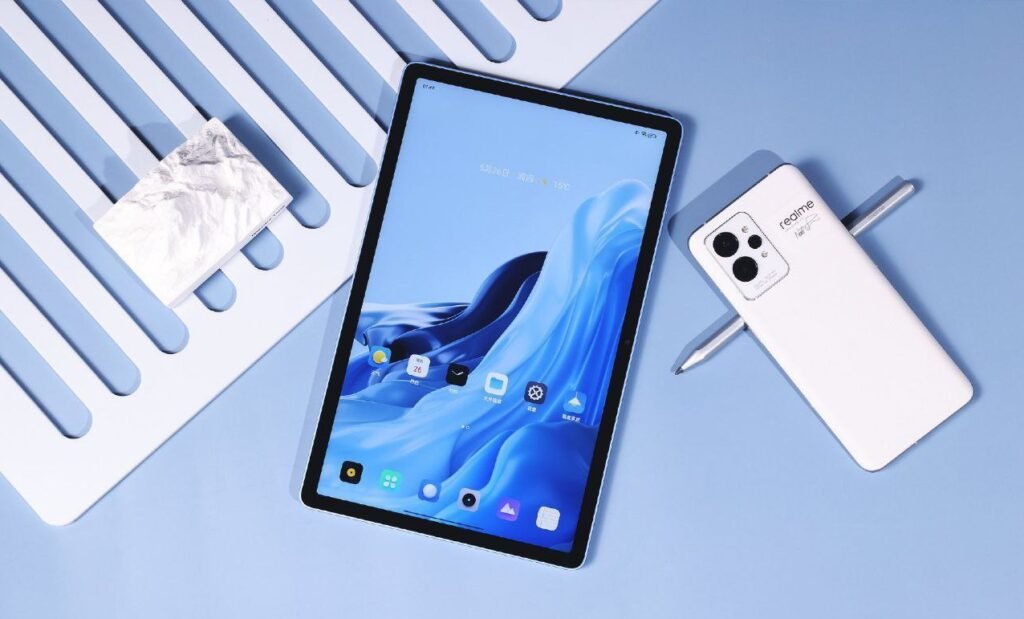 The tablet makes the most out of new software features available across Realme UI on this display. The new UI allows multitasking using split screen mode. The dual split windows can resize and float across the display. Meanwhile, we can drag and drop windows.
In terms of display quality, the screen is adequately bright in indoor lighting conditions. Realme claims that the display can reach a peak brightness of 450 nits with Sunlight Mode active with indoor lighting conditions. The viewing angles are decent enough. However, the screen is glossy and is prone to fingerprints. Also Read – Realme Pad Tab Mini, HP Pavilion x360 Stylus Pen price in India and other tech news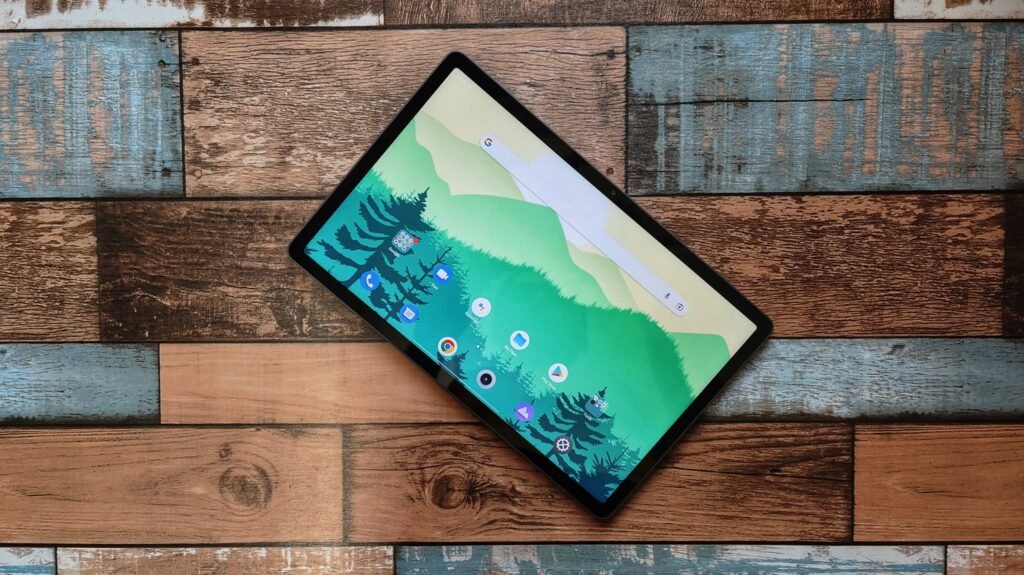 Realme Pad X Tab also gets reading mode. With Reading Mode, the display turns black and white. It is pretty helpful while long reading sessions. The eye comfort mode cuts out the blue light. Furthermore, the Realme Pad X offers good depth and colour reproduction with an LCD display panel. I enjoy watching YouTube videos and movies on the Realme Pad X. Along with an adequately bright display; the sound quality is also decent enough.



The Quad-Speaker setup on the latest Realme Pad X Tab can get loud without adding any distortion. The sound quality is pretty decent, considering other competitors in the market. The audio system doesn't feel tinny or lack bass. However, there is no place for the 3.5mm headphone jack. In my opinion, this should have been on all the tablets across different price ranges.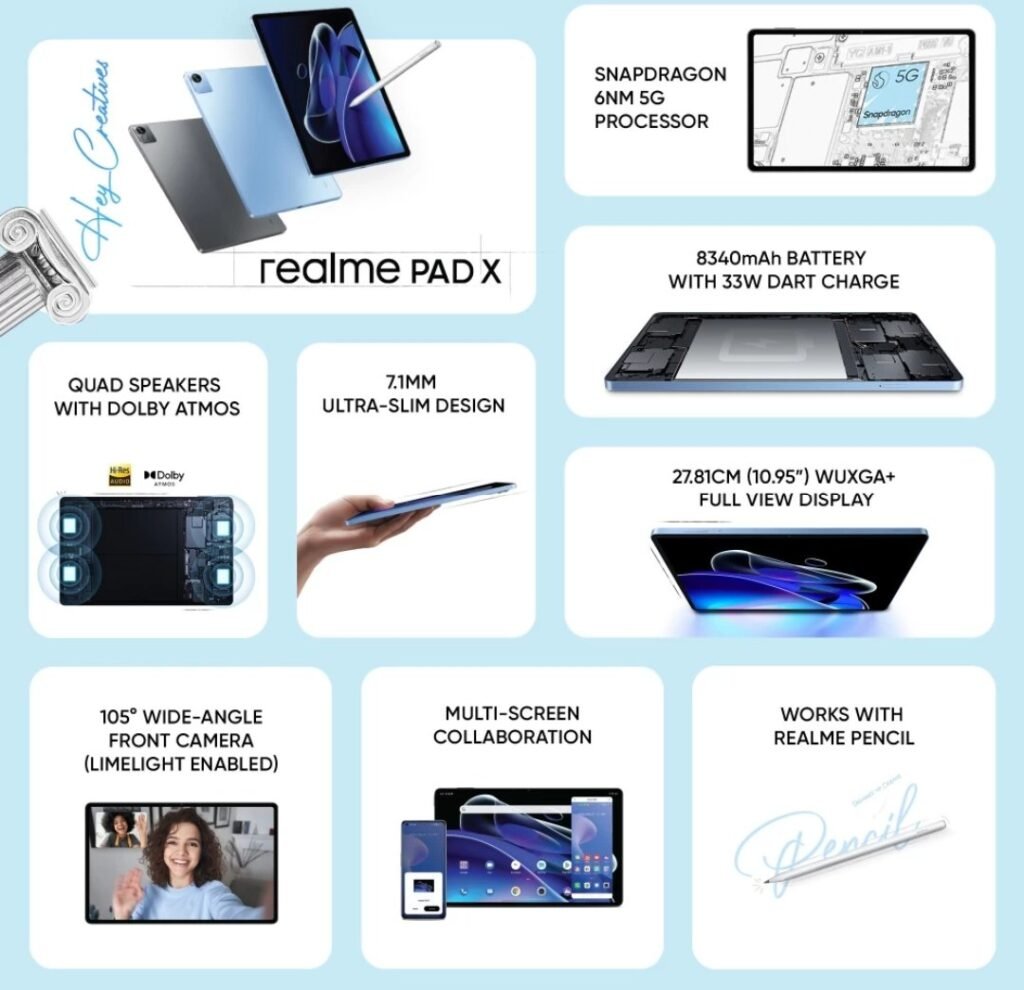 Snapdragon 695 Performance on Realme Tab
In general, day-to-day tasks, Realme Pad X offers pretty good performance. With Snapdragon 695 SoC onboard, the performance of the mid-range tablet is decent. Realme Pad X also offers gaming to an extent. I tried playing some popular games, like the recently banned BGMI. The game ran at Smooth + Ultra graphic settings quite impressively.



As mentioned above, this is the first ever tablet powered by the Snapdragon 695 5G processor, designed on the 6nm fabrication process. The device gets 2x A78 cores clocked at up to 2.2GHz, and 6x A55 cores are clocked at up to 1.8GHz. Furthermore, with Adreno 618 GPU, the device promises a 30 per cent hike in graphic performance. The latest Realme Tab packs in up to 6GB of LPDDR4X RAM.
I did not face any issues or frame drops during graphics-intensive gaming sessions. Although, the device does get a bit warm while long gaming sessions. But it doesn't get too hot. The Realme Tab delivers impressive performance for the price. Another plus point is that this Realme Pad X tablet has proper support for 13 5G bands. It will ensure high-speed data connectivity whenever the 5G rolls out. Furthermore, there is also a sport for microSD card, which will be fruitful with memory expansion.
Realme Pad X Tab: Camera
Talking about the optics, the latest Realme Pad X Tab gets a 13MP rear camera without flash. Furthermore, there is an 8MP front shooter, which offers a 105-degree wide viewing angle. Both of these cameras are capable of recording videos at up to 1080p at 30fps. The front camera quality is decent for video callings. Moreover, the rear camera can also click some decent shots.
When it comes to features, one of the highlighting features is that this Realme Tab comes with intelligent movement tracking. This feature keeps the person in the centre of the frame. Furthermore, an auto-framing part simulates the focal length change when the tablet is in motion. These features work well with Zoom, Google Meet, and Google Duo.
Moreover, the company has also promised to bring these features to other apps. Overall, the camera UI is essential, with basic zooming options from 1x up to 6x zoom for images. There is a toggle button for the front and back camera. Video Mode, timelapse, text-scanner and slo-mo work well on this tablet. I tried to make video calls and join conference calls on this Realme Pad X Tab without any quality issues. The rear camera is good enough to scan a document. I also enjoyed augmented reality (AR) apps on this tablet.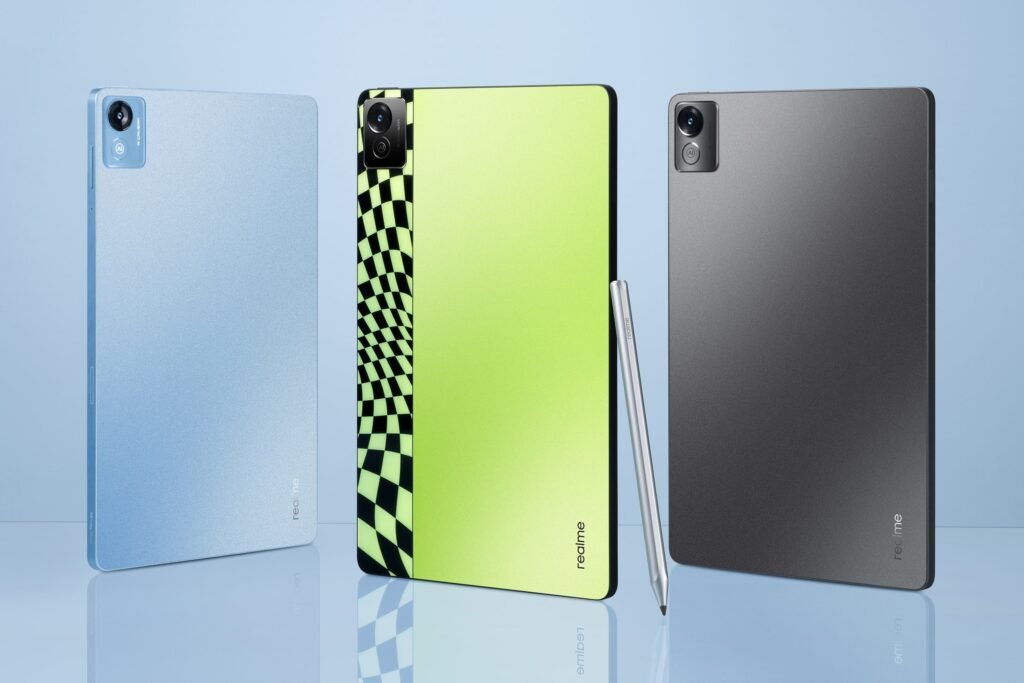 Realme Pad X Tab: Battery Life
Talking about the battery life, the Realme Pad X Tab packs an 8340mAh battery. This massive battery offers up to 19 hours of video playback time. As per my usage, I got over 15 hours of streaming time on Netflix, YouTube and Prime Video. Remember, this duration might vary depending on the brightness levels you set on your device.



Similarly, for charging, the Pad X tablet support 33W Dart Chart fast charging. The previous generation tablets from Realme come with 18W fast charging support. The Chinese tech giant claims that with this fast-charging solution, the battery can charge from 0 to 50 per cent in just 1 hour. It will take over 2 hours to charge completely from 50 per cent. It is better charging speeds, as the previous generation models take over 3 hours to charge completely.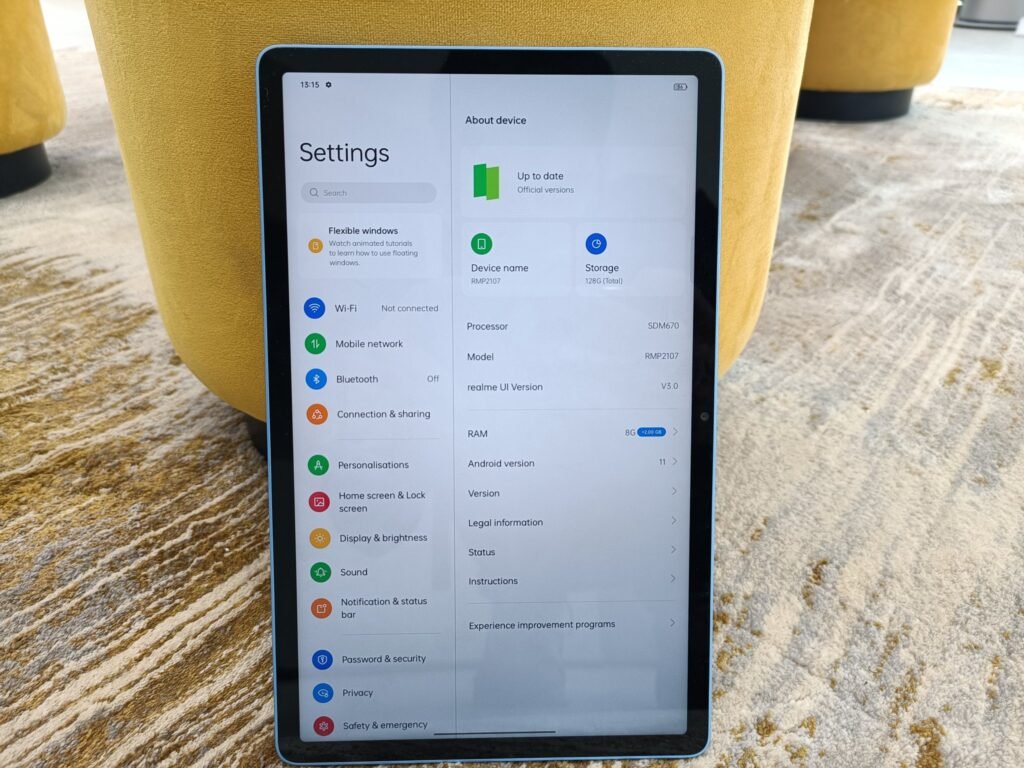 Realme Pad X Tab: Software Features
As for the software, the Realme Tab runs on Android 12 OS with Realme UI 3.0 for Pad. My unit comes with May 2022 Android security update. The new Realme UI 3.0 for Pad offers options like Multi-Window Mode. Meanwhile, this mode allows us to let tun two apps side-by-side simultaneously. Furthermore, we also get Google Kid Space, which provides a wide range of apps, videos and books suitable for children. Moreover, parents can also set screen usage limits and restricted apps.



A multi-screen Collaboration feature also comes with Realme Pad. It allows smartphone users to case their phone's screen on the Realme Pad X. Furthermore, this option also enables copying text and transferring files. Currently, this feature is compatible with Realme phones like Realme GT 2 Pro, GT Neo2, Realme Neo 3, GT Neo 3T and GT Master Edition. Realme will be adding support for more devices shortly.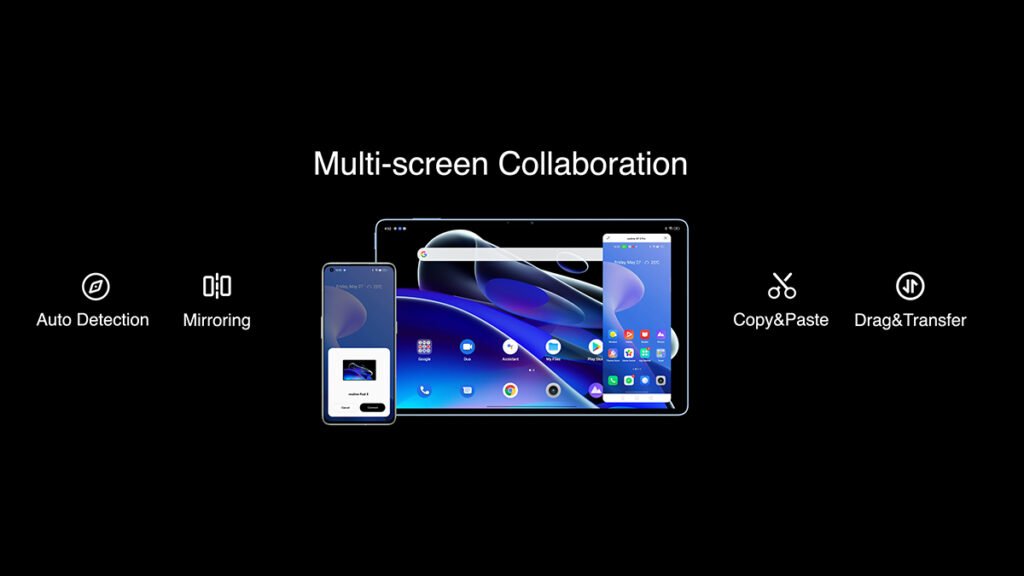 Overall, the Realme UI 3.0 for Pad looks similar to the one we have personally liked on the Realme phones. Realme has come a long way in terms of software experience. It has improved a lot compared to the first generation. Apart from Google and Facebook, there are no other pre-installed apps. Also Read – Samsung Galaxy Unboxing, Hp Chromebook x360 charger and other news
Realme Pad X Tab: Other Features
Unfortunately, the latest Realme Pad X does not feature a fingerprint scanner. Therefore, we have to rely on the face unlock option. In my experience, the face unlock works quickly on my device. Meanwhile, Realme also claims that we can instantly use our Smart Band/ Watch to unlock this Pad X tablet via Bluetooth. Also Read – Realme Pad tablet with Stylus, Realme laptop flat design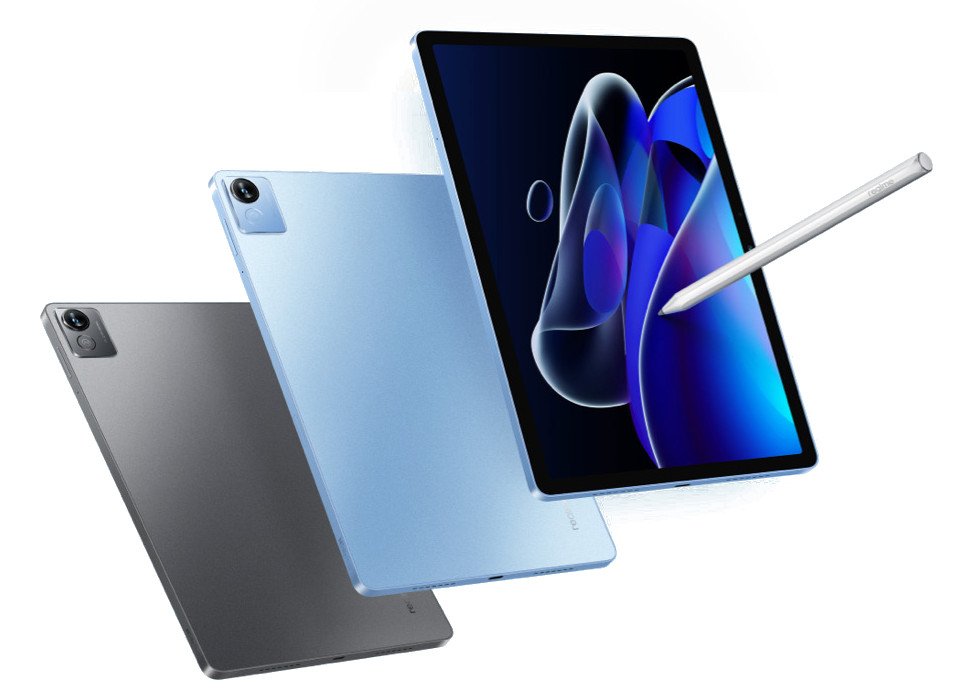 For the multimedia experience, the YouTube Music app is the default, Music Player. The Pad X comes with Dolby Atmos support. Sadly, there is no FM Radio support. The audio quality through the quad speaker is outstanding. I did not notice any distortion even at the full volume. Audio output through the earphones/ TWS earbuds is also brilliant. This tablet also gets Widevine L1 support to play HD content over Netflix, Amazon Prime Video and other apps.



However, HDR content does not work for Netflix or YouTube. With a 5:3 aspect ratio, I did notice a tiny black bar at the top and bottom while playing some content. The device also comes with pinch-to-zoom functionality. Overall, the multimedia experience is decent on this latest Realme Tab. Also Read – Oppo Pad Tab tablet launch date, price in India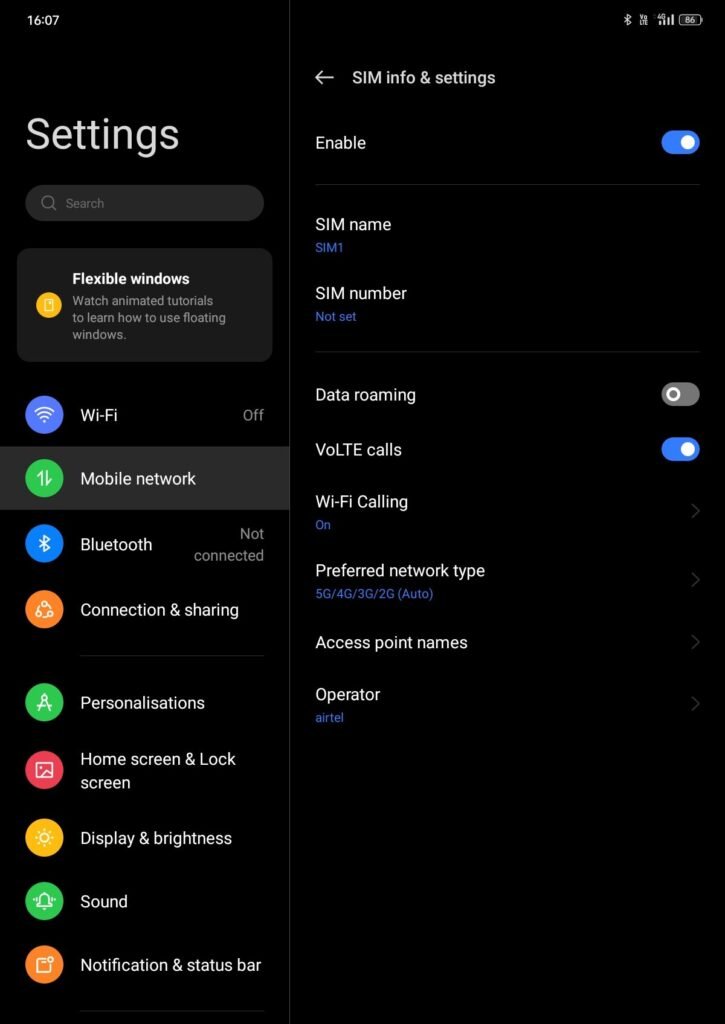 Dual SIM and other connectivity options
The higher-end variant of Realme Pad X comes with both Wi-Fi and Dual SIM support. With a 5G processor, the Pad X tablet gets a 5G version where we can use a dual Hybrid SIM, a 5G SIM, or a microSD card. The Realme Pad X Tab has 13 5G band support on paper. These includes n1, 3, 5, 7, 8, 20, 28, 38, 40, 41, 77, 78 and 66 5G bands. Furthermore, the device also gets 4G VoLTE support with carrier aggregation.



In terms of other connectivity options, the newly launched Realme Tab gets Dual-Band Wi-Fi 802.11 ac (2.4GHz + 5GHz), Bluetooth 5.1, GPS, GLONASS, and USB OTG support. I liked the Wi-Fi range, although it is not as best as the premium segment tablets. On the drive, the call quality is decent. I did not notice any call drops. Overall, the call volume from the speaker is good.
Conclusion
Realme Pad X is a decent mid-range Tab. Compared to the older models, the price of the Realme Pad X tablet is slightly on the higher side. The display quality is good. With a powerful Snapdragon 695 5G SoC, the tablet offers decent 5G connectivity. The quad speakers with Dolby Atmos are excellent.



Moreover, the massive battery offers a good battery life. The camera quality is average. This tablet could be a good option for casual users, students, and others. Also Read – Oppo tablet with Snapdragon 870 processor price, Oppo A50 mobile price in India