Most individuals nowadays recognise the value of leading a healthy lifestyle. It has become priority in for most of us especially after the COVID-19 pandemic. Technology now plays a crucial role in fostering wellness and good health. Since the World Health Day is coming, let me introduce you to some of the best smart gadgets that can help you in living a healthier life. In this article I will cover everything starting from Air Purifier to Smart Water Bottles to Fitness trackers and more. These smart gadgets can help you keep track on your health and can work as Body Composition Analyzer.
Air Purifier and other Smart Gadgets
Leading a happy and meaningful life requires maintaining excellent health and physical fitness. People frequently disregard the significance of caring for their physical and mental health in today's fast-paced society. But maintaining good health and fitness is crucial for our wellbeing. To maintain a healthy life, technology plays a vital role in ones life. Also Read – Budget  5G smartphone under Realme Q series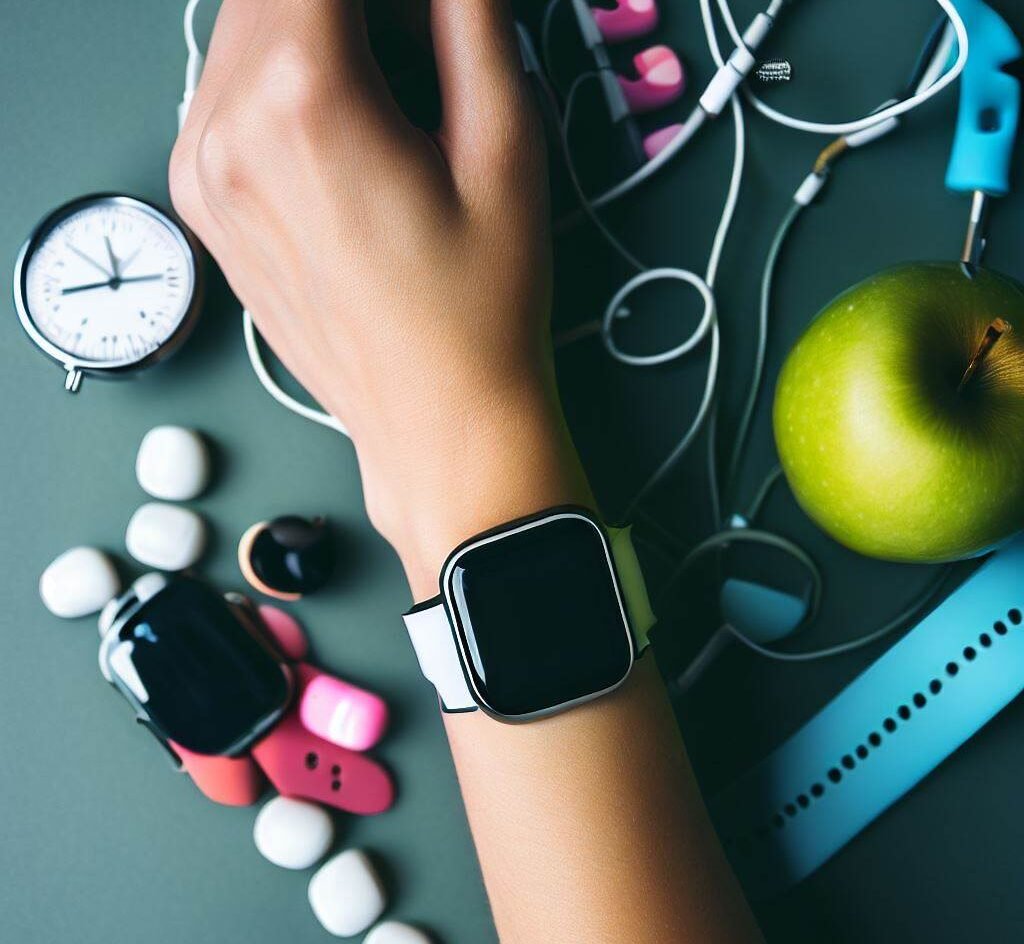 In market, there are some of the best tech health gadgets that can help us in staying fit and health. Furthermore, these gadgets comes with numerous benefits that can impact our lives in several ways. The best tech health gadgets currently available in market includes Air Purifiers, Smart Water Bottles, Fitness Band, Smart Fitness Watch, Smart Scales etc.
Moreover, these smart Health gadgets also provide physical health benefits like
– Lowers the chance of developing chronic conditions including high blood pressure, diabetes, and heart disease.
– Boosts immunity, making the body more resilient to illnesses.
– Increases strength, flexibility, and endurance, which enhances overall physical performance.
– Reduces the incidence of heart attacks and strokes, which enhances cardiovascular health.
These smart health gadgets also helps in improving mental health with following benefits
– Improves sleep, which is crucial for one's mental and emotional health.
– Reduces stress and anxiety levels, improving overall mental health.
– Improves mood and self-confidence, which also contributes to a more optimistic attitude on life.
World Health Day on April 7th
World Health Day is celebrated on April 7th each year. Since 1950, the World Health Day has provided a platform for promoting healthy living among all people and bringing attention to significant health concerns. Every year, WHO (World Health Organisation) announces the theme for World Health Day 2023. For previous year, the theme for World Health Day includes mental health, universal health coverage, and healthy aging.
Air Purifier and other smart gadgets on World Health Day
These theme highlights important issues and challenges faced by the global health community. Additionally, it acts as a call to action for enhancing health outcomes for people everywhere. World Health Day offers a chance to encourage healthy habits and lifestyle choices while also bringing attention to significant health challenges. Now, let's take a look at the best tech health gadgets in detail. These gadgets includes Air Purifiers, Smart Water Bottles, Fitness Band, Smart Fitness Watch, Smart Scales etc.
1. Air Purifiers
Due to rising levels of air pollution, air purifiers are becoming essential in many households. With the rise of respiratory diseases, it is crucial to breathe clean air. The air purifier is a gadget that cleans the air in a space of impurities. Also Read – Apple Watch Body Temperature Monitor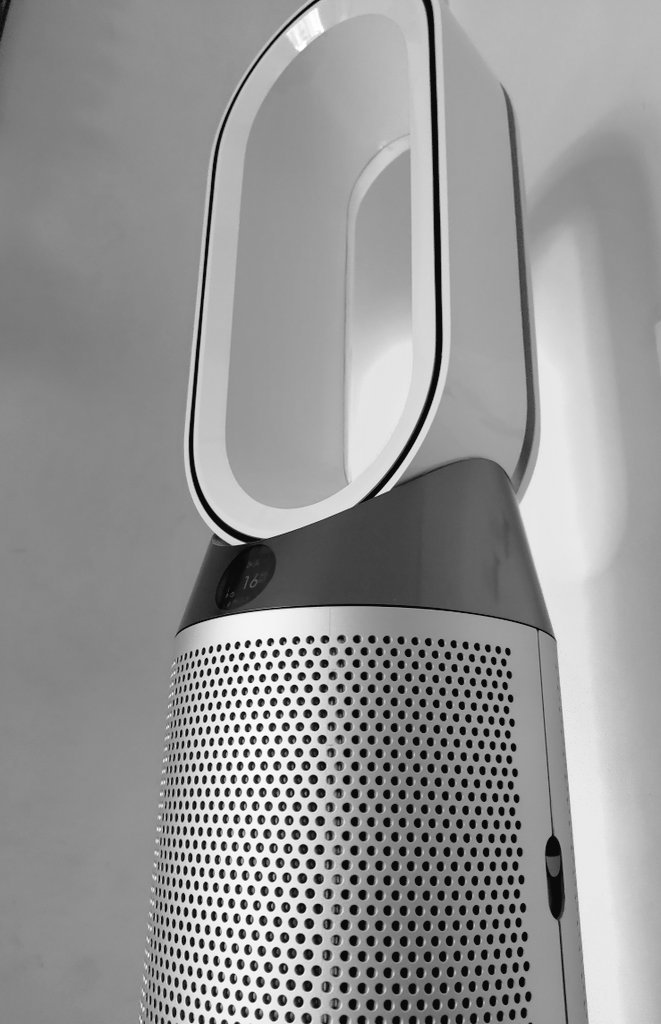 Additionally, it can trap pollen, dust, and other allergens, making the air safer to breathe. In recent years, air purifier technology has improved substantially. Moreover, some of the newest versions now include features like smart connectivity and air quality sensors. Some of the trending air purifiers are Dyson Air Purifier, Dyson Air Filters, Coway Airmega, Honeywell air purifiers and others.
Features of an Air Purifier
By eliminating impurities and pollutants from the air, an air purifier is a gadget that contributes to improving the quality of indoor air. Meanwhile, here are some common features of air purifiers:
1. Air Purifier Filters: The most important feature of an air purifier is its filter, which captures pollutants and contaminants as air passes through the unit. There are several types of filters, including electrostatic, HEPA, and activated carbon filters. Also Read – Check body temp with Apple Watch Series 7
2. Air Purifier Pre-filters: Pre-filters are another feature of certain air cleaners; they catch bigger particles like dust and hair before they get to the main filter. Pre-filters assist in increasing the air purifier's effectiveness and main filter's lifespan.




3. Air quality sensors: Some air purifiers feature built-in sensors that keep track of the air quality in the space and modify the unit's settings as necessary. This can also assist to guarantee that the air purifier is operating as effectively as possible and that the air in the space is kept clean and hygienic.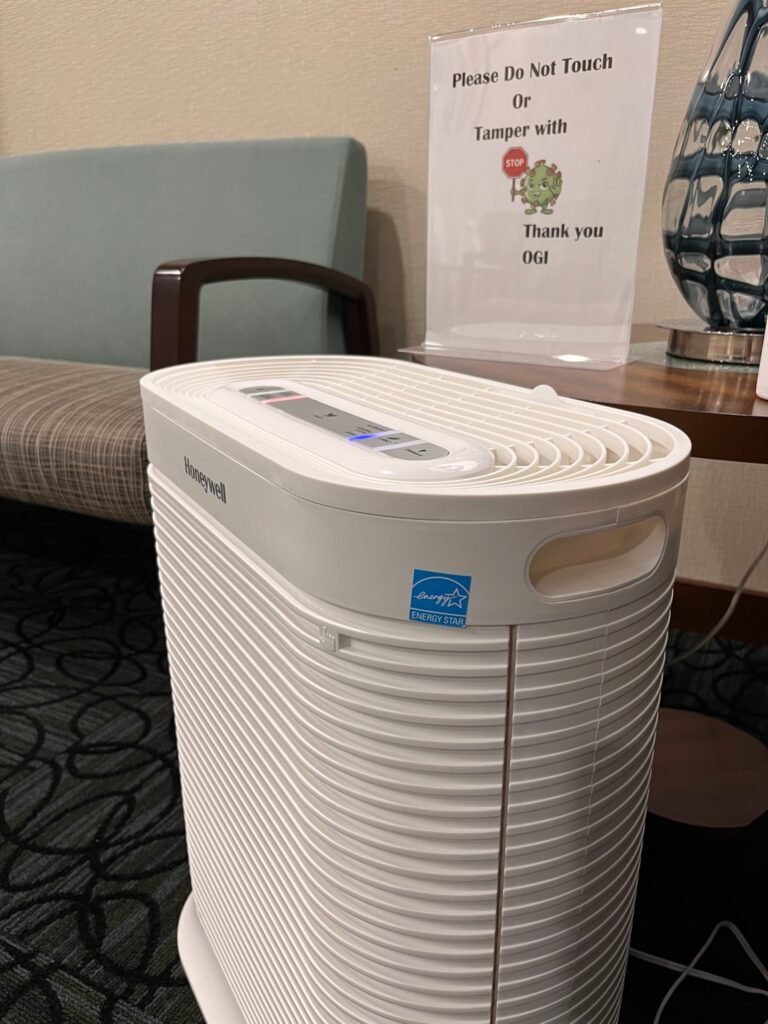 4. Fan speed settings: Air purifiers often have adjustable fan speeds. Lower fan speeds can assist to minimise noise and energy use. While higher fan speeds can help to cleanse the air more rapidly. Also Read – Vodafone to Airtel, Jio Prime Membership Validity, Airtel recharge plans with Amazon Prime, and more
5. Air Purifier UV-C light: To eliminate viruses and germs that could be present in the air, some air purifiers employ UV-C light. It has been demonstrated that the ultraviolet light type UV-C is particularly effective at eliminating diseases and bacteria.
Best Air Purifiers in Market
There are numerous well-liked air purifiers on the market, and they all have different features and advantages. Meanwhile, here are some examples of popular air purifiers:
1. Dyson Pure Hot + Cool Air Purifier
2. Honeywell HPA300 True HEPA Air Purifier
3. Coway AP-1512HH Mighty Air Purifier
4. Airmega 400S Air Purifier
5. Levoit LV-H132 Air Purifier
Benefits of using an Air Purifier
There are several advantages to using an air purifier for your health as well as the general quality of the air in your house. Meanwhile, some of the key advantages of utilising an air purifier are as follows:
1. Reduces airborne pollutants
2. Removes unpleasant odors
3. Improves respiratory health
4. Prevents the spread of germs
5. Reduces dust buildup
6. Protects your HVAC system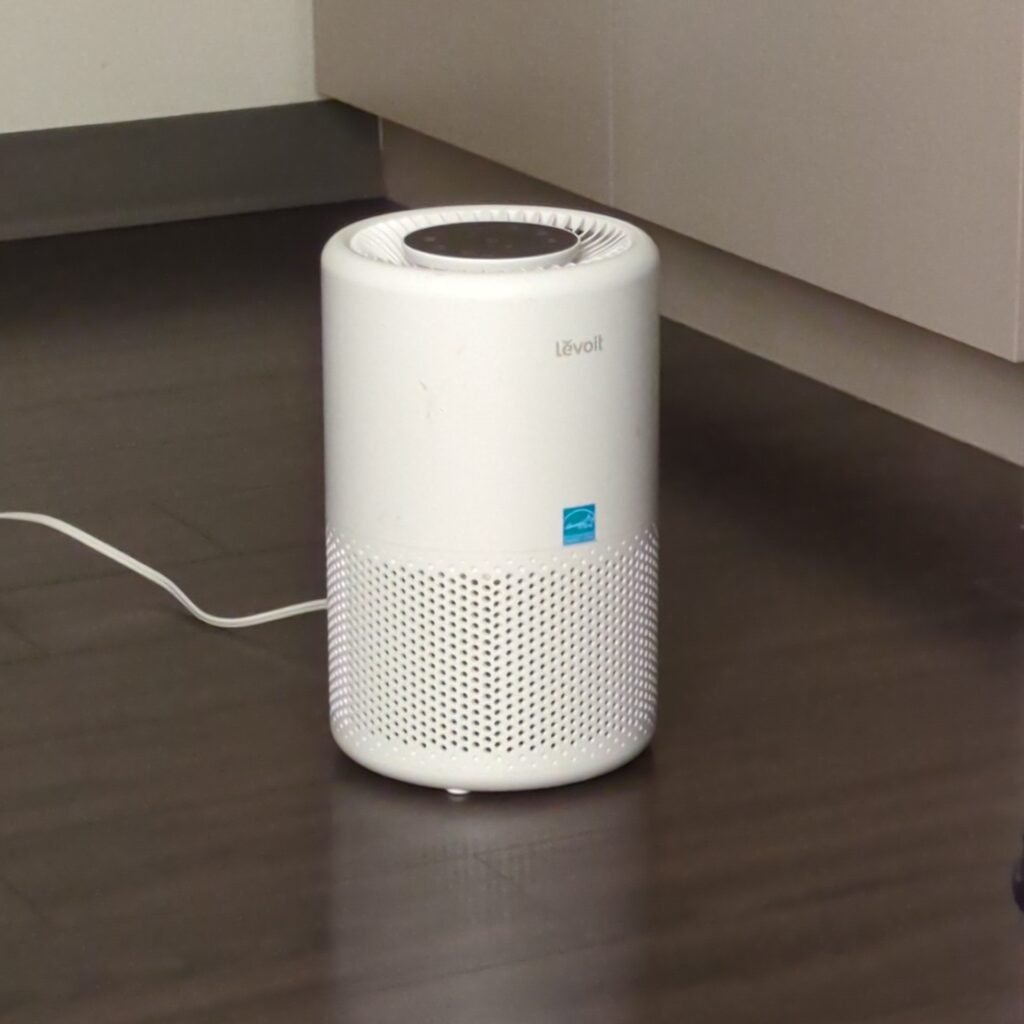 2. Smart Water Bottles
Besides clean air from Air Purifier, staying hydrated is vital for maintaining good health. A smart water bottle can help you do just that. Moreover, these bottles come with sensors that track your water intake and remind you to drink water regularly.
Some versions additionally have temperature sensors that may be used to determine the water's temperature. This feature is particularly useful for those who like their water at a specific temperature. Also Read – How to do Amazon Prime Recharge, Airtel 4G Data pack, Vodafone Hotstar offer, Hotstar IPL Free offer, Airtel recharge one year plan and more
Features of a smart water bottle
As more individuals explore for ways to stay hydrated and keep track of their daily water intake, smart water bottles are growing in popularity. Meanwhile, here are some features that are commonly found in smart water bottles:



1. Integrated hydration tracking: Smart water bottles often come with built-in sensors that can track how much water you are drinking throughout the day. These Smart Health gadgets also allows you to set hydration goals and monitor your progress.
2. Bluetooth connectivity: Many smart water bottles can connect to your smartphone via Bluetooth. Thus, allowing you to sync your hydration data with a fitness app or other tracking tool. Also Read – Check out the latest Realme Bluetooth speaker
Smart Water Bottle for all generation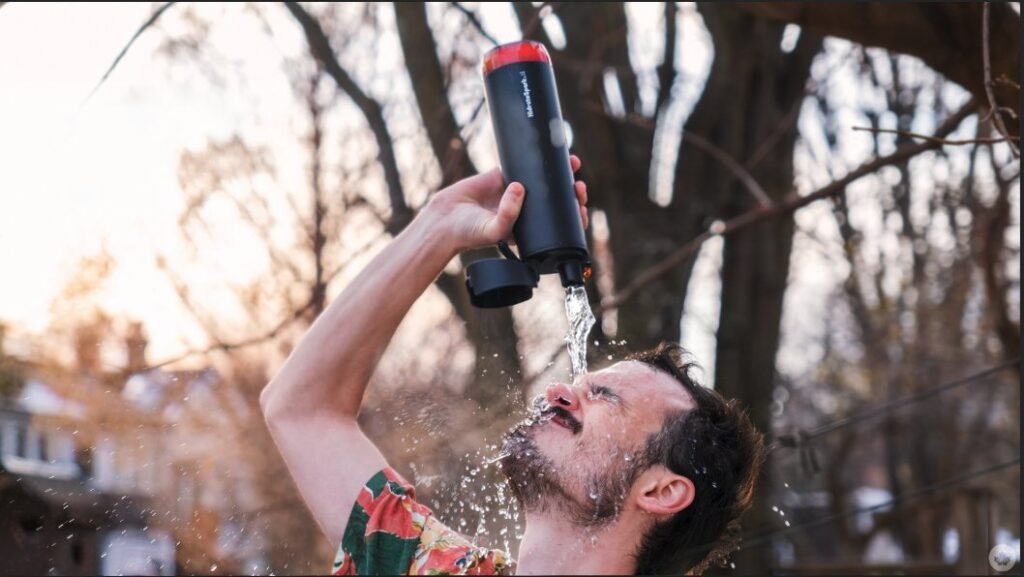 3. LED display: Some smart water bottles also features an LED display that shows your current hydration level. It works as health reminder to drink more water throughout the day.
4. Temperature control: These smart health gadgets also have temperature control features. Furthermore, it allow you to keep your water cold or hot for longer periods of time.



5. Built-in filtration: Many smart water bottles include built-in filtering mechanisms.. It helps in removing impurities from tap water. Thus, ensuring that you are drinking clean, healthy water.
6. Rechargeable battery: These smart health gadgets also get rechargeable batteries. A USB cable may be used to quickly charge these batteries. Thus, making them convenient for use on the go. Also Read – Upcoming Smart Band in India
Smart Water Bottle sync with Mobile App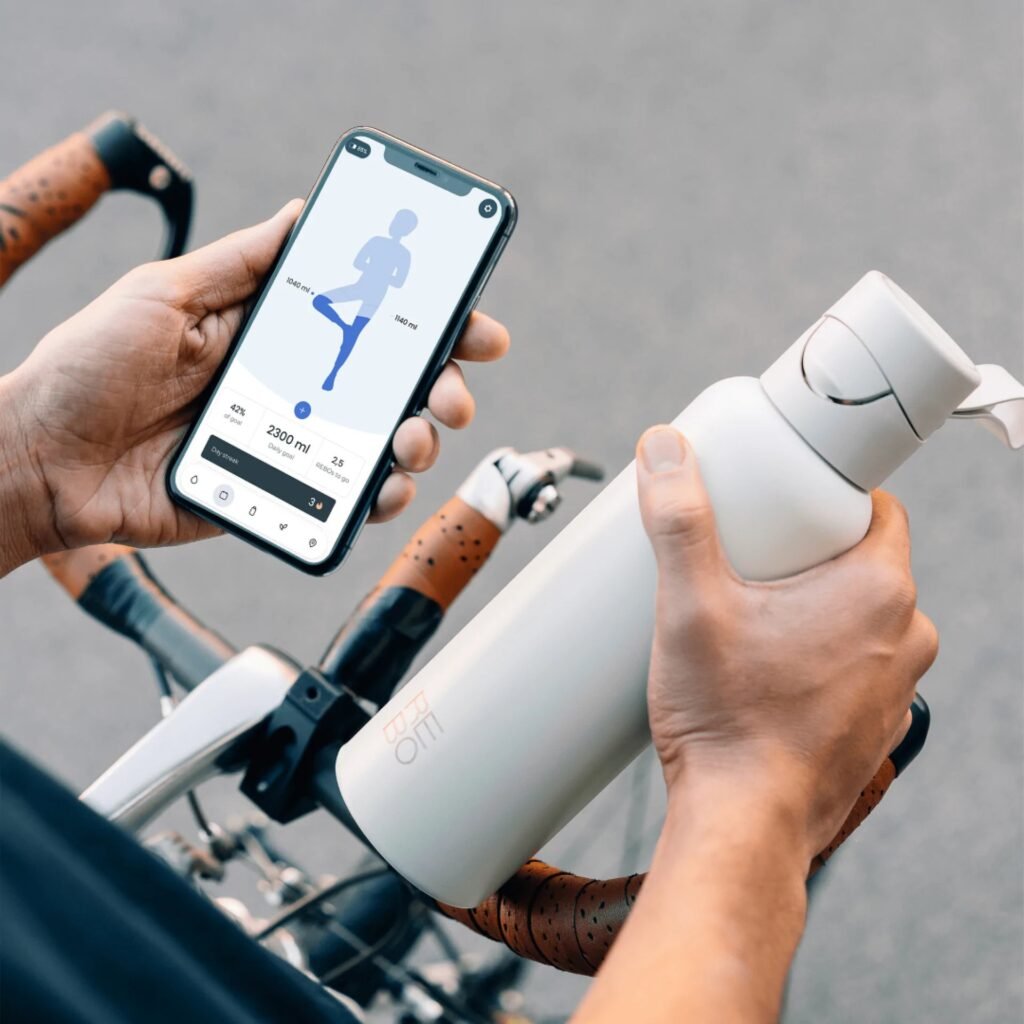 Best Smart Water Bottle for Health
Meanwhile, here are some popular smart water bottles on the market:
– Hidrate Spark 3
– Thermos Hydration Bottle with Smart Lid
– ICEWATER 3-in-1 Smart Water Bottle
– Ozmo Active Smart Water Bottle
– HydraCoach Intelligent Water Bottle
Benefits of using a Smart Water Bottle
Using a smart water bottle can provide several benefits, including:
1. Improves Hydration
2. Customisable Settings like Reminders, Track your progress
3. Improves overall Health
4. Use like normal water bottle
5. Cost-effective
3. Fitness Trackers/ Bands
Besides an Air Purifier, a Fitness Tracker is another best smart health gadget for those who want to maintain an active lifestyle. These devices include sensors that can keep an eye on your heart rate, how far you walk, and how many calories you burn. Some models also come with features like GPS and sleep tracking.
How a Fitness tracker works as Body Composition Analyzer?
Fitness trackers, also known as activity trackers. These health gadgets are wearable devices that can monitor and track various aspects of physical activity. Moreover, these activities may include steps taken, calories burned, and distance traveled. Here is how a typical fitness tracker works:
1. Sensors: Fitness trackers typically have multiple sensors. These include a gyroscope and an accelerometer, which can track motion and measure changes in speed and direction.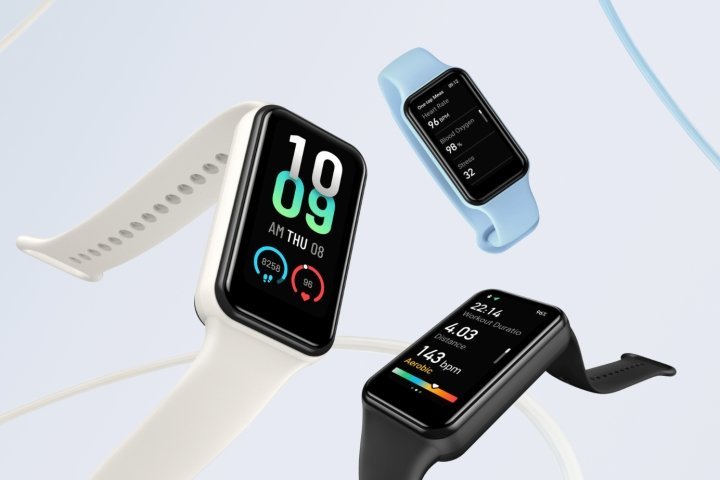 2. Data collection: With each movement, the sensors collect data based on activity, like the number of steps taken, distance traveled, and calories burned etc.
3. Algorithms: The data collected by the sensors is processed by algorithms with the help of fitness tracker's software. Meanwhile, these algorithms can interpret the data and provide insights into the physical activity and health.



4. Display: Many fitness trackers also comes with a display screen. Meanwhile, this display can show the wearer their activity data in real-time. A wearer can also track the number of steps taken or the distance traveled.
5. Syncing: Fitness trackers often have wireless connectivity, such as Bluetooth. This connectivity option allows them to sync with a smartphone app or computer software. Additionally, it allows the user to examine their activity statistics over time and get perspective on their general health and fitness.
6. Other features: Other capabilities on some fitness trackers also include heart rate monitoring, GPS tracking, sleep tracking, and motion or activity reminders.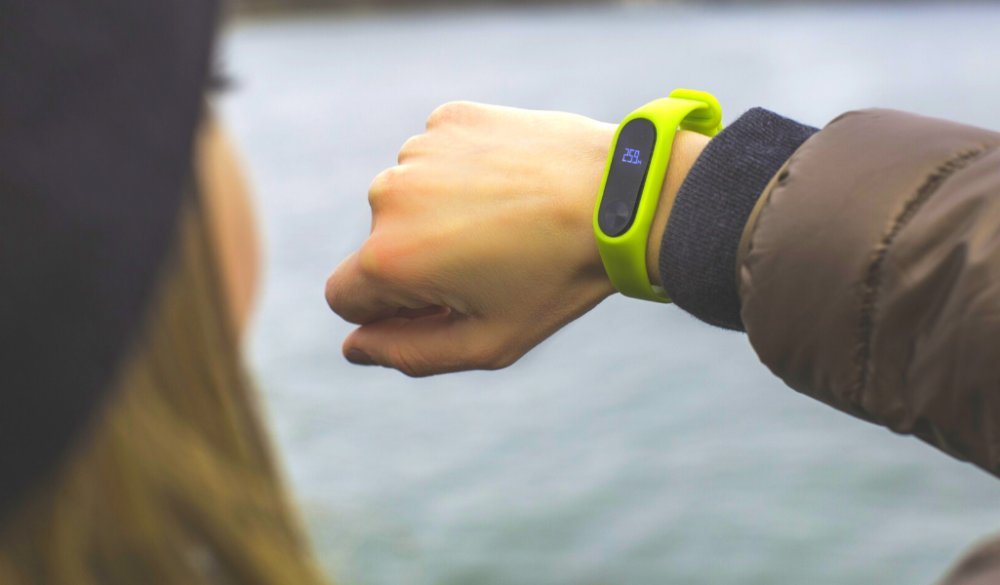 Best Fitness Tracker in Market
Meanwhile, here are some popular fitness trackers on the market:
– Fitbit Charge 5
– Apple Watch Series 7
– Garmin Venu 2
– Samsung Galaxy Watch 4
– Fitbit Luxe
Benefits of using a Fitness Tracker
There are several benefits of using a fitness tracker, including:
1. Motivate user to be more active
2. Helps in achieving fitness goals
3. Personalized recommendation for exercise and nutrition
4. Insight into overall health and wellness
5. Keeps track of sleeping pattern
6. Monitors heart rate
4. Smart Scale
Smart scales are another smart health gadgets to keep track of your weight and body fat percentage. These scales come with sensors that measure your weight. It can be also used as Body Composition Analyzer. Additionally, it can assess additional biometric information like muscle mass and body fat percentage. Like Air Purifier and Smart Water Bottle, it can also link with your smartphone and monitor your advancement over time.
Features of a smart scale
A smart scale is a digital weighing scale that can connect to your smartphone or other devices to provide additional features and functionality. Meanwhile, here are some common features of a smart scale: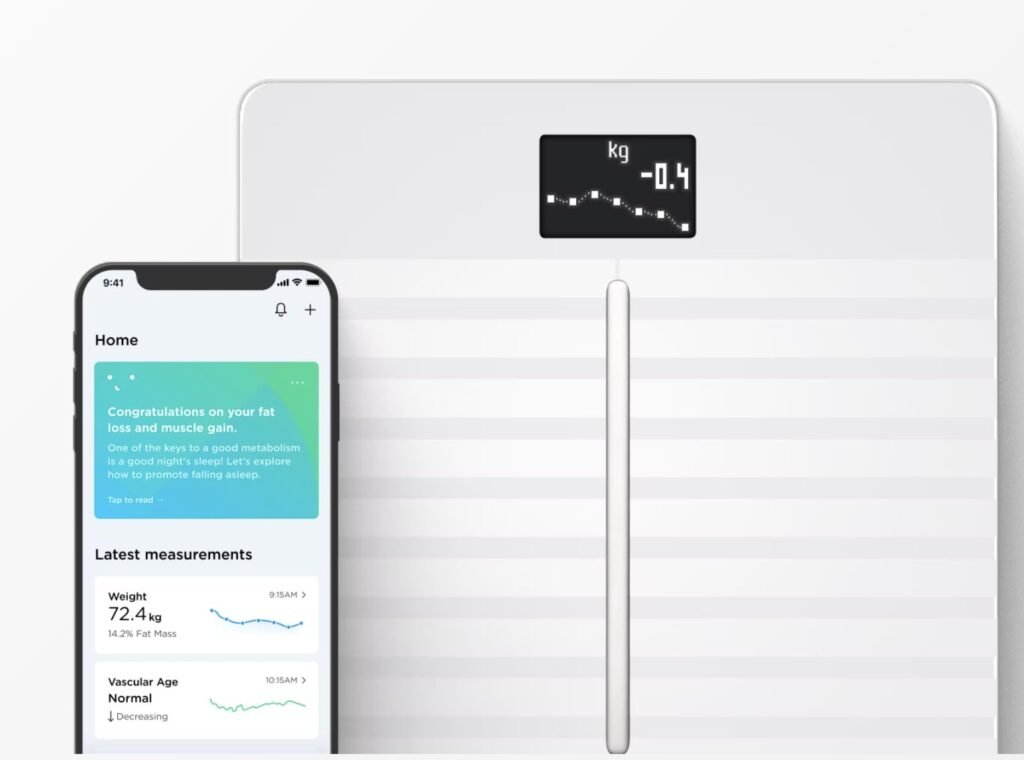 1. Body composition analyzer: Smart scales can also use bioelectrical impedance analysis (BIA) to measure body composition. This Body Composition Analyzer can analyse body fat percentage, muscle mass, and bone density.
2. Multiple users: Smart scales can recognize multiple users and store their data separately. Thus, allowing multiple people to track their progress over time.
3. App integration: Users of smart scales may examine and track their weight. It can also act as body composition analyzer over time by connecting them to a smartphone app. With smartphone app user can also set goals, and receive recommendations for exercise and nutrition.




4. Wi-Fi or Bluetooth connectivity: Smart scales can also connect to Wi-Fi or Bluetooth. Thus, allowing for seamless syncing with the app and other devices.
5. Weight tracking: Smart scales can also track weight over time and display progress graphs and charts to help users visualize their progress.
6. Compatibility with other apps and devices: Smart scales can integrate with other fitness and health apps. It can even connect with best tech health gadgets such as fitness trackers.
Body Composition Data Collection App
Best Smart Scale in market
Here are some popular smart scales on the market:
– Fitbit Aria Air
– Garmin Index S2
– Nokia Body Cardio
– Xiaomi Mi Smart Scale 2
– Under Armour UA Scale
Benefits of using a Smart Scale
Meanwhile, there are several benefits of using a smart scale, including:
1. Works as comprehensive body composition analyzer
2. Personalized recommendation based on user's weight and body structure
3. Recognize multiple users and store their data separately
4. Supports App Integration, allowing users to view and track their progress
5. Set and Achieve goals for weight loss, muscle gain etc.
5. Smart Thermostats
Along with Air Purifier and Smart Scale, a Smart thermostats are another best health gadgets for those who want to maintain a comfortable indoor environment. These devices can learn your heating and cooling preferences and adjust the temperature accordingly. Some models also come with features like voice control and remote access.
Conclusion on Air Purifier and other Smart Gadgets
To sum up, these are some of the top technological innovations for leading a healthier life. There are numerous alternatives to pick from, including air purifiers, smart water bottles, fitness trackers, smart scales, and smart thermostats. You can gift these smart gadgets to your loved ones on this World Health Day. Moreover, you can take charge of your health and fitness by adding these tools into your everyday routine.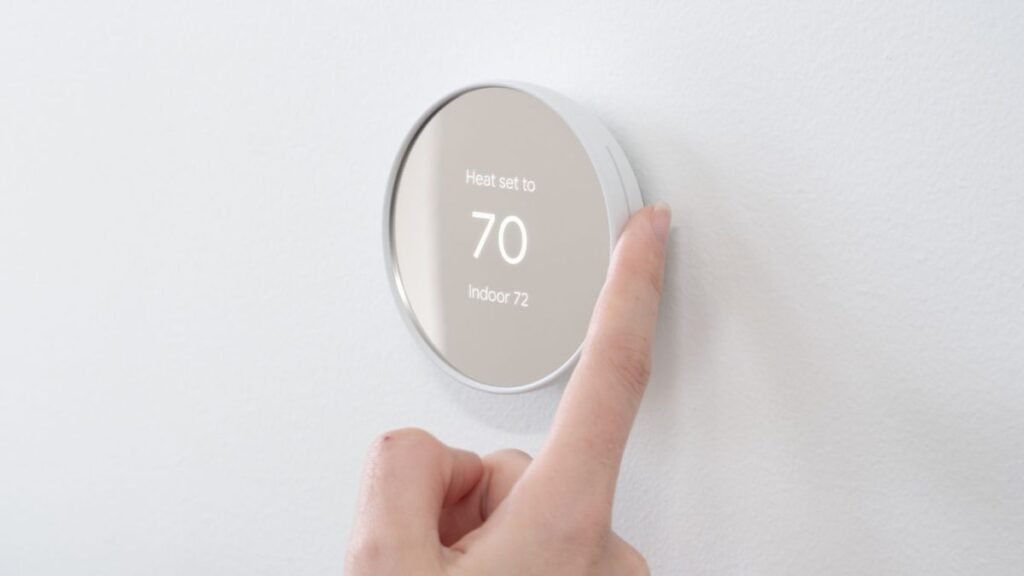 FAQs – Air Purifier, Smart Water Bottle, Fitness Tracker
Q: How does a smart water bottle work?
A: Using a sensor or other technology integrated into or connected to the bottle, smart water bottles are intended to automatically track your water intake. These bottles often measure your weight or volume before and after drinking from the bottle to keep track of your consumption.
Q: What are the benefits of using a sleep tracker on fitness band?
A: By recording heart rate and movements, fitness bands with sleep tracking features can help you determine how much time you spend in deep sleep. A healthy sleep cycle should also include deep sleep, which is linked to better memory and cognitive performance.
Q: How does an air purifier work?
A: Air purifiers have a relatively simple set-up: a fan that sucks in air, and one or more filters. These filters — usually paper, fibers such as fiberglass, or a mesh — capture and neutralize pollutants and particles as air passes over them, before the clean air is recirculated into the living space.
Q: What are the benefits of using an air purifier?
A: Numerous advantages of air purifier includes better respiratory health, a reduction in allergens, and cleaner indoor air. They also help in purifying the air of dust, smoke, and other impurities. Additionally, air purifiers may enhance your mood, lessen stress, and create a healthier environment within your house.
Q: What is a smart scale, and how does it work?
A: A smart scale is a smart health gadget that calculates a person's weight. Moreover, it can also work as body composition analyzer. It uses that data to give fitness and health-related information. Smart scales typically function by including metal electrodes on their surface. The electrodes deliver a little electrical charge to the body when a person stands on them. Furthermore, the scales can gauge the resistance it encounters in the body using this current.