MediaTek is one of the largest chip makers in the world. The chipset manufacturing company officially announces the MediaTek Dimensity 700 5G SoC. This chipset will bring the taste of 5G to Indian markets. This newly announced MediaTek Dimensity chipset comes with advance camera capabilities, improved battery life and multiple voice assistant support. The company claims that the 5G chipset is 28 percent more efficient than the rival 8nm process. It can deliver longer immersive experience to the user.
MediaTek Dimensity 700 5G: What's New?
MediaTek has official confirm about joining hands with Realme. The company shares that Realme will be the first smartphone making company in India to feature new Dimensity 700 SoC. Additionally, the company claims that the processor is design on 7nm process. Therefore, it is expected for the processor to bring advanced 5G capabilities, advanced camera capabilities and power-efficiency for the users.
Display:
Additionally, MediaTek Dimensity 700 SoC brings some of the key highlighting features. These features may include smooth 90Hz displays, Night Shot Enhancements, MediaTek 5G UltraSave and Multiple Voice Assistant Support. This new chipset will allow smartphone manufacturers to design smartphones with crisp, high resolution Full HD+ display. The new smartphones will bring ultra-fast refresh rates. This will allow reduction in blur in animations, scrolling and games for the best ever experience.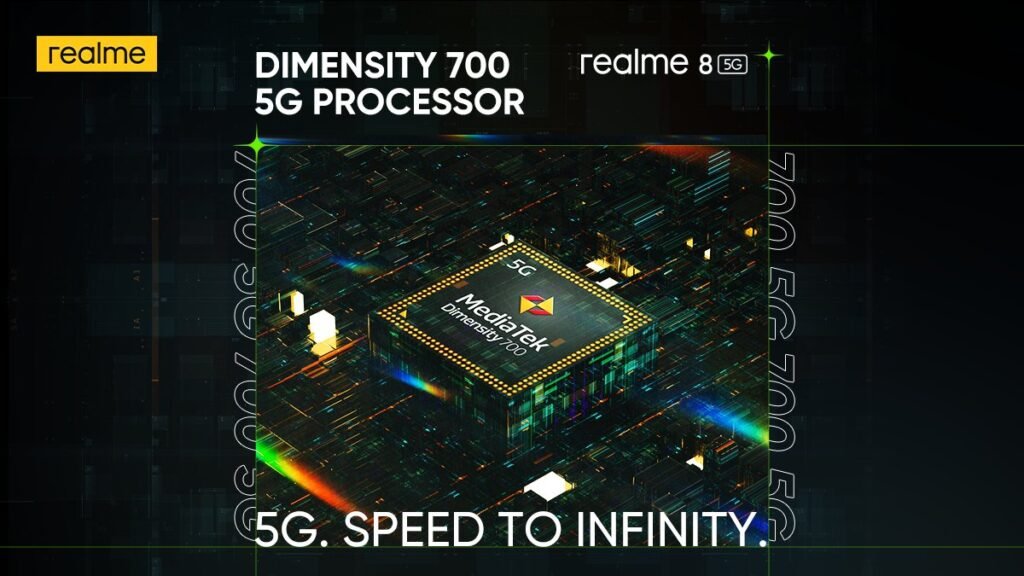 Camera:
This chipset will allow support for multi-camera designs with upto 64-MP camera. It will also allow AI-enabled features such as AI-bokeh, AI-color, and AI-beauty. Additionally, it will also support some enhancements like real-time bokeh in Portrait, facial detection and much more. With other in-built features it will allow enhancement in photography and videography skills. Also Read: Realme launches Realme 8 smartphone under Realme 8 series, Realme 8 5G in works
Network:
The all new MediaTek Dimensity 700 SoC claims to provide advanced power-saving technologies to improve battery life. This chipset also includes UltraSave Network Environment Detection, MediaTek 5G UltraSave OTA Content Awareness, Dynamic BWP and Connected Mode DRX. All these built-in technology intelligently manages a device's 5G connection.
MediaTek Dimensity 700 5G to debut with Realme:
During the announcement of Dimensity 700 chipset, Anku Jain, MD, MediaTek India shares his views. He claims that the chipset will bring the power of 5G in Indian market. The SoC is design with a vision to spread the benefits of 5G to the consumers. So that consumers can access 5G connectivity everywhere in an accelerated manner. This chipset is capable of delivering advanced connectivity with seamless all-around smartphone experience. He added by saying that the all new MediaTek Dimensity 700 chipset will create a new wave in 5G smartphone segment in India. The company expect more OEMs to join the league in the coming months.
On the other hand, Madhav Sheth, VP, Realme and CEO, Realme India and Europe shares his experience with MediaTek. He shares that Realme and MediaTek have joined hands for a highly productive partnership. This partnership in not new, the journey began in year 2018. He shares that the company have brought leap-forward smartphone experience to the million of users worldwide. Additionally, Realme become the first brand to bring a smartphone powered by powerful MediaTek Dimensity 800U 5G chipset. This time also, Realme will be the first smartphone company to launch the MediaTek Dimensity 700 based smartphone in India. He also added that Realme will always try to bring 5G enabled smartphones with enhanced capabilities.