Kia Motors is working hard to expand its electric vehicle portfolio. The Automobile giant recently announced that the Kia EV9 electric SUV vehicle will be running on European roads in 2023. Although, many auto experts were surprised by the decision of the Korean carmakers. After the success of the large SUV Telluride, the Korean automobile manufacturers decided to offer large SUVs across the pond. Although, the large SUV Kia Telluride remained exclusive to North American roads only. Meanwhile, Kia Motors have agreed to provide a broad release date for the launch of the Kia EV9 electric car in the US market.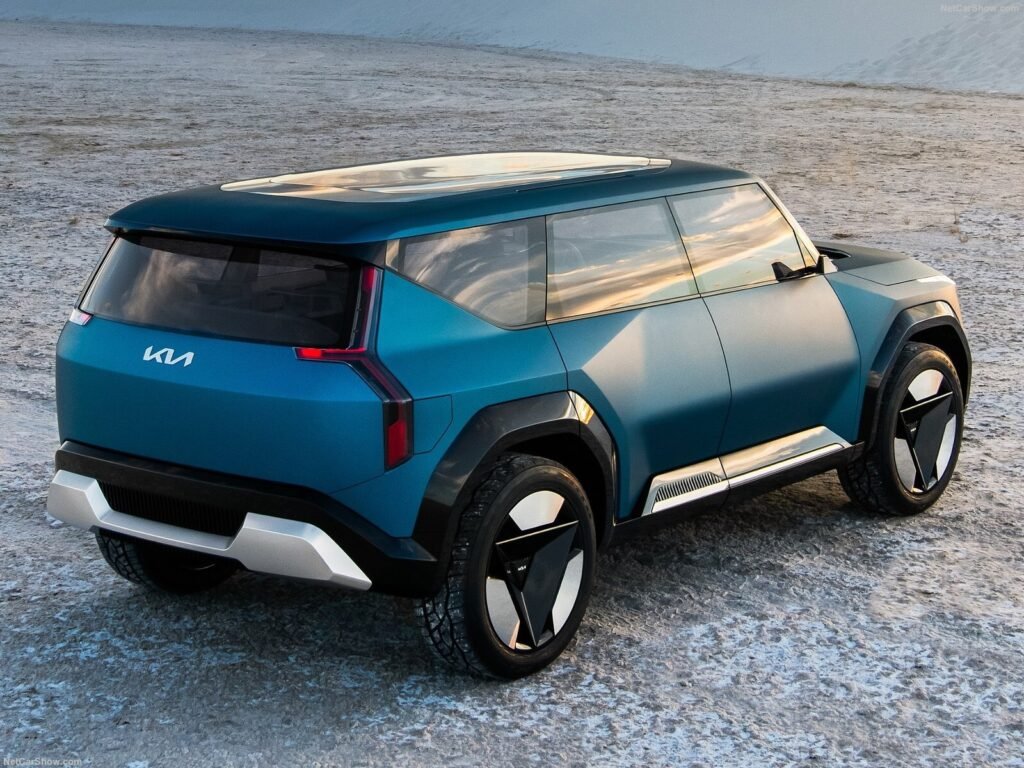 Kia EV9 in the US next year
To recall, Kia announced that a production unit of the EV9 large electric SUV concept will be launching in the European markets in 2023. Earlier this month, the latest Kia EV9 confirms for North America also. Kia Motors is marking its presence at the New York International Auto Show. Last week, at New York International Auto Show, Kia announced that a Kia EV9 electric vehicle production unit will also be arriving in the United States in the second half of 2023.




In November, Kia offered an early glimpse of the concept electric vehicle Kia EV9 at the LA Auto Show 2021. The automobile giant also revealed that this electric car could offer up to 300 miles of range. Furthermore, with 350kW charging, the battery on the electric vehicle can boost from 10 percent to 80 percent in just 80 minutes. Moreover, this production electric SUV will be built on Hyundai Motor's E-GMP dedicated EV platform. The recently launched Kia EV6, Hyundai Ioniq 5, and Genesis GV60 also use the same EV platform.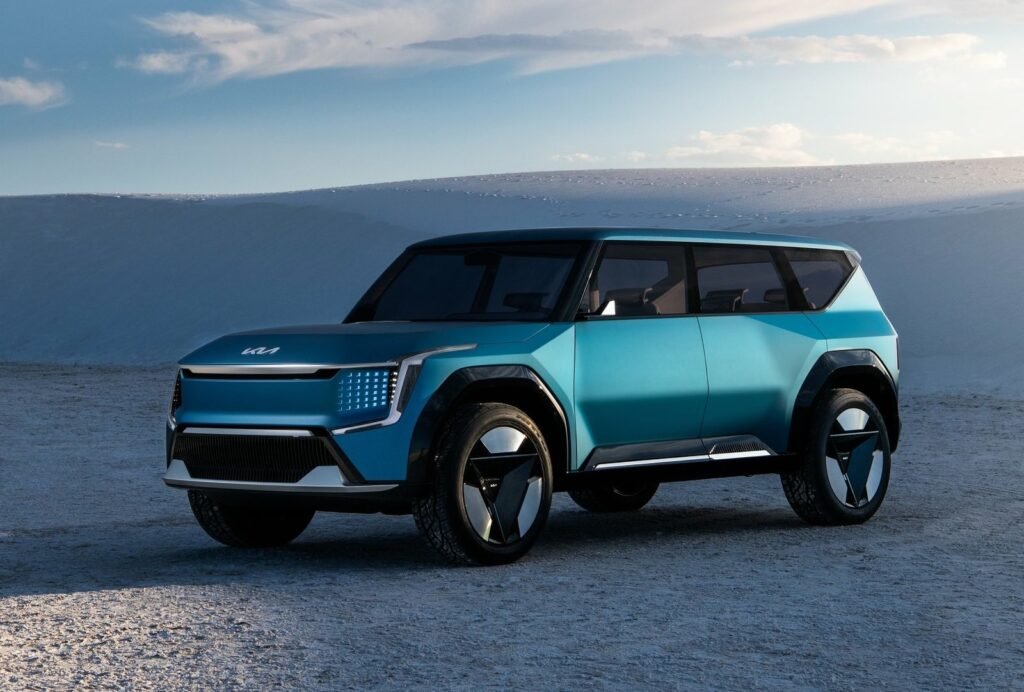 Kia EV9: Battery
Although the local consumers are looking for an exact launch date for Kia EV9 electric SUV, during the announcement at the New York Auto Show, our team tried to connect with Kia America. But we did not get any comment on the upcoming Kia EV9 electric vehicle. The battery can charge from 10% to 80% in just 18 minutes. However, we still don't know the exact details of the battery pack capacity.
According to reports, the battery pack on Kia EV9 electric vehicle is likely more prominent than the Kia EV6 electric vehicle. FYI, the Kia EV6 packs a 73kWh battery. Kia will increase the battery capacity on the upcoming EV as it has to move around a heavier and boxier vehicle. Meanwhile, this electric SUV will compete against Hyundai electric SUV in India and other global countries.
In terms of styling, Kia SUV could get chunky, angular styling. The electric vehicle could launch with striking suicide doors, which will make it a bit expensive. However, these striking doors want to make anything special for a road-going SUV. The upcoming Kia EV9 could launch as an electrified alternative to the highly successful Kia Telluride. According to rumors, Kia Motors will be launching a seven-seater SUV variant with a spacious third row.
Kia Electric Vehicle: Design
Kia will design the futuristic interior with sustainability in mind. The automobile company will still be trying to add luxury to the upcoming Kia EV9 electric vehicle. Keeping in mind renewability, Kia will be using vegan leather, reusable wool fiber and recycled fishnets while designing the interiors. The dramatic style seats and steering wheel will also make way for more conventional items.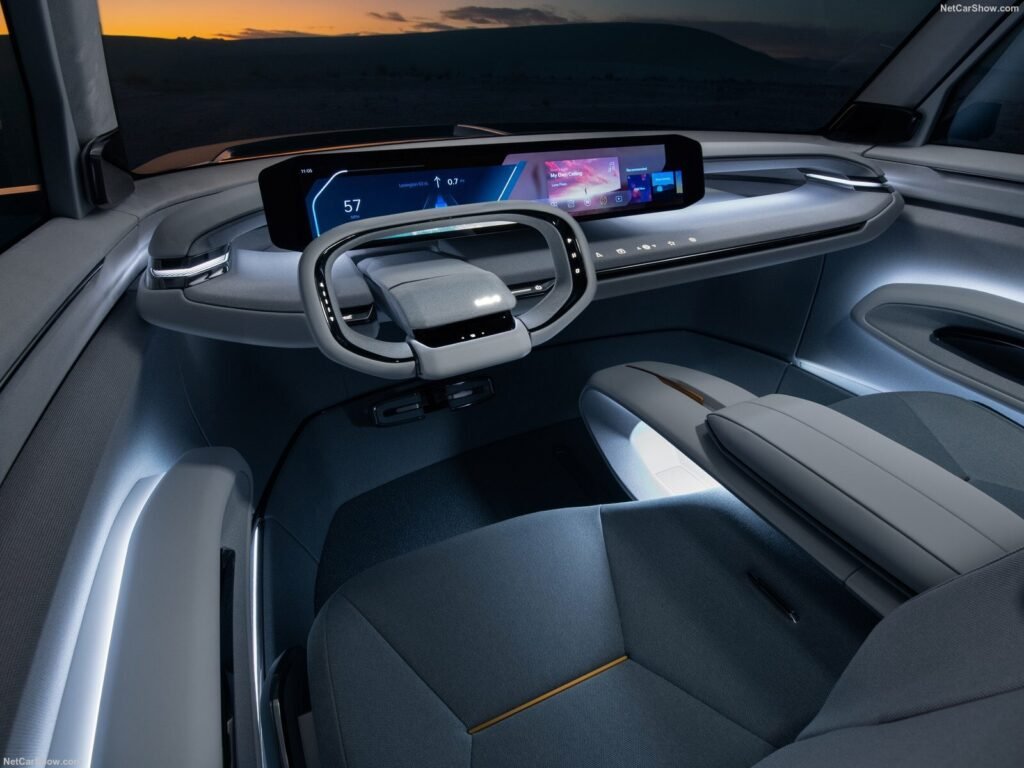 Kia EV9: Specifications
Being a large SUV, Kia EV9 comes with a total length of around 5 meters. Moreover, Kia claims that the SUV can accelerate from 0 to 100 km per hour in just 5 seconds. Furthermore, the automobile company also confirms that with just 6 minutes of charge, an electric vehicle can offer a 100 KM of driving range. The KIA electric SUV comes with a driving range of 300 miles on a full charge.




Additionally, the electric car also features a big 27-inch display. It will also replace the traditional instruments and showcase an infotainment information system. Climate control navigation is also available on the Kia EV9, which can be accessed through the infotainment screen.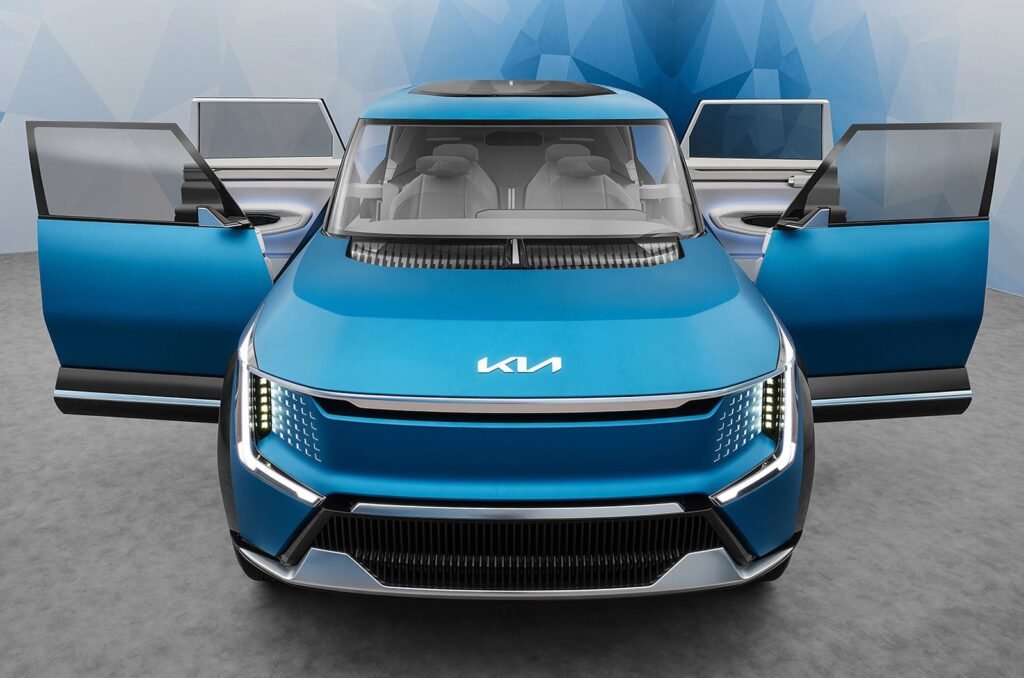 Automode Driving Technology
According to rumors, the Kia EV9 will be the first Kia EV SUV to come with the firm's "Automode" assisted driving technology. Furthermore, this technology should allow the car to control its acceleration, braking, lane position, and steering in certain conditions.
Kia EV9: Dimension
Dimension wise, the concept electric car, Kia EV9, is the larger vehicle which gets a size similar to BMW iX. The Upcoming Kia electric car is 194-inches (4,930-mm) long, 80.9-inches (2,055-mm) wide, 70.5-inches (1,790-mm) high. It gets a 122-inch (3,100-mm) long wheelbase, nearly 4 inches longer than the BMW iX range wheelbase. Recently, BMW also showcased its BMW iX M60 concept car. Meanwhile, the automobile brand plans to launch a total of 14 electric vehicles that will hit the roads by 2027.
Kia EV6 in India soon
While writing, we expect Kia to make an official announcement regarding its Indian electric cars segment. As per our earlier article, the Korean automaker will be launching its first electric vehicle in India as Kia EV6 electric car in June. Currently, there is also no official confirmation about the Kia EV6 India launch. According to reports, the upcoming Kia EV6 will be launching in India as a Completely Built Unit (CBU). It confirms that the automaker wants we making many changes to the electric vehicle landing in India. Meanwhile, we don't have any official information about the Kia EV6 price in India.