The new version of Android 12 operating system has been finally unwrap by Google at Google I/O event. According to official reports, the latest Android 12 OS is coming out later this year on various Pixel devices. The company confirms that the latest operating system will be landing on third party Android devices from the partners like Asus, OnePlus, Xiaomi, Oppo, Samsung and many more. To recall, earlier the Android 12 OS was available as Developer Preview. Earlier, company has already released three developer previews of Android 12 OS.
Google Android 12 is live
With the launch of new Android 12 OS, Google brings some of the biggest design changes to Android since 2014. Earlier, Google made major design revamp with Android 5 or Android N (Nougat). Unlike previous design updates, this time Google will bring the all new "Material You" design language to its Pixel devices. This year the new design will remain exclusive to Pixel devices.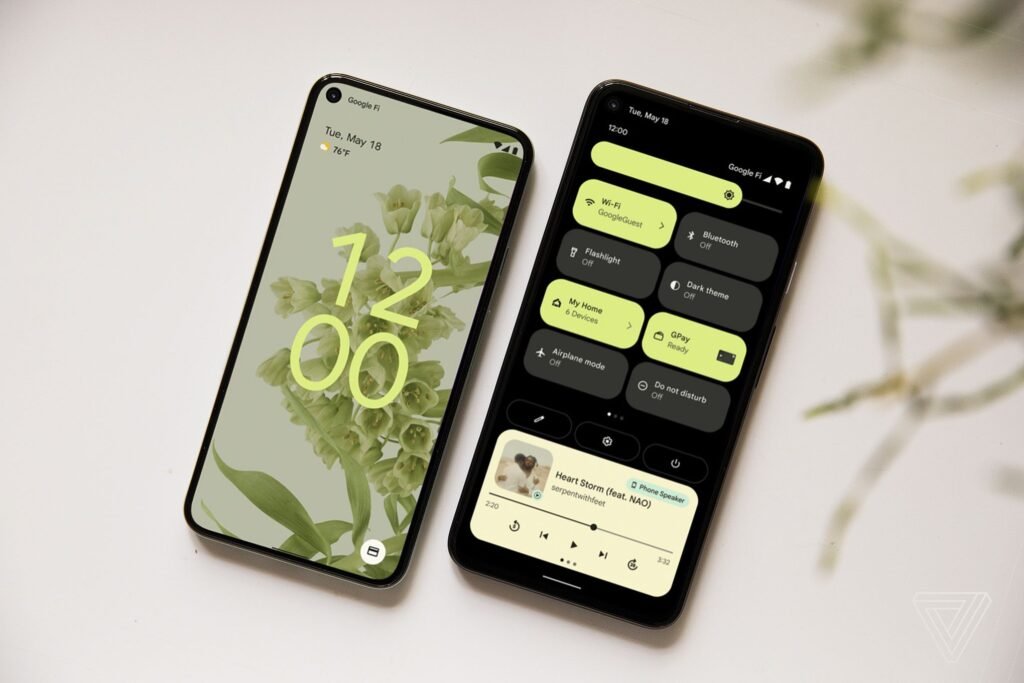 Android 12 Compatible Devices
The latest Android 12 operating system will first made available to all Google Pixel devices exclusively. The list of compatible devices includes,
1. Pixel 3
2. Pixel 3 XL
3. Pixel 3a
4. Pixel 3a XL
5. Pixel 4
6. Pixel 4 XL
7. Pixel 4a
8. Pixel 4a 5G
9. Pixel 5
Google Android 12 Material You Design
According to Google, the Material You design language comes with complex color science. It brings a complete transformative controls to the interface. With this new design, the interface will pick similar colors which matches with the wallpapers. These colors will be then applied across the interface for accent. With new design element, Google has also redesign the system widget altogether. Beside dark and light, the all new design features a mode for all moods. In this new version, Google now brings several color based modes apart from usual dark and light modes. This will allow users to customize elements based on moods. According to reports, the new Material You Design is coming on Google Pixel devices along with Android 12 Update in Q3, 2021.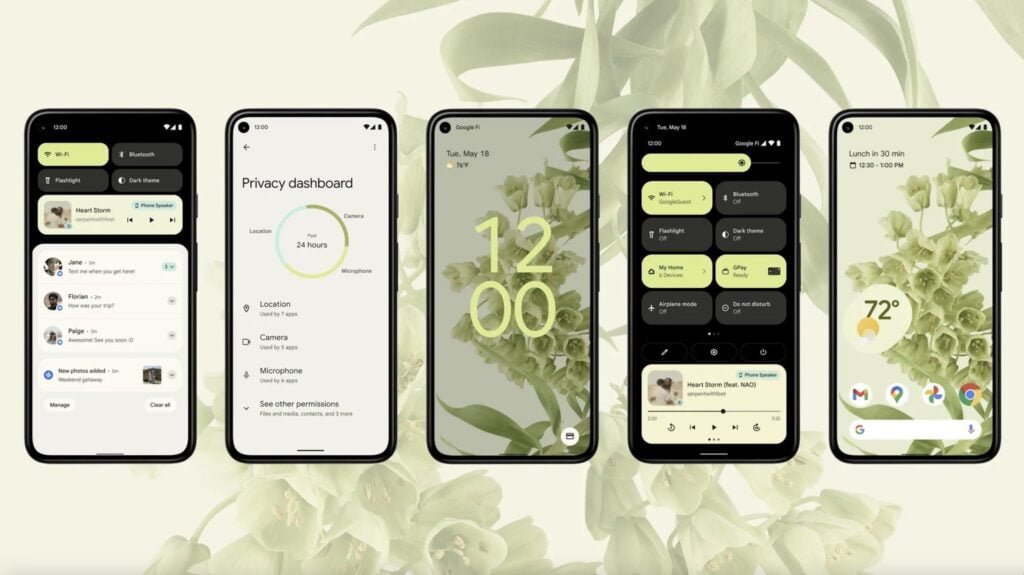 Google Android 12 Features
According to report from Google, there are more than 3 billion active Android users around the world. Therefore, the all new Android 12 is one of the most ambitious release for the Android ecosystem. Google adds that the new version update will make your smartphone more private and secure. it will work better as it will adapt with users requirement with this new update. Also Read: Google Pixel 5a 5G will launch later in 2021 along with Android 12
Some Visual Changes on Android 12:
With the new update, Android 12 will be getting a drastic design makeover. The major design changes comes as part of the new Material You design theme. In this Android 12, the system will use color extraction technique to get unique accent colors for the entire interface. The new technique will also help users in creating new unique themes for Pixel devices. Additionally, in this new update, Google has also worked on improving the visual effects. The new Android 12 update will provide better animations, especially on lockscreen. The Always on Display will also get a major design update. The Clock Widget will also appear larger on screen.
Other Design Changes on Android 12
In the Android 12 OS, the quick panel and notification shade also get a major design change. The Quick Settings panel gets a uniform design with new buttons. All the buttons on Quick Settings wears the accent colors of the new "Material You" Theme. Beside basic device controls, now users can also access the Google Pay and Google Home controls within Quick Settings. Google confirms that the new Android 12 update will reduce the CPU time by 22 per cent. Therefore, making Android 12 much faster and smoother for the users with all new animations.
Privacy on Android 12:
The latest version of Android 12 carry forward all the previous privacy and security features. Additionally, it also gets some new security and privacy features. In this Android 12, users get new Privacy Dashboard that reports all apps including Google Apps. The new Dashboard represent how much private data is being accessed by the apps and the sensors. Just like iOS 14, Android 12 also gets a Privacy Indicator in the status bar. In Android 12, users can also disable sensors for certain apps within the settings. "Now Playing" and "Smart Reply" will continue to ensure high standard of privacy.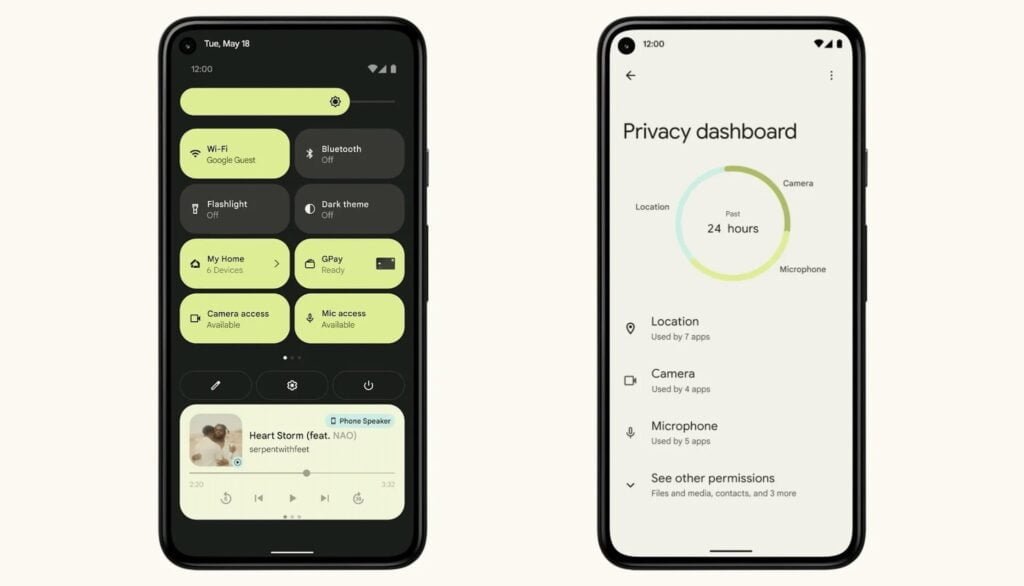 Android 12 with Android TV OS:
Google has also added a built-in TV remote feature in this Android 12 OS. This built-in TV remote will help in controlling Android TV OS based smart TVs. With the availability of NFC and UWB (Ultra Wide Band) Tech, Android 12 also gets Digital Car Key feature. However, this feature will be launched on select Pixel and Samsung Devices later in the year. Google confirms that this feature will work on BMW cars.
Additionally, Google is also working on cameras. Google wants cameras to work fairly for everyone. Therefore, users will be able to see all kind of improvements in terms of lighting, exposure and better details. All of these features will be improve using Google's advanced AI solution. Google has started rolling out the Android 12 Beta 1 on all the supported Pixel devices. The Beta update will also be available for other Android devices from third party manufacturers.
Google Android 12: Confirmed Features
1. Android 12 OS will allow users to access the Nearby Share feature to transmit Wi-Fi credentials. This will allow easy share of Wi-Fi as compare to Android 11.
2. The new version will also allow users to add text, emoji and stickers in their screenshots.
3. As mentioned above, the Android 12 will allow wallpaper based theming system. This means that the color accent will be adopted based on the shades of wallpaper.
4. In Android 12, Google will also bring support for AVIF image format. This format promises to improve image quality compared to JPEG. Also, the image file size will also not exceed.
5. Android 12 also brings haptic audio effect. This will provide user with haptic vibration feedback based on audio cues.
6. The new API in Android 12 will allow users to insert and move media using keyboard, clipboard and drag and drop option. The supported format will include plain and styled text, images, videos, audios and much more.
7. The new version will also provide a revamped notification shade with improved aesthetics, usability and functionality.
8. With Android 12, the company also wants to integrate one-handed mode. This feature is also available in iOS 14. This will allow simple swipe down anywhere at the bottom of the display.
9. The new update will also provide more categories of widgets. This will make it easier for users to find the widget much easily.
10. Android 12 OS will also bring the Unused apps feature. This will allow users to take away all the permissions and clear all the temporary files. The user can also clear cache of an unused app. This will allow users to save more storage space on their devices.