Sony India launched a new Smart TV range in India to its Bravia series. These smart TV models were launched under India's Bravia Sony XR OLED A80K series. Furthermore, the latest Sony Bravia XR OLED A80K series includes three different models with sizes ranging up to 77-inch. Moreover, the newly launched smart TV models are powered by the company's Cognitive XR processor. With this processor, the smart TV manufacturers believe that the picture and sound quality improve drastically on the Sony Bravia XR OLED A80K series smart TV models.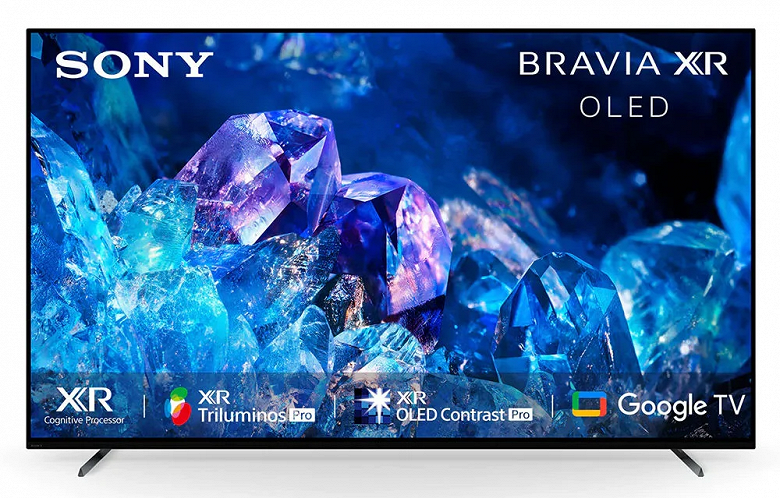 Sony Bravia XR OLED A80K series
The ony believes that the new Cognitive XR processors can think like a human brain, thus providing a revolutionary experience to the viewers. The latest Sony Ultra-HD OLED TVs are one of the most expensive and technologically advanced smart TV models currently available in India. Furthermore, the newly launched smart TV range also comes with HDR, Dolby Vision, and Dolby Atmos Audio support. It runs on the latest Android TV software and the Google TV user interface.
Sony Bravia XR OLED A80K series price in India
The all-new Sony Bravia XR OLED A80K series smart TV comes in three distinct sizes – 55-inches, 65-inches, and 77-inches. All three models come with Ultra-HD screen resolution. These models have identical specifications and features besides the noticeable size difference. Also Read – Sony 32W830 Smart Android LED TV price in India
As for the price in India, the 65-inch Sony Bravia XR OLED TV comes with model number XR-65A80K and is priced at Rs 279990. In contrast, the 77-inch variant of Bravia XR OLED TV comes with a model number XR-77A80K and gets a price tag of Rs 699900 in India. Besides these two models, a third 55-inch variant comes with model number XR-55A80K. This model brings a 55-inch display. Meanwhile, Sony has not mentioned the pricing and availability for this variant.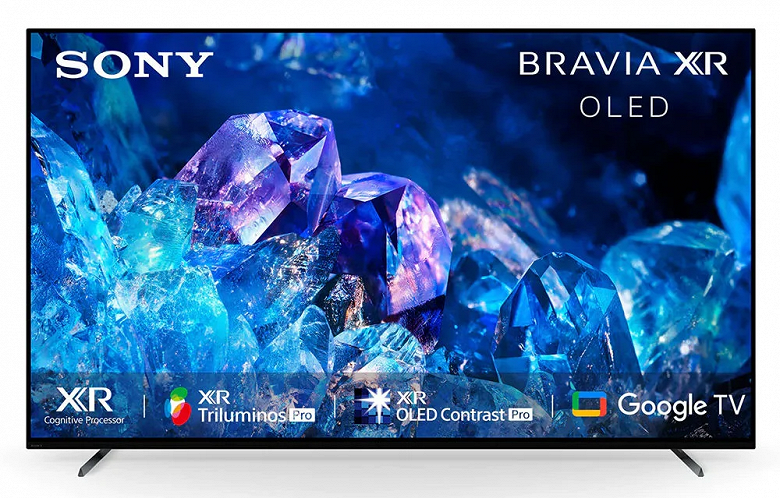 Regarding their availability, these smart televisions are available for purchase across Sony Center stores, offline electronic stores, and other major e-commerce portals in India. These Sony Bravia XR OLED A80K series models will take on the recent launches from premium brands such as Samsung and LG. To recall, LG recently launched the LG C2 Evo Smart OLED TV range. At the same time, Samsung unveiled the Samsung QN95B TV series.
Sony Bravia XR OLED A80K series: Specifications
As mentioned above, the Sony Bravia XR OLED A80K TV models are powered by the Cognitive XR processor. This chipset offers better and more adaptive performance based on the content and viewing situation. The chip comes in pair with 16GB of onboard storage. In terms of other features, the smart TV series get dual database processing, XR 4K upscaling, and XR super-resolution for clarity. Furthermore, it gets live colour technology, XR Smoothing, and XR TRILUMINOS PRO functionalities for enhancing the colour.
In terms of resolution, the Sony smart TV models get Ultra-HD OLED displays. It receives a screen resolution of 3840*2160 pixels. Furthermore, this display also brings support for high dynamic range content. Additionally, it gets Dolby Vision, HDR10, and HLG formats support. Also Read – Apple iPad 2022 model with OLED screen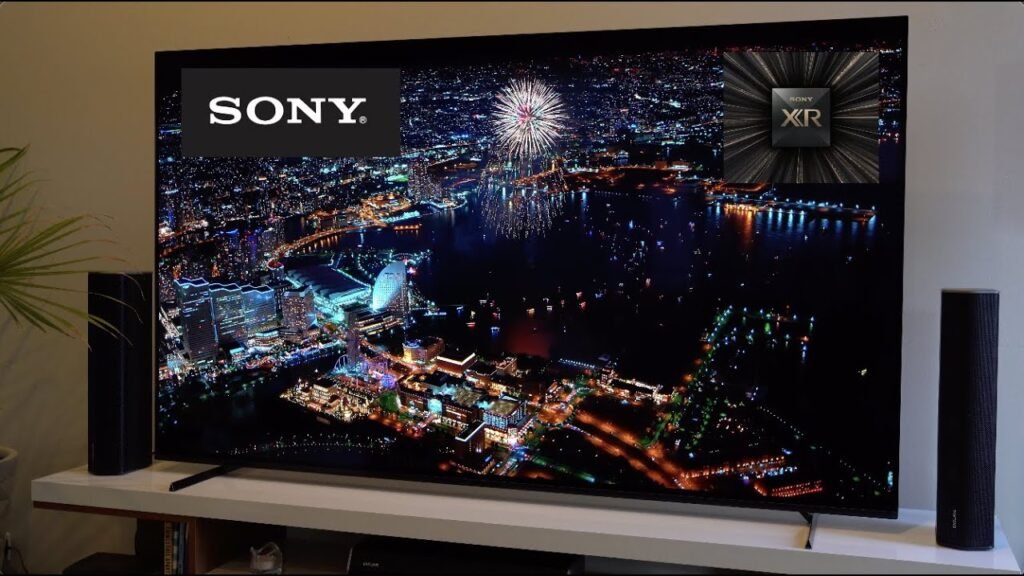 The latest Sony Bravia TV models come with three actuators and two subwoofers. For an excellent audio experience, the Sony Bravia XR OLED A80K TV models get Dolby Atmos and DTS Digital Surround sound formats. Other features include IMAX Enhanced and Netflix Adaptive Calibration Mode. Sony claims that these features will enhance the audio experience of the viewers.
The newly launched Sony Bravia XR OLED A80K series model runs on the latest Android TV software. These smart television models get the Google TV user interface on top. Most popular apps are available for these Sony smart TVs via the Google Play Store for Android TV. These apps include all the primary streaming services like Netflix, YouTube, Amazon Prime Video, Disney+ Hotstar, and others.
For casting, there is a built-in Google Chromecast. Additionally, there is support for Apple AirPlay 2 and Homekit for connectivity with external devices. This Sony Bravia TV model also has native Google Assistant support through the remote. Also Read – Latest Google Pixel 6A mobile phone with Sony IMX363 Image sensor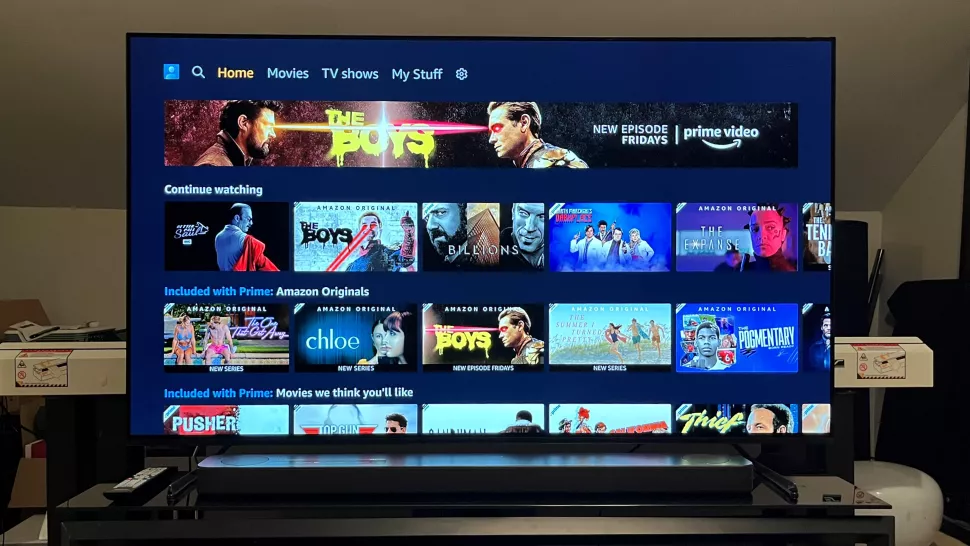 The latest Sony Bravia XR OLED A80K series has Acoustic Surface Audio and XR Surround technologies. The sound system on the latest smart TV models has a total output rating of 50W on the 55-inch and 65-inch variants. On the 77-inch variant, the sound output rating is 60W.
For connectivity, these smart TVs have Wi-Fi 802.11a/b/g/n/ac and Bluetooth 5.2. Regarding design factors, it comes with a metal flush surface with a titanium black finish. The Sony Bravia XR OLED A80K series gets HDMI 2.1 with up to 120Hz variable refresh rate. Also Read – Sony WF-XM100XM4 India wireless TWS earphones with noise cancelling feature; price and availability in India
The smart TV also has gaming-focused features like Auto Low-Latency Mode, Variable refresh rate, and Auto Gaming Mode. Now, let's look at one of the Sony Bravia XR OLED A80K series models. Here, we have the Sony Bravia XR OLED A80K XR-65A80K with us; let's take a deep look at this model. Also Read – How to pair Sony headphones, latest Galaxy earbuds with wireless noise cancelling feature?
Sony XR OLED A80K (XR-65A80K): Review
Sony A80K series is the company's latest OLED TV lineup for 2022. The newest series is priced lower than the premium A95K QD-OLED models. The performance of the 65-inch XR-65A80K model is excellent considering the price point. Check out Mac Book Air vs iPad Pro. The 65-inch Sony Bravia TV model runs on the Google TV platform with useful features like Google Assistant, allowing users to speak commands directly into the remote control's hidden mic.



The Google TV Platform offers access to popular streaming platforms like Netflix, Amazon Prime Video, and others. Additionally, the screen layout can be customized to highlight the everyday viewing experience. The new wide colour gamut on the Sony XR OLED A80 K's panel combines Contrast Pro, XR Triluminos Pro, and Cognitive Processor XR features. These features help to deliver deep blacks and detailed shadows in images. Furthermore, it offers rich and saturated colours in the photos. Overall, the brightness levels are decent.
Sony XR-65A80K OLED TV: Design
All the three models under the Bravia XR A80K series have a very slim profile. The complete panel is around 0.5-inch deep. During the launch, Sony confirms that these innovative TV models come with Sony's Slate Design. Here, it uses a single pane of glass to cover the entire front. Visual, it looks beautiful. Additionally, an inset panel allows easy connections. Furthermore, a Snap-on cover could manage cables and conceal the rear panel.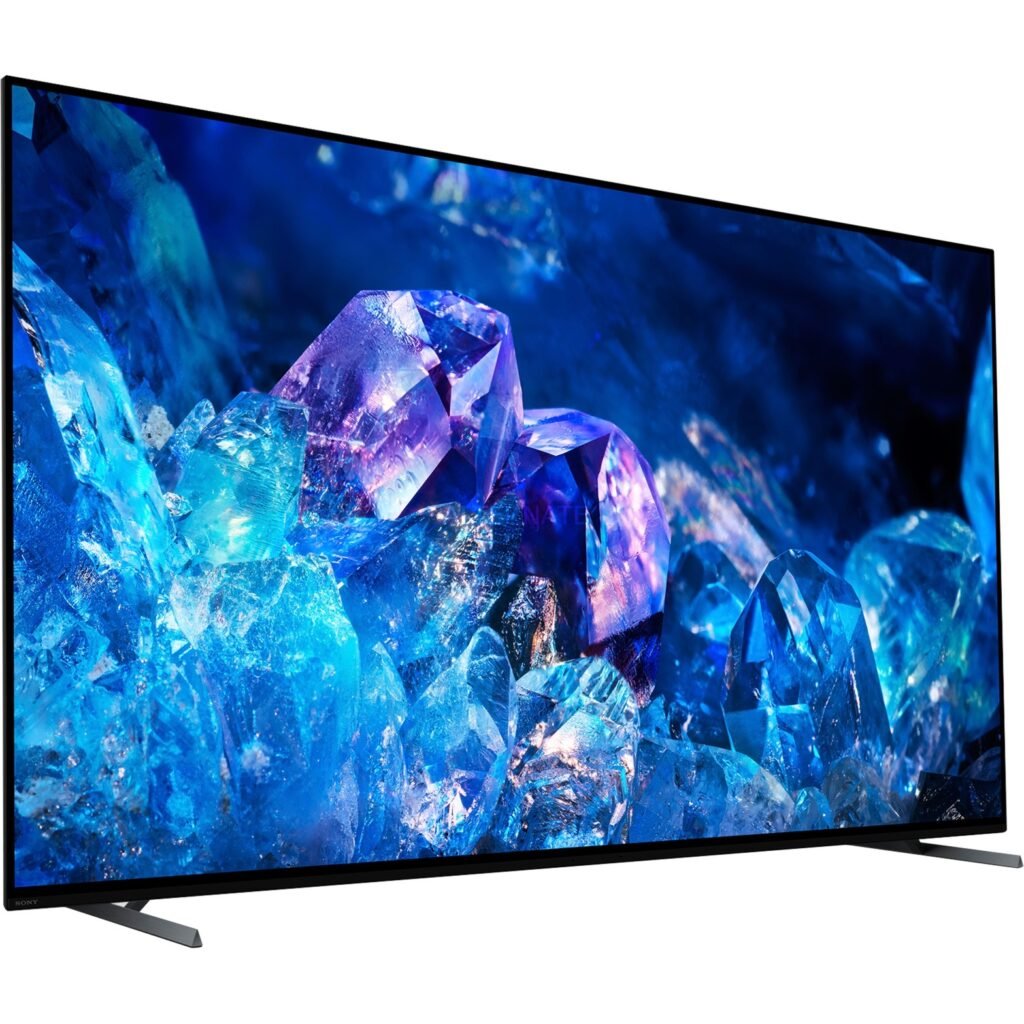 The Sony Bravia XR-65A80K model comes with a three-way multi-position stand. This stand is adjustable to different height levels. With this adjustable height stand, we can create space for the soundbar. Furthermore, there is an optional wall-mounting bracket also available. Also Read – Apple MacBook Pro and 13 inch iPad with OLED display
The latest Sony A80K series models have a compact and relatively basic remote control. The new remote control is easy enough to get familiarised with, which could be because it comes with a limited button layout. Sony offers a textured casing on the remote, preventing it from slipping down from the viewer's hands.
Sony XR-65A80K OLED TV: Smart features
The latest 2022 OLED TV series is pretty busy with the Google TV interface. However, the interface is neat and easy to use compared to the interface on other smart TVs. Viewers need to sign in with the Google Account during the initial setup process. It will give the viewers an excellent level of personalization. Also Read – Apple MacBook Pro and 13 inch iPad Pro models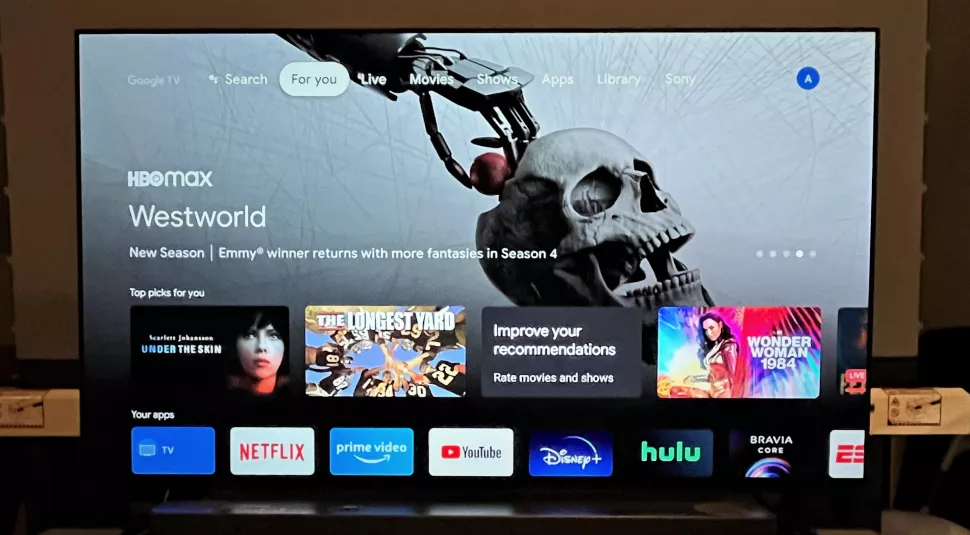 The Sony Bravia XR OLED A80K series also has the Google Assistant voice control feature. This Google Assistant feature can be access only after signing in with the Google account. Furthermore, the smart TV model gets multiple streaming apps. The access to Google account will allows the viewer to view the linked Google Photos with that account. Furthermore, viewers can also set these Photos as the screensaver when the TV isn't displaying any video.
The input button on the Sony remote control can quickly call up the menu panel on the screen. Moreover, the list of options in this menu panel can also be edit. The viewers can set these options so that they can see the regularly used options first. Overall, Sony's menu panel is straightforward. It allows users to easily access the picture mode, video, and audio settings.
Sony XR-65A80K OLED TV: Gaming Review
All the three Sony Bravia XR A80K series TV models come with next-generation gaming features. These include 4K/120Hz video input, variable refresh rate, and auto low latency mode (ALLM). We experienced that when this innovative TV model is paired with PlayStation 5 console, an Auto HDR Tone Mapping feature automatically gets activated. This will ensure that the PlayStation games with HDR are correctly displayed on the viewer's screen.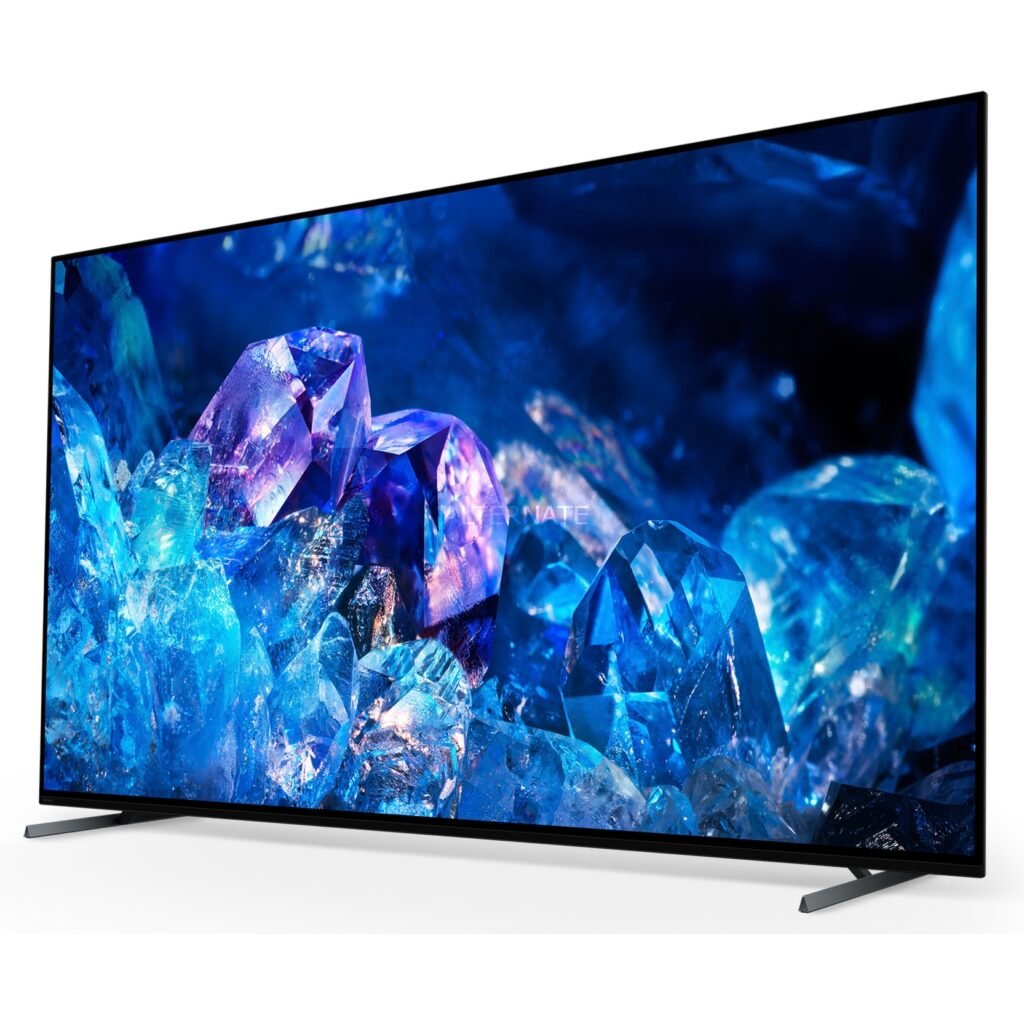 Sony XR-65A80K OLED TV: Audio Video
As mentioned above, the Sony XR-65A80K model uses the Google TV platform for browsing apps. Furthermore, the smart TV model gets Google Assistant onboard to conduct voice-based commands using the built-in mic on the Sony remote control. With these voice commands, we can also access streaming apps like Netflix, Disney+, Amazon Prime Video, HBO Max, and others. Furthermore, there are buttons on the remote control to access these apps instantly.
Sony XR OLED: Image features
In terms of other OLED features, the 2022 Sony OLED TV comes with the company's XR OLED Contrast Pro and Cognitive Processor XR features. Meanwhile, these features help to improve picture quality. Furthermore, it boosts the peak brightness in highlights and deepens the blacks. A wide colour gamut screen, in combination with Sony's XR Triluminos Pro feature and Cognitive processor XR, provides complete DCI-P3 coverage.
Watch Free Over-The-Air Digital TV
The XR-65A80K smart TV model comes with Four HDMI input ports. Here, two are HDMI 2.1 ports with 4K 120Hz support, variable refresh rate, and auto low latency mode (ALLM). Moreover, the smart TV also features a built-in ATSC 3.0 tuner. Furthermore, this will allow viewers to watch free over-the-air digital TV stations from the broadcasters.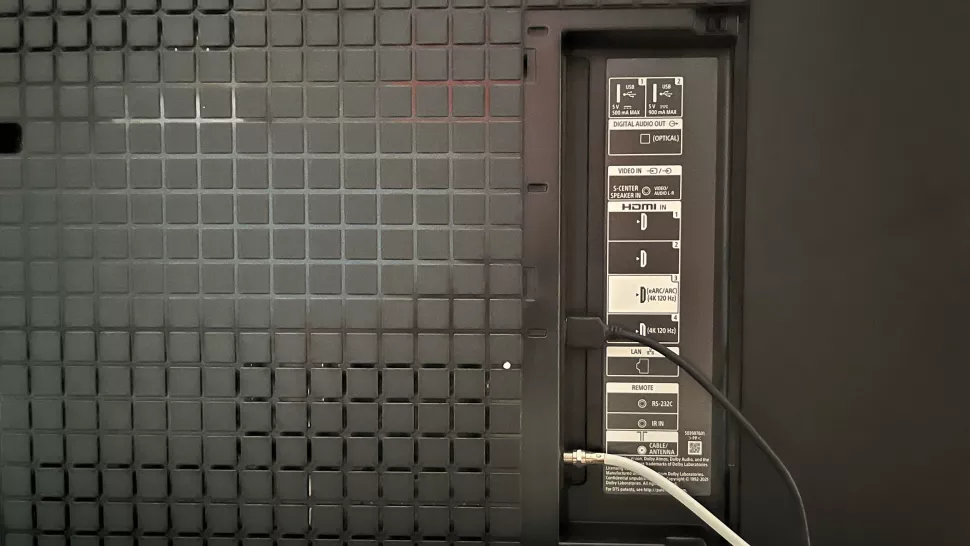 Sony XR-65A80K OLED TV: Picture Quality
Besides the 99.5 per cent of DCI-P3 colour gamut, while displaying 4K HDR content, the A80K smart TV models can offer good brightness levels. During our testing, the peak brightness levels on the XR-65A80K model can reach up to 785 nits in Vivid picture mode. Meanwhile, the peak brightness is still impressive, with 616 nits in Cinema Mode.
Peak Brightness on other OLED TVs
Compared with market competition like Samsung QN95B, the peak brightness level falls far short. On Samsung QN95B, the brightness levels can reach up to 2500 nits. Furthermore, the 2022 LG G2 OLED model can also hit 1000 nits of peak brightness in Vivid Picture mode. We also noticed that this Sony XR A80K OLED model also lacks an anti-glare screen coating. Moreover, the onscreen glare is also minimal.
While testing, we noticed that the Cinema Picture mode was more accurate. Meanwhile, the screen refresh rate touched the 120Hz mark during motion handling on the latest Sony XR-65A80K OLED TV. If compared with the competition, it is perfect. However, there were times when we came across motion-related artefacts.
Overall, the A80K did an excellent job upconverting standard-definition HD programs to 4K. Meanwhile, this might be due to Sony's Cognitive Processor XR feature, which got updates for 2022, intending to improve the colour vibrancy and visual depth.
Sony XR-65A80K OLED TV: Sound Quality
The 65-inch Sony OLED TV model features Sony's Acoustic Surface Audio+. Additionally, the smart TV gets five actuators; three are present behind the screen, and the other two are on the sides. These actuators vibrate to create full-range sound. Two subwoofers accompany these to enhance the bass experience.
Acoustic Audio Calibration tunes the sound output according to the viewing area. Here, the other audio-related features are Voice Zoom for conversation enhancement and 3D surround upscaling. These days viewers rarely rely on the TV's built-in speakers while watching movies and series. We also experience that the speaker system on the Sony XR-65A80K OLED TV is highly impressive. Furthermore, there was clarity in dialogues; the speakers were loud enough.
Furthermore, after switching to the Dolby Atmos mode, we noticed distinct vertical and overhead effects from the TV. Moreover, a Dolby Atmos soundbar will improve the audio performance if you use this Smart OLED TV in a Hallway. But someone who isn't a regular viewer would be pretty satisfied with the Sony XR OLED A80 K's built-in audio system.
Final Verdict
The all-new Sony XR A80K OLED TV series sits between the company's flagship A95K QD-OLED and the A90K OLED series. Meanwhile, the latest 2022 Sony OLED TV models could be an option for those looking for both high performance and high value.



Since we got the Sony XR-65A80K OLED TV model, which costs less than LG's mid-tier C2 Series OLED TV models, the Sony OLED TV is also capable enough to deliver equivalent video performance. Although, in the UK market, it might cost a little more than the LG C2 OLED models.
Overall, the Sony 65-inch A80K Series model is a perfect option for those looking for an excellent 4K OLED TV model. Meanwhile, someone looking for a big screen for their money can opt for this Sony OLED TV model.